The secret to PMS utilisation for SME law firms
An effective practice management solution (PMS) provides the digital foundation for successfully running an SME law firm. The powerful features and automation tools in a PMS impact all areas, departments, and roles across a practice ensuring operational efficiency and profitable. However, this means undertaking a new PMS implementation or evolution project can feel overwhelming; with so many possibilities and opportunities it can be difficult to know where to start.
This often presents two common scenarios for firms:
1: a system is implemented to fix or solve an initial, immediate challenge. Once executed and the initial benefits are realised, momentum stalls and processes, features and tasks aren't continually reviewed, adapted, or improved upon beyond the initial problems. This results in stagnated benefits and a high-cost outlay with little return.
Or:
2: firms expect too much from initial implement and attempt to overhaul their entire operation. With too much change and training to navigate, and not enough dedicated resource to the project, employees become overwhelmed and unmotivated, feeling as though the process is happening to them rather than with them. This can lead to resentment and fear of the technology and employees quickly fall back to old and trusted – but inefficient – processes.
Both scenarios can prove costly for a firm, initially in resource for implementation, but also overtime, as the system is unlikely to reap the rewards expected from original investment. This is often because the PMS investment is too heavily focused on the technology, without a clear aim and objective for the wider firm and business strategy. How SME law firms can get the most out of their practice management solution is to focus on their people and business goals. This means the work involved in implementing, or improving upon, a PMS starts long before looking at the software itself.
See below to read the full article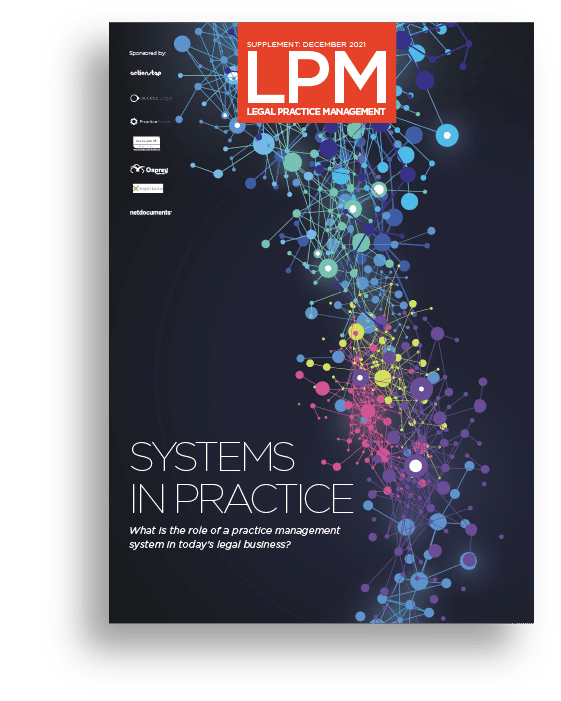 Read the full article in the LPM Systems in Practice Supplement
The LPM supplement delves deep into the questions and trends surrounding practice management systems – a fundamental part of any practice. Discover what part a PMS plays in law firms today, how to successful implement a PMS and what law firms expect from their system going forward.