Practice management software for Legal Operations Managers
Connecting your people, processes, and technology is the optimum goal for legal ops roles and Osprey Approach's all-in-one solution and services helps you centralise operations easily. Standardise and optimise processes, ensure tech utilisation across your practice, and gain the data you need to improve and drive forward.
Improve profitability and competitiveness with a connected legal software solutions for legal ops roles
Managing the operations and moving parts of a law firm is made easy with Osprey Approach. Automation and productivity tools standardise and optimise processes so the client experience is improve, employees are empowered, and profits increase. Access the real-time data you need and discover insights into performance that help you continually improve operations.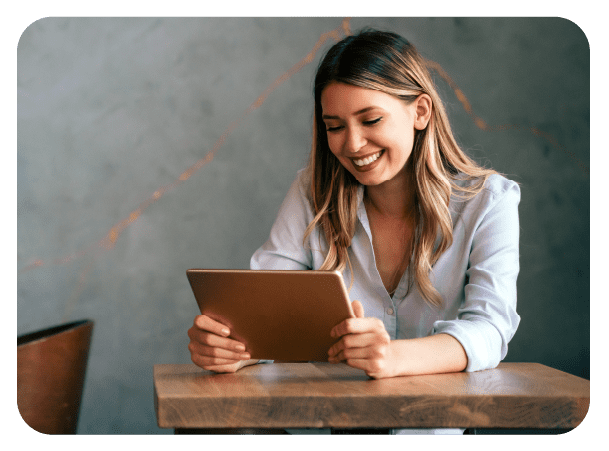 Be in control of your processes
Managing all processes digitally from one platform helps you better implement automation, standardisation, and continuous improvements.
Prioritise continuous improvement
Accurate data is at your fingertips in Osprey, so you have the insight you need to make business decisions based on data, not just gut feelings. Easily spot trends and predict future outcomes so you can optimise operations and increase productivity.
Improve tech utilisation
Return on investment can only increase if all employees are utilising the tech you've invested in. Our all-inclusive training and support services ensures users are confident and effectively using the digital tools.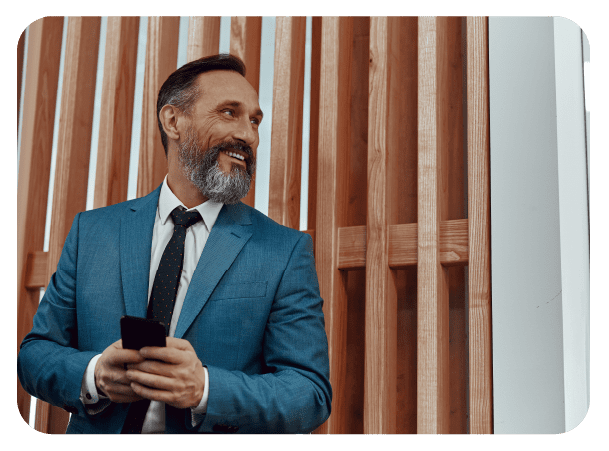 Streamline operations and standardise processes
Improving productivity and increasing efficiencies across teams and departments is only possible if certain tasks and processes are standardised. This enables automation, reduces risk, and ensures everyone has efficient working habits. When your data, tasks, and people are all working from a single solution to manage your cases, practice, and finances this becomes easier. Utilise the Osprey Approach platform to streamline your operations. Easily implement improvements and continue to increase efficiency across your teams.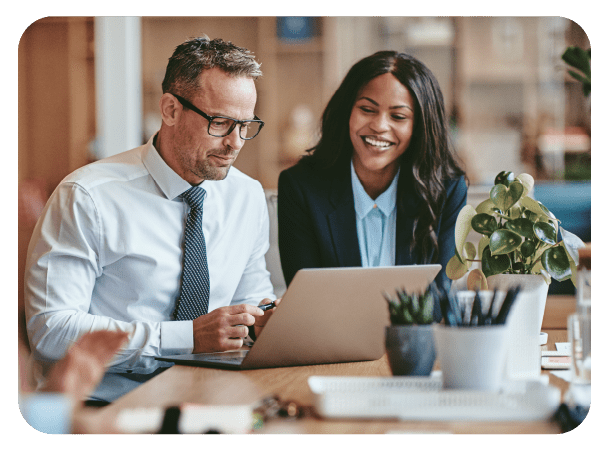 Real-time connected data helps optimisation
Access to real-time data, from across the firm, help you identity trends and analyse performance to implement improvements. Client, fee earner, financial, and operational data can be securely stored, collated, and reviewed so you can make data-driven smarter business decisions that will set you apart from the competition. Osprey's reporting and business intelligence tools help you view the bigger picture and implement continuous improvement to optimise your operations. Farnworth Rose use Osprey Approach to improve operational efficiencies
"We're always looking to improve efficiencies across the board in every department. So, the automation side of Osprey (using workflows that help to standardise everything) assist us with that.
"We're currently in the process of reviewing and improving existing workflows. This is to ensure each department and work type runs in an efficient and uniform way, in line with the firms values as well as helping to mitigate risk factors.
Sophie Holdsworth, Operations Director, Farnworth Rose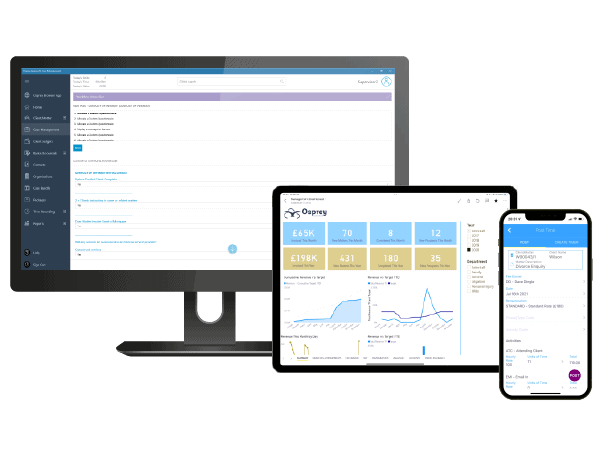 Legal software features designed for operations managers:
Automated workflows
Complete tasks quicker with our configurable, no code required, workflow tools that reduce manual admin and increase productivity. Choose from our library of 50+ configurable workflows or build your own to easily set standardised processes across your firm.
Business Intelligence
The business intelligence tools in Osprey enable you to build interactive dashboards that provide increased visibility of performance, helping you drill down further and gain additional insights.
Cloud-based platform
An all-in-one solution that is fully integrated and accessible no matter your location or device. Centralise your firm in the cloud with Osprey Approach's cloud-based system.
Integrated accounts
Reduce errors, improve accuracy, and save time with a fully integrated legal accounts system that ensures you're in control of your finances.
Client portal & mobile app
Easily run a client-focused law firm with a convenient and secure client portal that enhances the experience and wins five-star reviews.
All-inclusive software training & support
Improve tech utilisation across your firm to increase ROI with our online, trainer-led courses that are included in the licence price for all users.
The Osprey Approach all-in-one solution
The complete Osprey Approach solution combines comprehensive case management, powerful practice management, legal accounting, and streamlined client management – enabling your firm to run a streamlined and profitable operation that exceeds client expectations.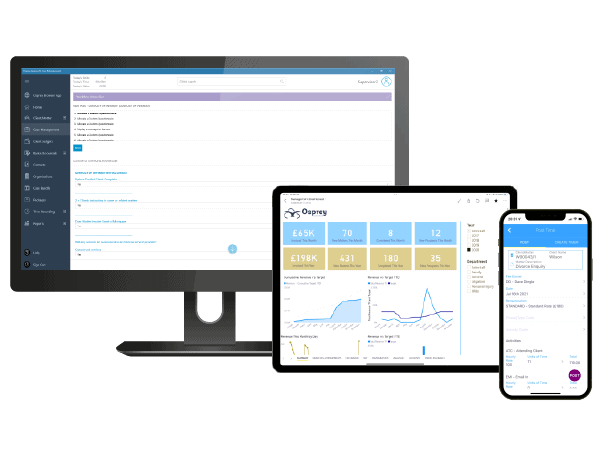 See Osprey in action
Discover the power of Osprey Approach in a free, no obligation demonstration, and learn why thousands of lawyers trust our software solution to manage their firm. Complete the form and one of our product experts will be in touch to find out more about your firm's needs and to book a meeting at a time that suits you.