How modern law firms can build an agile, digital-first culture
In the third episode of series two of our Build Better Habits webinar series, we were joined by Chris Bull, author of The Agile Law Firm and consultant at Edge International, Joanna Gaudoin, Managing Director at Inside Out Image, and Lindsey Dewart, Practice Manager at Thomas Flavell & Sons Solicitors. Our expert panel shared their practical advice and guidance on how to build an agile, digital-first culture that empowers employees and improves long-term success.
This episode covered:
What being an agile, digital-first firm means
The importance of having a common purpose
How to navigate change management across the firm
How firms can start to build a more agile culture
Top habits to ensure you're a digital-first firm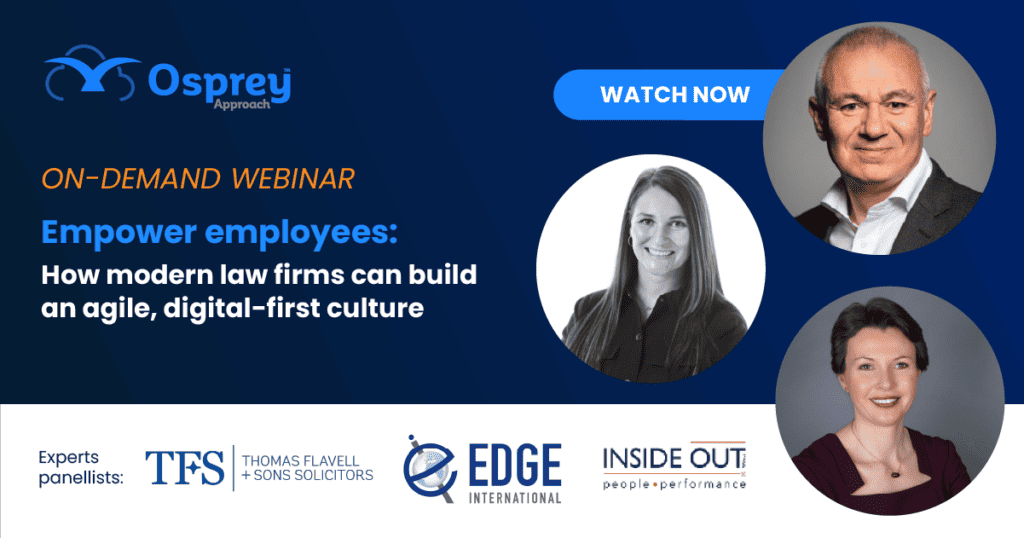 Defining an agile, digital-first law firm
As the author of The Agile Law Firm, Chis started the discussion by listing the 10 attributes he discusses in his book that make up an agile law firm. "I will whistle through the 10 attributes, not least because the Osprey fundamental mindsets cover five of them straight away. The attributes are:
Digital
Client-focused
Continuously improve and innovate
Create autonomous teams
Be human
Be insight driven
Be fluid & flexible
Organically collaborate
Restless, radical, and challenging
United by a common purpose
"I deliberately made digital just one of the attributes because the human change management dimensions are so much more fundamental. Osprey has empower employees but actually I have two different attributes that covers this which are 'autonomous teams' and 'be human', because that's key.
"You can call it an agile law firm but frankly it's the 2023 law firm."
Both Joanna, and Lindsey agree that these are fundamental but both emphasise the focus on the client. Joanna explains that your clients need to be the priority: "Firms needs to continuously work on client relationships to make sure they stay loyal. This starts with a brilliant service that includes the outcomes you deliver and how you deliver it."
Lindsey shares what her firm prioritises: "For us it's about being responsive and adaptable to our clients' needs and ensuring we can always offer a digital approach.
"We all use services online for everything we do and there's no reason why law should be different. Most clients work the same hours as us, so they need to be able to catch up on life in the evenings. We need to be accessible. If you don't have the systems you're going to fall behind in the market."
How important is it to have a common purpose?
The panellists agree that having a common firm-wide purpose is crucial to building an agile law firm that empowers employees. Joanna begins by explaining how a common purpose eliminates the typical office politics that many businesses deal with: "I do a lot of work with lawyers – and other sectors – on navigating office politics. And essentially office politics occurs when we don't understand people's motives.
"It's understandable that – as people with different backgrounds, beliefs, values, assumptions – we'd approach things differently. But, this can be a big danger when there's change coming." However, a common purpose and value set can help determine how people should behave and what to expect.
Lindsey agrees and highlights how it helps employees understand how they can add value, "we share our objectives for what we want to achieve at the start of the year. This helps employees understand how they can contribute to those goals.
"I also think when employees know the firm's purpose it naturally assists in creating the culture and makes people feel more motivated and engaged; this then helps with innovation. If staff don't understand the firm-wide strategy it's going to be difficult to make change because people don't know why they're here for or what the end goal is."
Chris highlights the importance of ensuring the purpose is clear across teams: "It's important to ask yourself, 'why are we here?'. With over 10,000 UK firms, why would clients choose us? I'm sure many will have read Simon Sinek's book – Start With Why. Tap into that model, it's hard but important.
"Every time I work in a firm I'll ask people across departments what the firm's purpose is and everyone says something different. Leaders assume that everyone knows: be aware of that assumption and go talk to people."
How can firms navigate change management across the business?
Lindsey shared two top tips that have helped manage change at Thomas Flavell & Sons: "When introducing something new involve teams and allow them to trial processes and get their feedback. If the initial group are on board it helps to get the wider team on board. Not only does this process help iron out any challenges, but employees are given the responsibility to test and make the decisions on how we progress."
Joanna agrees that feedback is key but advises leaders to, "plan how you're going to get a broad range of feedback, not just comments from the loudest people in the group."
Lindsey's second tip is to "provide regular training and support. We've used Osprey since 2016 and we still run training sessions at least twice a year. Things change, new features are added, and people get stuck in bad habits, so we continually offer training to ensure employees use the technology in the best way."
Chris agrees that training and ensuring employees have digital skills is the best way to manage change. "A recent survey highlighted the gap between the average lawyer and their digital skills is growing and people are getting less capable relative to what technology can now do. Partially that's because we don't have time, but no one is investing in training. That's why continuous training is important, even in the basic systems we have like Microsoft Teams."
"Aside from training, those responsible for managing change need to listen to the complaints you currently get about the systems and processes and deal with them. Be seen to be dealing with them else people won't believe that you'll do what you say you'll do."
Joanna recommends asking yourself 'what's in it for me?', "as in, what's in it for the people you're introducing change to – this includes employees and clients. So when you're communicating or are in training, you have a sales job to do.
"We have a big attendance issue with training, so it's about making people care and selling how this will make life easier."
Eight habits law firms should adopt to ensure they're building an agile, digital-first culture
The panel agreed that modern law firms should focus on the following habits to build an agile, digital-first culture:
1. Embrace tech & automation
Lindsey explains that Thomas Flavell & Sons actively review and invest in technology and warns: "most firms are moving forward with technology, so you've got to keep up else you'll be left behind."
2. Lead by example
Buy-in from the management team is important if you want agility and digital to become part of the culture. Lindsey emphasises that, "the senior team need to lead by example. Culture change has to start at the top." And when it comes to technology Lindsey suggests, "management need to be aware of the technology that is out there and actively discuss it with staff."
3. Continuously learn and adapt
Having an agile, digital-first culture requires more than just a one-time project; it has to be nurtured and encouraged. Lindsey shares that continuous learning and change has been one of the top habits their firm has adopted to help with their success. She explains: "Making a change can be hard, but continuing to foster the culture and encourage adaptation is the biggest challenge. This behaviour has to be perpetual within the firm."
4. Review existing tech
Being digital-first isn't about buying the latest, newest system, it's about utilising tech to your advantage. Chris suggests that firms, "look at your existing technology and do it periodically. Ask yourself: 'what can it do? What's changed? What are we not using? What could we do better?' So, it's about reviewing what you've already invested money and time in."
5. Ask questions
Both Chris and Joanna emphasise the importance of getting feedback. Chris suggests firms should always be asking questions of their employees and clients and feedback should be part of your process so it becomes a habit. Joanna recommends that firms ensure the feedback loop is genuine: "How are you going to make sure the review and feedback process is genuine? That might come with some pain because six months in you may have to make significant changes, but if it's for the long-term then it's likely to be worth it."
6. Give time back
As Chris had previously highlighted, it's important to 'be human' to build a successful agile culture. Chris recommends that firms, "work really hard to give staff – particularly lawyers – time back. Reduce the admin burden and make life easier. I've worked with a few firms where we've said to employees that we'll give them an hour back a week. It's not a lot of time but it's easy to find a way. And then you just do it again and keep repeating.
"People could spend that hour on chargeable time, leave work early, or focus on something technically frustrating. It's important and resonates with the human element of culture we've been talking about – these people aren't just fee earning machines."
7. Build trust
Joanna's number one habit is building trust. "Make sure you have trust built between your employees and clients. That will enable you to conduct these projects and changes successfully."
8. Make it easy
It's important the success of any new processes or systems isn't just assumed. Joanna suggests that, "firms need to make sure the change is easy to use in reality. You may think it's a good idea, but in reality, how are people going to use it – whether that's clients or internally? How will this affect everyone's daily life?"
Communication, honesty, and a common purpose is key to building an agile, digital-first culture
Building an effective culture, team or relationship requires trust.
To build trust you need honesty between parties. This requires people delivering on what they say they will and having each other's back in meeting the common goal.
Trust requires a common value set and purpose. This helps guide everyone so they're working on the same page and it sets rules and guidelines to work towards.
And for those things to work, trust ultimately requires effective communication. To avoid assumptions, open and honest communication is crucial to success.
To ensure that the culture you build is agile and digital-first you need to invest time and money into the right tools to offer an accessible and flexible digital service. And importantly, always expect and drive for change. Successful agile firms are always striving for 1% better and are ready to adapt.
For exclusive advice and guidance on building an agile and digital-first culture, watch the full episode on-demand now. In the webinar, Chris, Joanna, and Lindsey share more of their experiences and knowledge in building a successful modern law firm including where to start if you're looking to empower employees and build a more agile team.
Empowering employees is one of the four fundamental habits we've outlined that all modern law firms should adopt for long-term success. We've covered all four habits in our Build Better Habits webinar series, which you can watch on-demand now.