How modern law firms can remain competitive by fostering a culture of creativity
To continue our successful Build Better Habits webinar series, aimed to help SME law firms remain competitive, we returned in 2023 with episode five discussing the importance of creativity and innovation.
We were joined by Sarah Keegan, co-founder of The CS Partnership, and John Wallace, Managing Director at Ridgemont Solicitors. Our expert panel shared their practical tips and advice on how law firms can successfully implement a culture of creativity, its benefits, and how to prioritise continuous improvement.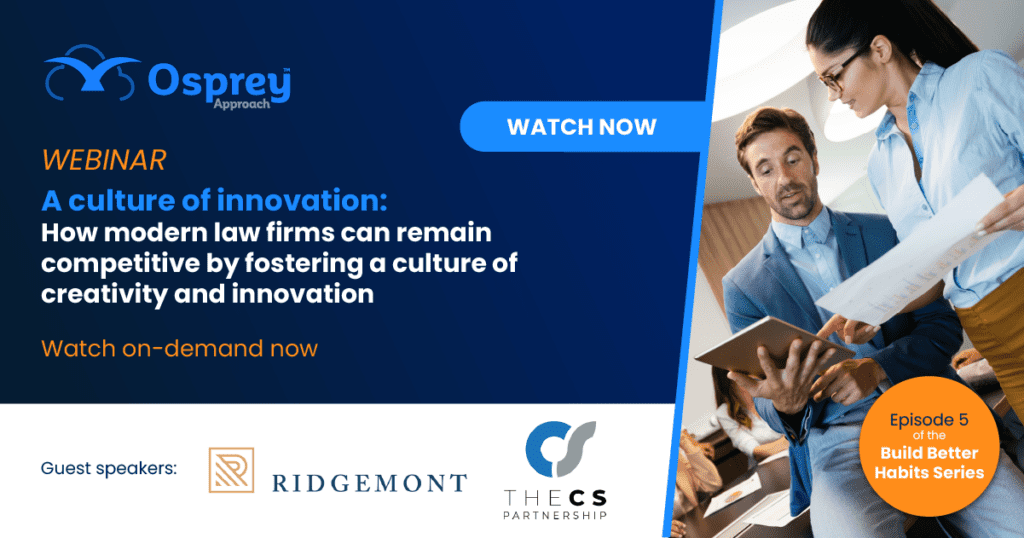 What does creativity mean for law firms?
We began by asking our panellists what creativity means and what that might look like within a law firm. Both speakers agreed that it's about considering new ideas that don't follow the status quo. John believes, "creativity means to think and to do differently. Creativity in law doesn't just mean daring marketing but also the way we give legal advice. For example, moving away from emails and telephone calls to different modes of communication."
Creativity need space and time to flourish. It's difficult to think creatively if you're stuck on the hamster wheel of daily life and tasks. Sarah explains, "firms need to allow a pause. Employees need to be able to step away from their desks to review what they're doing, why they're doing it, and to ask themselves 'could this be done differently?' "
If creativity or process improvement isn't prioritised then it won't become part of a firm's culture. John explains how he prioritises creativity within Ridgemont Solicitors: "law firms are pretty good at getting their lawyers' CPD to continue their personal legal development, but actually we want lawyers to be able to understand business. So what we do is provide the whole team with access to a business coach. All our team are reading great business books, watching online courses, and speaking to a coach to help them develop their understanding of how a business works.
"What's really important is giving people the freedom to be creative."
Creativity needs to form part of the firm's culture for it to be encouraged across employees. John highlights that it's the current structure of a firm that typically hinders innovation. "Creativity is something firms have struggled with and I think that's because of the traditional partnership model. The pyramid structure supports sticking with the status quo to ensure the money flows and benefits the partners." John also believes the traditional structure hampers adaptability and quick decision making, "if a fee earner wants to make a change there are so many people that have to say yes, it's unpragmatic for change to occur, so nothing changes."
Sarah agrees explaining, "for creativity to thrive, the attitude of law firm leaders need to reflect that. Innovation has to come from the top, or at least approved at the top otherwise it'll kill the culture."
Why is creativity beneficial for law firms?
Our experts agree that creativity directly helps to tackle the legal sector's top two challenges: attracting clients and recruitment.
Sarah warns of the dangers of sticking to the status quo: "the world is changing. There is a lot of evidence that prove people's behaviours rapidly change after major life events – a pandemic included. So if law firms can't adapt and consider change then they'll be left behind."
John explains how there's one thing in common for both attracting clients and recruiting talent: "firms need to consider what individuals now find attractive." Aligning your firm's mission and values to that of its employees and clients will continue to have a growing impact on their decision to work with your firm.
John continues, "different generations who are coming into the legal sector today now have different expectations. They don't want to work at one firm their whole career, work on weekends, or be stressed at work. So law firms are going to have to think and recruit differently."
The same applies when it comes to winning clients. The professional services sector is going to be heavily impacted by technology and AI over the coming decades, which John highlights will create a downward pressure on fees. "So, law firms have to think differently about how they can productise and systemise. Because if a robot can do the same legal work as an individual, but more accurately and cheaper, clients are going to go down that route."
Six habits law firms should adopt
The panel agreed that modern law firms should focus on the following habits when implementing a culture of creativity and innovation:
Cross-departmental communication
To encourage change, communication is key. Departments need to share their successes and failures to help encourage improvement and change across teams and processes. Sarah explains, "It never fails to amaze me how there's no communication of success or failures across departments within law firms." So creating a system where individuals can easily share will help prioritise innovation.
2. Regular meetings
Opportunities to share ideas as a group provides space for brainstorming which encourages creativity. John has success in Ridgemont by "regularly having a 'What Else' meeting. We get the whole team together and ask, 'What else can we do to improve the client journey and make the business better?' You've got to encourage people to come prepared and voice their ideas."
3. Modelling behaviour
Team leaders, management, and partners must model the behaviour they want to see throughout the firm for the culture to change at its heart. Sarah explains, "the culture has to come from the top down. In John's firm for example, he embodies creativity and therefore it'll be reflected in everyone he hires." Attitudes and behaviours are contagious, so you have to model the behaviour you're hoping to encourage.
4. Set expectations
Clear expectations of behaviours need to be outlined and accountability in place to ensure the right actions are being encouraged. Sarah recommends that firms set clear expectations "by putting them in people's appraisals." Performance measures need go beyond billable hours or case numbers and should incorporate other cultural expectations to help foster the right values.
5. Action ideas
To motivate teams to share ideas and experiment you need to follow through and action plans. John advises, "You've got to action some of the ideas in the regular meetings [mentioned above] to drive change and motivate individuals to continue to experiment and share."
6. Prioritise creativity when hiring
Firms should prioritise creativity right at the point of recruitment in order to foster the culture firm-wide. John recommends, "have creativity high up in the qualities you're looking for in people. As much as you would experience."
Should law firms prioritise creativity, continuous improvement, and innovation?
We asked our panellists whether, even in turbulent and unpredictable times, law firms should prioritise continuous improvement and innovation. The resounding answer was yes because it shouldn't be considered as a 'nice to have' within a business that wants long-term success.
John says, "creativity shouldn't be seen as an 'instead of' to the traditional fee earning structure that firms typically focus on. It's as well as.
"In a market where there ae more and more lawyers and law firms, practices have to find a way to differentiate themselves and creativity offers that opportunity. No one needs to be scared of innovation."
But perhaps firms should be scared of sticking with the status quo. John continues, "firms are going to be left behind – you'll limit growth unless you focus on creativity."
Sarah agrees that creativity is vital in a changing world but shares positive news that, "at The CS Partnership we've seen an increase in firms wanting to implement change and seeking our services. Perhaps with the slight downturn [in conveyancing in particular] it's allowing firms to lift their heads and recognise they need to make changes. It's a great trend to see for the profession."
Sarah advises the importance of just making a start and simply asking the question 'how can we do things better?'. Firms should also turn to technology to implement quick, impactful wins for optimising your operations and services.
How can managers encourage lawyers to think differently and allow people with other skills to offer advice?
Attitudes toward change is embedded in a firm's culture. Therefor for people to be more open to change, this needs to be reflected in the culture. Changing a culture within an existing business is difficult, but not impossible.
Sarah explains, "lawyers are in the 90th percentile for scepticism and autonomy. Which means lawyers are typically suspicious of change from their existing beliefs. So leaders have to coach and communicate with fee earners to provide a background and a plan."
John advises, "this comes down to the culture of the firm and everybody's opinion must be valued within the team.
"To help lawyers see that others may have a better idea of non-legal issues, they have to be coached as to what their blind spots are. Where have they never had training, for example". It's important for individuals to be self-aware and to understand what their strengths and weaknesses."
John also highlights the importance of recruitment, "when hiring a person, consider their profile and whether they're open, willing to learn, and accepting of others' opinions."
Implement a creative and innovative culture for long-term success
Having a creative and innovative approach to running a law firm and delivering legal advice is required for long-term success. A continuous improvement mindset helps firms tackle the biggest sectoral challenges of managing client expectations and attracting and retaining talent.
Creativity is a focus on experimentation, which can sometimes involve failure. So a cultural shift in attitudes towards testing ideas is necessary to successfully foster a culture of innovation. All firms can start today to make progress by simply encouraging questions to be asked and ideas to be shared.
Alongside continuous improvement, we've outlined four fundamental habits that a modern law firm should adopt for long-term success. We've covered all four habits in our Build Better Habits webinar series, which you can watch on-demand now.