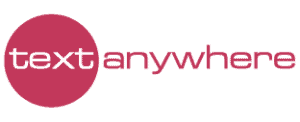 Communicate effectively with your clients using the Osprey and TextAnywhere integration. Helping you enhance client service and win new business, TextAnywhere is a SMS messaging platform created with businesses in mind.
Integrate Osprey Approach with TextAnywhere
Osprey Approach and TextAnywhere help you win new business and build stronger relationships by enhancing the client service you provide.
Improve client management and communication
The quality of your client service is what sets you apart from competitors. With all law firms operating under the same laws and statutes, a client-focused service will enable you to stand out from the crowd, helping you win and retain business. The Osprey and TextAnywhere integration enables you to provide a timely and personal service, ensuring you keep your client up to date.
Easily send SMS messages to clients to communicate updates, tasks and deadlines
Send personal and timely follow-up messages to help win new business
Offer a transparent client service using effective text messaging
Use alongside the secure client portal to exceed client expectations
Avoid unmanageable, long email chains that are difficult for clients to organise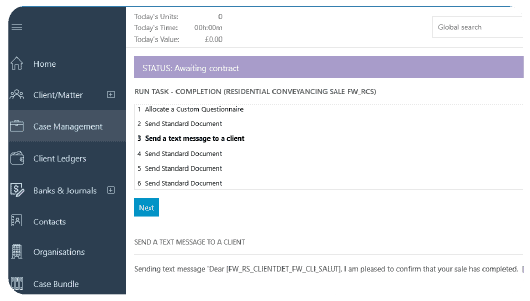 Reduce admin
The Osprey and TextAnywhere integration can be used in conjunction with the Osprey automated workflows to streamline your legal processes. Implement a standardised process for updating and communicating with clients to improve your overall client service. When used alongside the client web portal it enables your firm to deliver a truly client-focused service that'll boost your reputation.
Integrate with the Osprey automated workflows
Trigger text messages at agreed stages of your workflows for timely updates and task or upcoming deadline reminders
Design templates for each communication type to stay on brand
Data from Osprey can be merged into text messages using pre-defined text templates.
Send SMS messages using the client data already stored in Osprey
Enhance your service with the Osprey client web portal alongside text messaging so the client feels in control
Frequently Asked Questions
Can I create standardised text message templates

Yes you can. Similarly to building standard documents templates, you can build a library of text message templates that can be used throughout your firm to help communicate a standardised, on brand message. The templates can then be auto-populated with the data you store in Osprey so the texts are personalised to the recipient.

Why should law firm send client text messages?

Text messages are a great tool for communicating with your clients on quick updates or reminders relating to a case. Texts easily convey key information and short messages that are more likely to be read over an email. The average text message is read within 3 minutes of being received, in comparison the average email which takes around 48 hours to be read. This means you could progress your cases faster, provide a transparent, convenient service and avoid delays easier than ever before.

How much does TextAnywhere cost?

TextAnywhere works on credits, which you can purchase in bundles. Depending on the quantity of credits you purchase you could be paying as little as 3.3p per text message. Please contact TextAnywhere directly for more information and to create an account.

How much the does the integration cost?

You will need an account set-up with TextAnywhere and to purchase credits to send text messages. Once you have an account you can use the integration with Osprey at no additional cost.

Do you offer training on the TextAnywhere integration?

All training is included in your Osprey Approach subscription costs, so we can assist you with the initial setup of the integration, as well as your day-to-day use. We also have online how-to guides and videos that you can access from the Osprey Academy, 24/7, to help you with set-up and support.
Find out more about the TextAnywhere integration
See Osprey in action
Discover the power of Osprey Approach in a free, no obligation demonstration, and learn why thousands of lawyers trust our software solution to manage their firm. Complete the form and a member of our sales team will be in touch to find out more about your firm's needs and to book a meeting at a time that suits you.