Coadjute is digitally connecting the property market to reduce the time it takes to buy a house. The seamless integration with Osprey enables law firms to communicate and collaborate with third parties from a single, secure platform to enable a more streamlined and profitable conveyancing transaction. 
Coadjute integration for conveyancers
The property transaction process involves a complex ecosystem of professions that is slow, opaque, and coordinated through emails and phone calls. Many have tried to improve the situation but it hasn't worked. Coadjute takes a different approach. Coadjute is an open network that connects existing software platforms used by property professionals. This creates transparency and transforms efficiency and engagement.
Coadjute are digitally connecting the property market
Find out how, when integrated to Osprey, Coadjute is connecting the property market through existing software solutions so conveyancers, estate agents, mortgage brokers, and lenders have access to real-time data and a single source of truth.
Break free from endless emails
View real-time updates, share property information and digital identities, and communicate between parties, right from within Osprey. All without needing to email, call or re-key data.
With a click of a button, you can securely sync data across all platforms so that there is one single source of truth about the property transaction. Without manual intervention, you and your client benefit from a more efficient process that speeds up progression, saving time and money.
Experience the Coadjute integration to:
Securely connect and collaborate with estate agents, mortgage brokers, and lenders
Reduce manual phone and email chasing to increase profitability
View real-time updates to identify delays or blockers
Deliver an enhanced service to your clients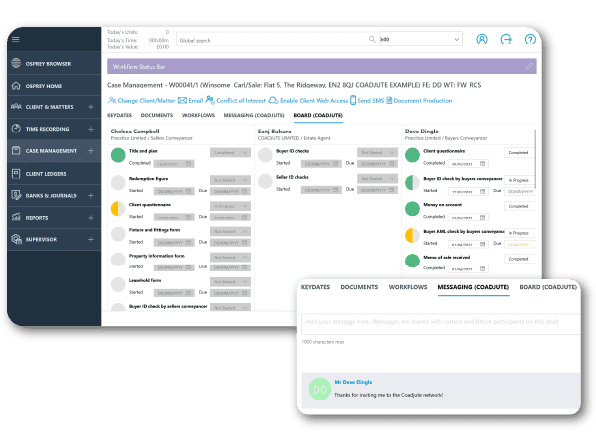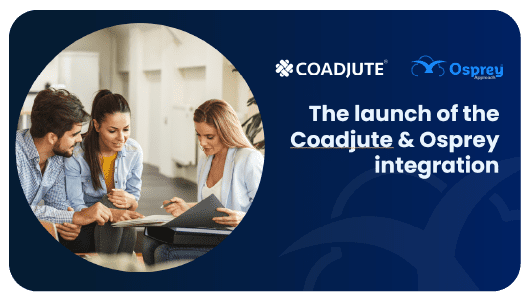 Get instant updates on your property transactions now
You can now get connected to the Coadjute Network within Osprey Approach. Watch our webinar to get an overview of Coadjute and it's benefits from their CEO, Dan Salmons, view a live demonstration of the Coadjute integration within Osprey, and find out how to get connected.
Join the Coadjute Network today
Improve the efficiency of your conveyancing department with a digital operational strategy
To help modern conveyancers improve long-term success, reduce workload pressures, and satisfy clients, we spoke to a panel of legal experts, including Coadjute, to discuss how SME law firms can effectively implement a digital-first mindset to future-proof their business.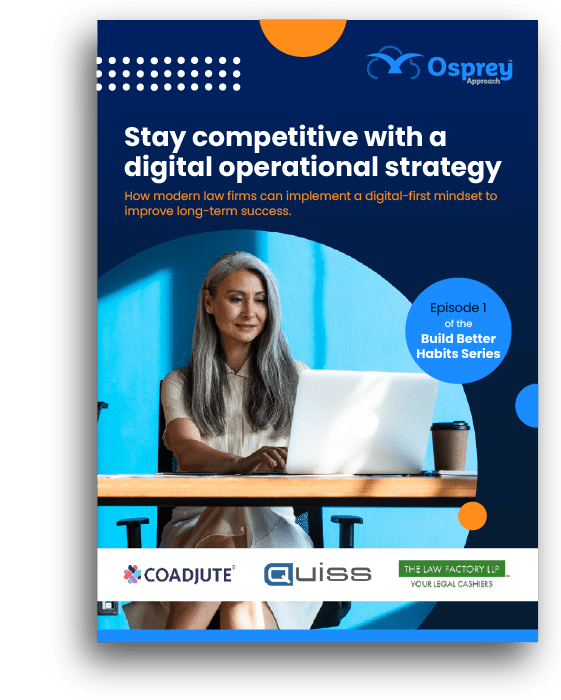 Frequently Asked Questions
How does Coadjute work?

Coadjute is a secure network that enables Osprey users to both receive and share data about a transaction from, or with, the other side solicitor, estate agents, mortgage brokers and mortgage providers. This data, shared in real time, will allow for property transactions to be completed in record times and will avoid manual phone or email chases. This ensures everyone has a single source of truth about the progression and information relating to a property transaction.

Is Coadjute secure?

Coadjute is powered by highly-secure technology that is also used by banks to manage the flow of millions daily. Your data is protected by end-to-end encryption when you're connected with Coadjute.

People connect over Coadjute to work on a particular transaction. This means they can only see information related to that transaction. Any other data you are working on cannot be accessed by anyone else unless you permit them to do so.

Do you offer training on the Coadjute integration?

All training is included in your Osprey Approach subscription costs, so we can assist you with the initial setup of the integration, as well as your day-to-day use.

What makes Coadjute different?

You don't have to learn or take on a new system or portal.

Coadjute appears within Osprey allowing you to connect seamlessly and in real-time with other parties in a property transaction.
See Osprey in action
Discover the power of Osprey Approach in a free, no obligation demonstration, and learn why thousands of lawyers trust our software solution to manage their firm. Complete the form and one of our product experts will be in touch to find out more about your firm's needs and to book a meeting at a time that suits you.