Streamline your conveyancing processes using SearchFlow, the leading UK property search provider in residential and commercial markets. When integrated with Osprey Approach, law firms have access to one centralised platform for ordering and storing searches to help improve the efficiencies of your conveyancing processes.
Integrate Osprey Approach with SearchFlow
Osprey Approach and SearchFlow help make the time-consuming processes involved in residential and commercial conveyancing quicker and easier.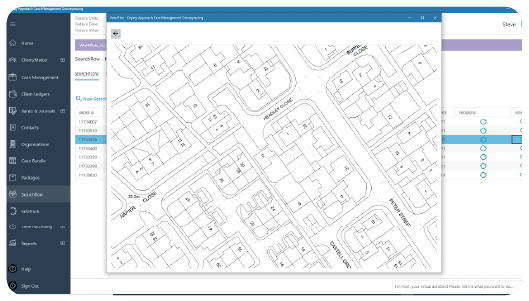 Progress your conveyancing cases faster with less errors
With over 1 million high quality searches completed promptly every year with SearchFlow, you can be confident that they'll help you to progress your case faster. With all your data already stored in Osprey, you don't have to worry about re-keying in information. Reduce manual tasks and human error with pre-populated forms that are ordered straight from the Osprey case management solution and saved directly back into your software when completed.
Data stored within Osprey is pre-populated into the forms you need
All completed searches, SearchFlow reports, and files are automatically saved back into the matter history
Complete your property searches through one centralised platform
Wide range of residential and commercial property and land searches available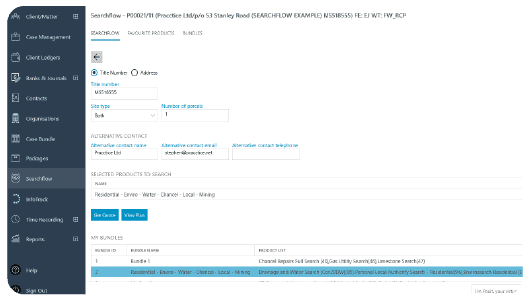 Be more profitable
Time is money in the business of law so it's crucial you maximise your day to improve the profitability of your firm. By improving efficiencies and digitalising your conveyancing processes you can reduce the time-consuming manual admin tasks and free up your workload to focus on your clients and business development. Work more efficiently and speed up conveyancing processes with the Searchflow and Osprey integration.
Avoid relying on traditional, slow and costly conveyancing processes
Reduce manual administration tasks with a centralised platform
Order all your conveyancing searches online
Automatically add expenses to your client ledger for accurate billing
Increase productivity to focus on growing your firm
SearchFlow offer competitive and volume-based pricing bands for flexibility and cost savings
Modernise your processes for a future-proofed business
Frequently Asked Questions
How does the Searchflow integration save my firm time?

Submitting an order through the SearchFlow integration couldn't be quicker or simpler. The SearchFlow order forms are auto-populated with client and matter data you store in Osprey, so you avoid the time consuming task of re-keying data, which will also avoid errors and improve accuracy.
You can easily create standardised bundles of searches so you can add multiple searches to your order at the click of the button. Once you select the property searches you want to order, you simply review the plan to confirm your order relates to the correct address, get a quote and submit your order all from one screen, without ever leaving Osprey. Once your orders are complete, the related documents will automatically be stored back into Osprey against the correct client and matter.
Using the Searchflow integration avoids disparate systems, duplicate data entry and reduces the risk of errors. All helping you to streamline your conveyancing case management processes, helping to save time, money and enhance

What searches can I order with Searchflow?

There are a variety of different property searches available (such as local authority, environmental, and insurance) for both residential and commercial conveyancing for you to order through the Searchflow integration.

How much does Searchflow cost?

The price for SearchFlow services depends on the search you are ordering. Please contact SearchFlow directly to discuss pricing and account set-up details.

How much the does the integration cost?

You will need an account with SearchFlow to use the integration and searches are costed per order. There are no further costs to set-up or use the SearchFlow integration with Osprey. This means you can combine the powerful features of SearchFlow and Osprey at no extra cost helping you to streamline your conveyancing processes to save time and money.

Do you offer training on the Searchflow integration?

All training is included in your Osprey Approach subscription costs, so we can assist you with the initial setup of the integration, as well as your day-to-day use. We also have online how-to guides and videos that you can access from the Osprey Academy, 24/7, to help you with set-up and support.
Find out more about the powerful SearchFlow integration
See Osprey in action
Discover the power of Osprey Approach in a free, no obligation demonstration, and learn why thousands of lawyers trust our software solution to manage their firm. Complete the form and a member of our sales team will be in touch to find out more about your firm's needs and to book a meeting at a time that suits you.