We provide SME law firms with a practice and case management solution that streamlines time-consuming, repetitive legal tasks so you can maximise your time, drive long-term efficiencies, and deliver a profitable, quality client service.
Trusted by law firms across the UK
0
1
2
3

4

Osprey Approach All-in-One Legal Practice & Case Management Solution
The all-in-one Osprey Approach legal software solution combines comprehensive case management, powerful practice management, legal accounting, and streamlined client management – enabling your firm to run a streamlined and profitable operation that exceeds client expectations.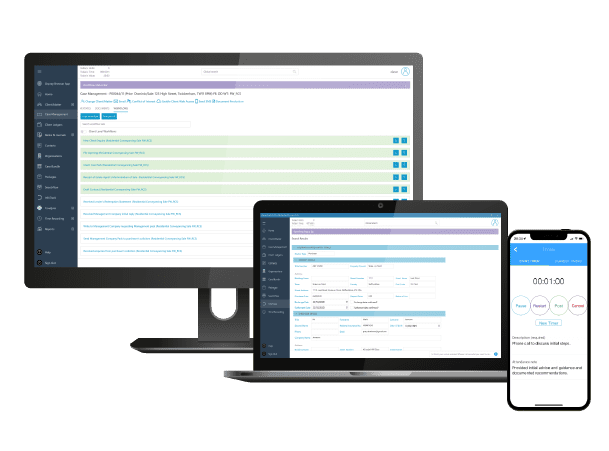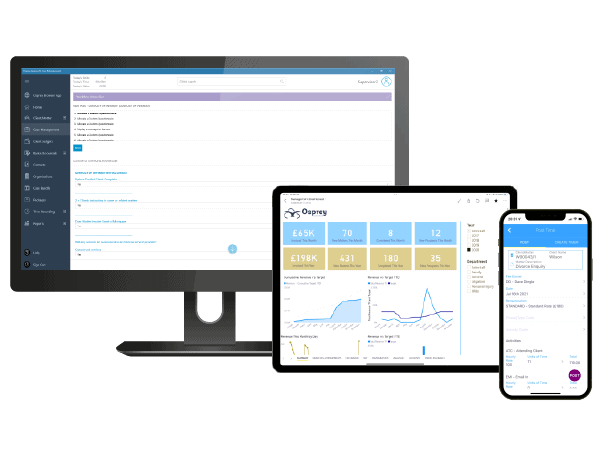 PRACTICE MANAGEMENT
Be in control of your firm's future
With a powerful software solution at the core of your firm, you'll have the digital foundations to be efficient, adaptable and effective. Our centralised and connected practice management system puts you in control with a 360-degree visibility of your firm's performance that enables you to make smarter, data-driven decisions that will take your business to the next level. Osprey provides fully integrated legal accounting, case management, compliance tools and reporting.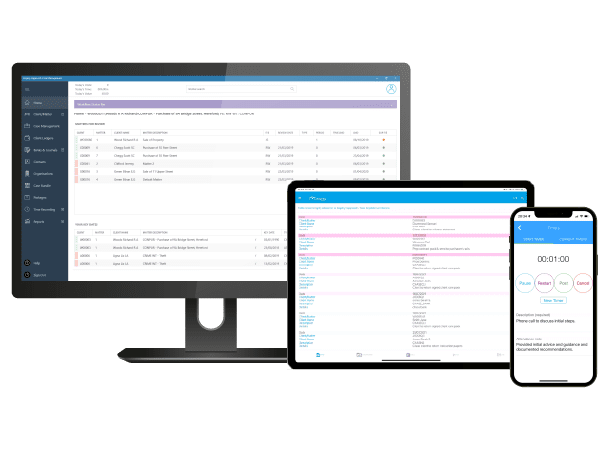 CASE MANAGEMENT
Automate case management tasks to maximise your time
Manage every aspect of a case, from client onboarding, to document production, communications, time recording and billing, in one centralised platform that's accessible from any device, no matter your location. Streamline and automate your daily workload with Osprey so you can stay organised, improve profitability and deliver quality client service.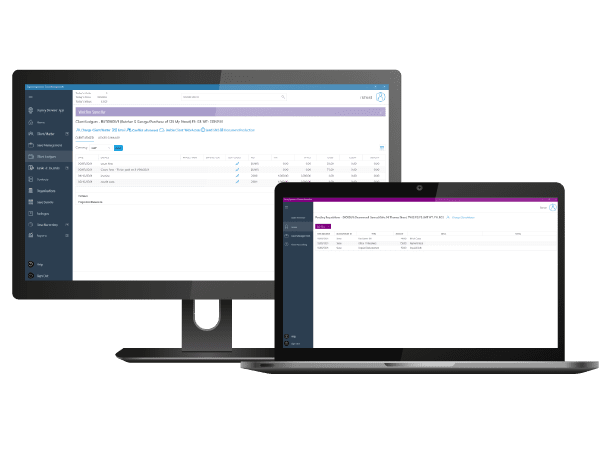 LEGAL ACCOUNTING
Simplify billing and gain accurate visibility of financials
All successful law firms rely on accurate and compliant accounting software to run a profitable firm. Osprey Approach is a specialised legal accounting solution that gives you confidence in your finances and data because it's not a bolt-on solution. Integrated time recording ensures you can effectively process invoice, simply billing and get paid faster.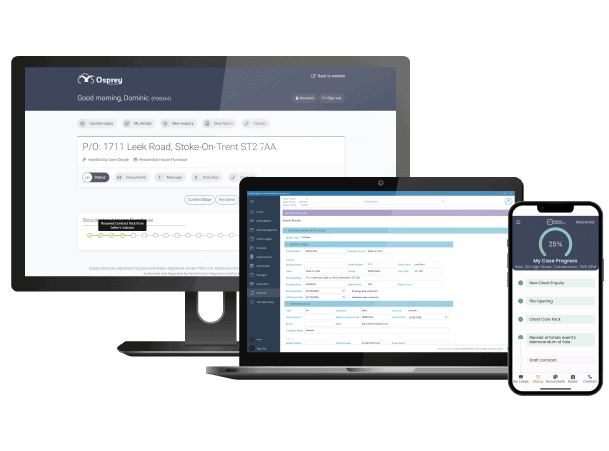 CLIENT MANAGEMENT
Digitally connecting you and your clients
Speed up case progression, deliver a quality client experience, and improve collaboration with all-in-one client management software. A solution that helps you to easily collaborate and communicate with clients on scale. Provide your clients with an efficient and personal service that helps you stay competitive and exceed their expectations.
One platform to run your entire law firm
Why Osprey?
For over 30 years our legal software solutions have helped lawyers run a modern, efficient, and profitable law firm. We believe all law firms should have software that empowers their team to perform at their best, which is why Osprey Approach provides efficiency-boosting tools that help lawyers maximise their time and deliver quality client service from a single platform, on any device.
It's our mission to develop and deliver software solutions that help busy lawyers and growing law firms, like yours, to effectively manage their workload and stay competitive.
Frequently Asked Questions
What is Osprey Approach?

Osprey Approach is an end-to-end, cloud practice and case management software solution that provides lawyers and law firms, of all sizes, with the digital tools they need to effectively manage their busy workloads. Osprey Approach is an SRA compliant solution with full integrated legal accounting, time recording, billing, matter management, client and contact management, business intelligence, client portal, enquiry management and automated configurable workflows.
Our powerful and comprehensive software solution has helped thousands of lawyers run a profitable firm, deliver excellent customer service and successful adopt a hybrid-working model. Integrated with Microsoft Applications plus other key business tools including Lexis Smart Forms, InfoTrack, DocuSign, Searchflow, Coadjute and TextAnywhere, Osprey helps you manage every facet of your legal practice.

Why should I choose cloud-based legal software?

Cloud-based legal software provides numerous benefits over traditional on-premise solutions because hosting in the cloud offers more flexibility, heightened security, improved business continuity and reduced maintenance resource. Also referred to as software-as-a-service (SaaS), cloud-based practice management software is accessed via a browser or online application and the data is stored in the suppliers database as opposed to your own local, on-premise server and computer. This provides two key benefits; the software can be accessed, with a secure username and password, from any device or location and the support and maintenance of the system is managed by your vendor.
This means your firm is free to work from any location, whether that's in the office, at home, on the go or any other remote location. Furthermore, cloud software reduces the setup and maintenance costs, reducing upfront spend and instead using a rolling monthly fee. It also reduces in-house maintenance resource as this becomes your supplier's responsibility, removes the need for costly hardware updates, improves security and makes software updates easier to manage.

What support and implementation services do you offer?

We provide unlimited support and training throughout the lifetime of your licence so you'll always have the support and guidance you need to utilise Osprey in your firm. We also offer managed implementation services to help set-up, configure, migrate data and train users to ensure your confident using Osprey from day one. View our services page for more details.

Why should lawyers use legal technology?

Legal technology solutions provide lawyers with the digital tools they need to perform at their best. Utilising automation and efficiency-boosting functionality, legal software helps to increase productivity so lawyers can get more work done, faster. Legal software solutions removes time-consuming manual processes from a lawyers workload so they're free to focus on value-added tasks that drive their firm forward, increase revenue and build stronger client relationships.

What features should a practice and case management solution have?

To effectively manage your entire firm you need the right digital tools that increase efficiency, provide visibility and ultimately improve profitability. When reviewing the right practice and case management software for your firm you need to ensure the core features include: integrated legal accounting, case management features which include document and form management, time recording, web portal, and workflows and practice management software features including reporting, and contact management (CRM). Osprey Approach is a future-proofed solution and includes of those powerful features and much more. Find out more about Osprey Approach and the services we offer.

Is Osprey suitable for my firm?

Osprey provides a wide variety of customisable and configurable features and workflows, so your firm has the freedom to practice in a way that suits you. Suitable to any area of law or any size practice, Osprey provides core and advanced practice and case management software feature that help you provide an efficient and top-quality service to your clients that positively affects your bottom-line.
All firms can greatly benefit from also taking advantage of the compliance and reporting features to reduce risk, monitor performance and stay compliant.
When you invest in Osprey, our dedicated support and implementation team will provide unlimited guidance and support on utilising the powerful features included in Osprey. Find out more about the features and services you can benefit from in Osprey.

Do you integrate with other business tools?

Yes, Osprey Approach integrates with many of your favourite, powerful software applications and services such as DocuSign, Microsoft 365, InfoTrack and many more. Manage your entire firm through a centralised platform so you can streamline operations. Discover all our integrations here.
See Osprey in action
Discover the power of Osprey Approach in a free, no obligation demonstration and learn why thousands of lawyers trust our software solution to manage their firm. Complete this form and a member of our sales team will be in touch to find out more about your firm's needs and to book a meeting at a time that suits you.