Case management software for UK employment law
Streamline and simplify the processes of employment law using Osprey Approach, the legal software solution that empowers employment lawyers to work more effectively, so you're free to focus on more valuable work that benefits your bottom-line and your clients experience.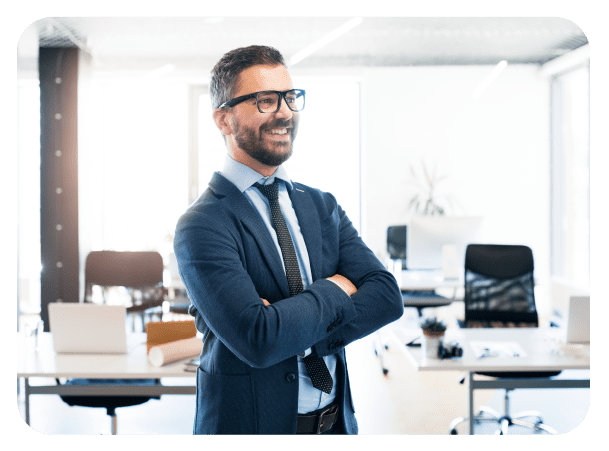 Get more work done, faster
Standardise and speed up the creation of documents and forms -including the ET1, ET3 forms and Schedule of Loss – using Osprey's automated workflows and market-leading integrations. Produced by legal professionals, for legal professionals, the Osprey workflows assist with streamlining grievance, disciplinary, settlement agreement and tribunal proceedings processes.
Optimise your workload with employment law software
Avoid manually searching through physical files and work smarter with Osprey. Centralise your client and matter data into one digital database so keeping track of cases is simple. Use the powerful global search in Osprey to find the files and information you're looking for without needing to leave your desk and even whilst you're on the move. Empower your firm to take control of their workload with tools such as key dates and clear case progression task bars within workflows that help you to stay on top of deadlines and increase productivity. Farnworth Rose use Osprey Approach to improve operational efficiencies
"We're always looking to improve efficiencies across the board, in every department. So, the automation side of Osprey (using workflows that standardise everything) assist us with that.
We're currently in the process of reviewing and improving existing workflows and creating new work types and workflows. This is to ensure each department and work type runs in an efficient and uniform way, in line with the firms values as well as helping to mitigate risk factors. "
Sophie Holdsworth, Operations Director, Farnworth Rose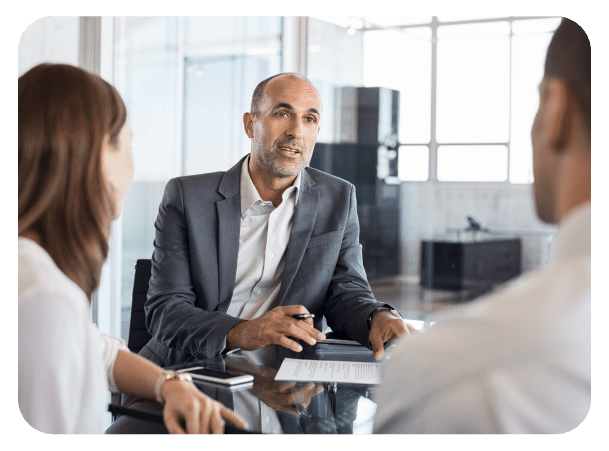 Enhance communication & collaboration
Provide your clients and third parties with full transparency on the progression of a case and securely send and receive files through Osprey's web portal. Allow clients to upload files, view updates on their matter and sign documents digitally. The web portal can also be accessed by third parties so you can securely share case bundles via the portal as opposed to splitting large PDF files over email.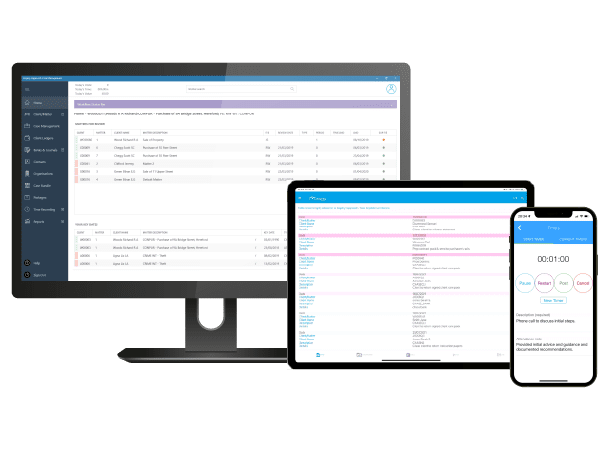 Employment case management key features:
Key dates
Stay organised and on top of your tasks, limitation dates and deadlines by utilising the key date feature within workflows. In combination with the Outlook add-in you can export key dates directly into Outlook so you stay compliant and on top of your workload.
Automated workflows
Efficiently manage your workloads and streamline tasks with our employment law workflows for both employer and employee.
Case bundles
Save hours of your time and reduce paper and printing costs with the powerful case bundle feature. Easily combine the relevant documents and correctly format them into a PDF file ready to share with clients and third parties in the secure web portal.
Billing reports
Have full transparency of your firm's finances with Osprey's detailed billing reports. Accessible from your desktop or mobile device, you'll be able to create and approve bills to ensure you're paid faster and have more control of your firm's finances.
Secure web portal
Increase the speed at which your clients and third parties receive updates, while also collaborating on documents securely in Osprey's web portal.
Mobile apps
Maximise productivity and always have access to your client and matter data using Osprey's mobile apps, helping you work effectively no matter your location.
Frequently Asked Questions
What is employment law case management software?

Employment law case management software (CMS) is designed to help employment lawyers manage their work and case load effectively. An integrated CMS includes all the digital tools required to open and close cases, manage document production and form production, as well as time recording, legal accounting, contact and organisation management, an online and secure client portal, compliance and reporting features and automated workflows.

Is Osprey specifically built for employment law?

Osprey Approach is suitable for use by any law firm, of any size, no matter the type of work they do. Osprey Approach helps run an entire firm, and you can be confident that manual administration work will be reduced, your productivity will increase and your client service will be enhanced. Our case management software solution allows you to work how you want, when you want.

What are the benefits of using case management software?

Case management software ensures you and your team stay organised and can easily manage your cases in the most efficient and profitable way. Case management software provides digital tools that enable you to digitalise and centralise data and processes so you can benefit from automation and efficiency-boosting features that benefit you bottom-line and your client experience.
Easily keep track of all your clients and matters – live or archived, record time, accurately bill, provide web portals, produce documents and easily report of your firm's performance, all from one powerful platform.

Does Osprey integrate with other applications?

Yes, Osprey Approach integrates with many of your favourite, powerful software applications and services such as DocuSign, Microsoft 365, TextAnywhere and many more. Manage your entire firm through a centralised platform so you can streamline operations. Discover all our integrations here.

Does Osprey have a client web portal?

Yes, the web portal is a secure way of sending updates and documents to clients and third parties. You can also receive documents from clients and capture data securely without lengthy email chains, phone calls or relying on the postal service. Provide a centralised platform for your clients and third parties to stay up to date.

Do you offer specialised employment workflows?

Yes, we offer a suite of employment workflows aimed at assisting employee clients. Our workflows help you run a streamlined and efficient operation so you can increase productivity and improve profitability. All of our workflows our customisable too, so you can work in a way that suits your firm. Find out more about our workflows.
The Osprey Approach all-in-one solution
The complete Osprey Approach solution combines comprehensive case management, powerful practice management, legal accounting, and streamlined client management – enabling your firm to run a streamlined and profitable operation that exceeds client expectations.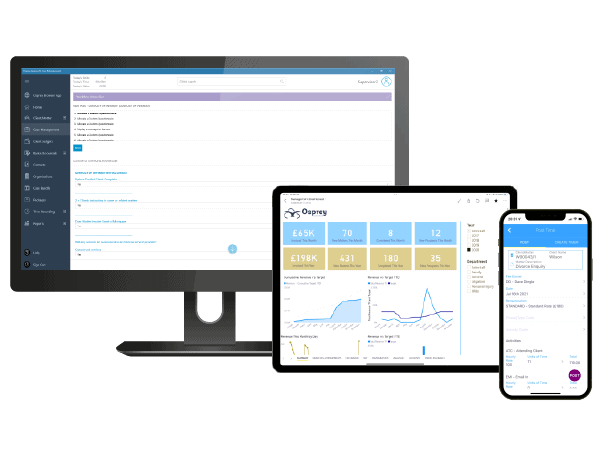 See Osprey in action
Discover the power of Osprey Approach in a free, no obligation demonstration, and learn why thousands of lawyers trust our software solution to manage their firm. Complete the form and one of our product experts will be in touch to find out more about your firm's needs and to book a meeting at a time that suits you.