Provide a convenient and quality service to your clients with a secure web portal that modernises legal onboarding and case management.
Trusted by law firms across the UK
0
1
2
3

4

Legal Client Portal Software
Exceed your clients' expectations whilst driving efficiencies for you firm with the Osprey client portal that enables you to provide a frictionless and simple service with ease.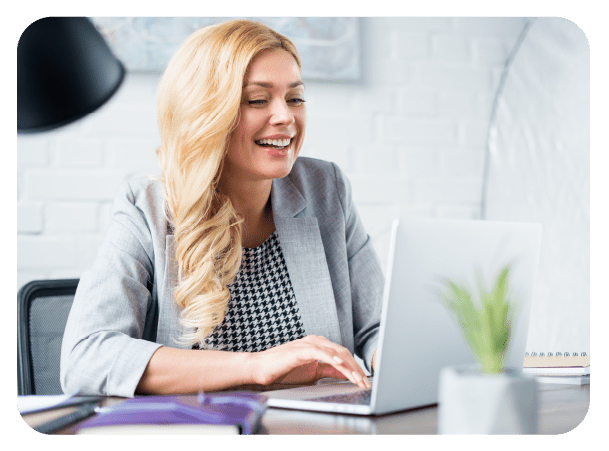 A modern approach to client care
Your clients want a transparent and stress-free digital experience. With Osprey's client web portal, you can turn complicated legal procedures into a simple process for your clients. Offer a quality service that keeps your clients informed whilst also driving efficiencies for your firm.
Remove the time-consuming manual tasks of collecting client data, printing files, and emailing updates with our web portal. With Osprey, everyone has a unified view. Automatically send case updates, capture data, share documents and communicate securely with the fully integrated web portal.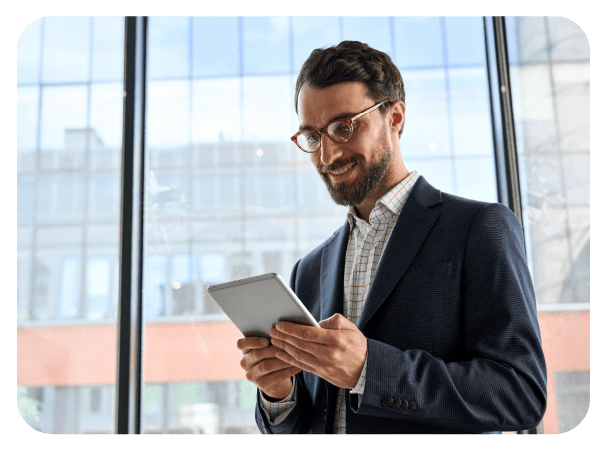 Digital onboarding and case management
The client web portal gives your firm the flexibility to offer first-class service no matter where your staff or clients are based. Respond to enquiries, digitally onboard clients and manage cases digitally, which removes the costly physical restraints of traditional case management and modernises your client experience. Streamline the quote-to-instruct process and provide a client-focused experience in your own branded platform.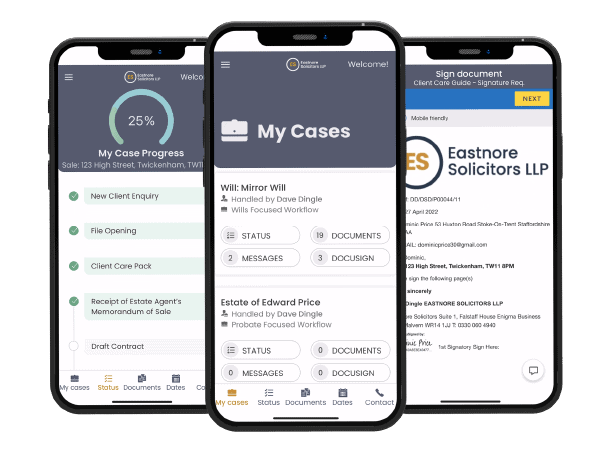 Your very own mobile app
Offer your clients all the web portal features and more in a mobile app that's customised to your firm's brand. Available on Android and IOS, clients can download your firm's app to keep up to date on their case from the palm of their hands.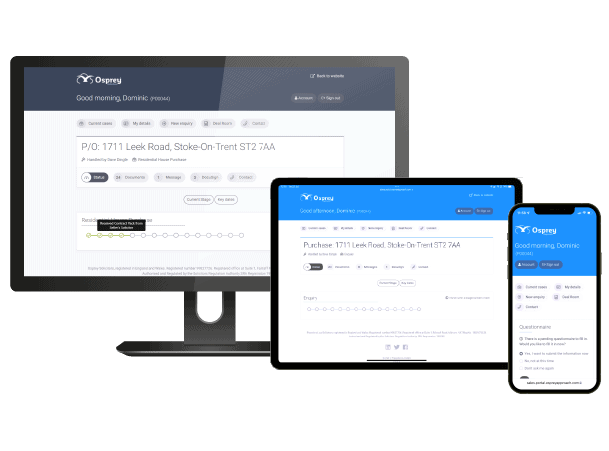 Key Web Portal Software Features
Securely share documents
Share and collaborate on documents with clients and third parties. Enable check-in / out functionality for streamlined collaboration on files.
Share case updates
Automatically share case updates with all parties to reduce calls and emails. Post key dates and critical deadlines to avoid delays.
Capture data
A self-service portal to empower clients. Questionnaires can be posted to capture client data throughout their matter to speed up case progression.
Communicate securely
A secure login gives all parties access to their communication history and sensitive data in one centralised portal to avoid lost or misplaced emails and documents.
Retain control
You select which clients and information is displayed in the web portal, so you retain complete control of the matter. You can revoke or limit access at any time.
e-Signatures
Share documents for electronic signatures, using the DocuSign integration, via the portal to eliminate paper copies.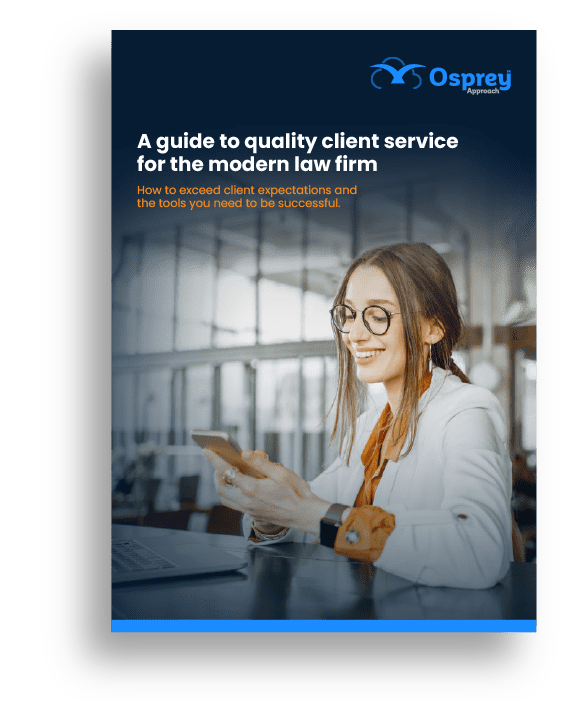 A guide to quality client service for the modern law firm
Download our free guide to discover more the importance of delivering quality service in order to stay competitive, how to exceed client expectations and the tools you need to be successful.
Frequently Asked Questions
What is a legal client web portal?

A legal client web portal allows lawyers and legal professionals to securely and effectively communicate and collaborate with clients online. Client will access the portal via their personal log in details and typically will be able to share and receive documents, upload data and files, view case progression updates and communicate. Osprey's web portal enables your firm to work with clients but also third-parties so you can work on building documents and share files and case bundles.

Why should law firms use a client web portal?

A legal client web portal enables law firms to provide a convenient, modern and transparent service for the clients. Client portal tools such as case progression timelines, document upload and storage, and e-signatures helps clients feel in control of their case because of the visibility you can provide, and the ease of collaboration reduces the stress involved in progressing a case. Clients have 24/7 access to share and receive data without need to visit your office, rely on the post or print documents. Not only can your firm exceed your clients expectations but the client portal directly effects your bottom-line and help increase the profitability of a case. Read our guide on the benefits of client portal software on our blog.

What does the Osprey web portal do?

The Osprey web portal enables you to effectively communicate and collaborate with clients and third-parties so you can exceed client expectations with a frictionless, transparent service and deliver efficient and profitable services. The features of the Osprey web portal include:
Questionnaires
Digitally capture data from your clients that an be used to auto-populate documents and communications later in the case.
Digital documents
Documents stored in Osprey can be automatically added the client portal for clients to view, edit and download. Similarly, clients can upload documents (of any file type) to the portal to share with their lawyer.
Update timeline
Clients can view their case progression in real-time.
Document creation
Share work in progress documents with clients and third-parties and enable them to 'check-out' files, make edits and amends and then share them again. Version history is maintained so you always keep control.
Electronic signatures
Enable clients to electronically sign contracts and agreements from within the client portal to speed up case progression and reduce friction for your clients.
Communicate securely
Communication history and sensitive data is securely stored in one place to avoid lost or misplaced emails.
Branded mobile app
Showcase your brand and serve your clients wherever they are using the branded mobile app. All the web portal features packaged in your own mobile app.

Can I integrate the web portal onto my existing website?

Yes, the best place to link to the client web portal is on your existing website. This will provide an easy route to the portal for your clients but also showcase that you provide a modern, digital service to prospective clients.

Is the web portal secure?

The web portal is an extension of the Osprey Approach software so it is protected and secured by the same measures as the Osprey system. This means sharing data in the web portal is much more secure than sharing data via email or in the post as the data can't be intercepted on transit. Read more about how protected the Osprey approach solution is.

Can my clients sign documents electronically in the web portal?

Yes, your clients can sign agreements and contracts electronically in the portal. Osprey integrates with the world's leading e-signature tool, DocuSign, to provide a convenient and fast service that saves time and money. Find out more about the DocuSign integration.

If my law firm uses the web portal do I have to share everything with the client?

Your firm always retains control of over the information you share with your customer when using Osprey. You can pick and choose what data, documents and updates you share with clients and what you keep internal.
See Osprey in action
Discover the power of Osprey Approach in a free, no obligation demonstration, and learn why thousands of lawyers trust our software solution to manage their firm. Complete the form and a member of our sales team will be in touch to find out more about your firm's needs and to book a meeting at a time that suits you.