The Lexis Smart Forms and Osprey integration provides an easier and more efficient way to filling in complex legal forms. Without needing to re-key data, install additional software or worry about accuracy, you can confidently generate forms and streamline your workload.
Integrate Osprey Approach with Lexis Smart Forms
Osprey Approach and Lexis Smart Forms frees your firm up to concentrate on more valuable work by making the complex legal form filling process easier and more efficient.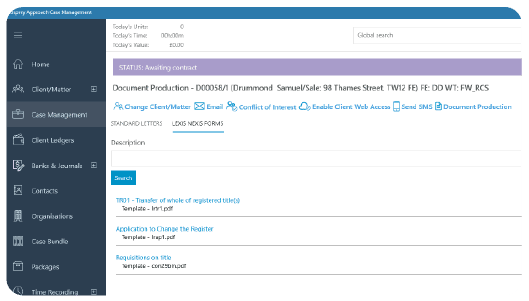 Produce & share legal forms more effectively
The Lexis Smart Forms and Osprey integration makes it quicker and easier to complete and share forms. By removing the time-consuming and laborious manual tasks of searching for and creating forms, you can improve the efficiencies of your processes. Using the data already stored in Osprey, with a click of a button you can populate the Lexis Smart Forms and save, as a PDF, back into the matter history. Easily and securely share completed forms with clients and third parties via the web portal to enhance your client service.
Auto-populate forms with data in Osprey
All forms are accessed within Osprey
Lexis Smart Forms come with embedded guidance notes and court addresses
Completed forms are saved to the matter history
Forms are maintained and regularly updated to improve accuracy
Complete forms on any device using our suite of apps
Share forms with your clients via the secure web portal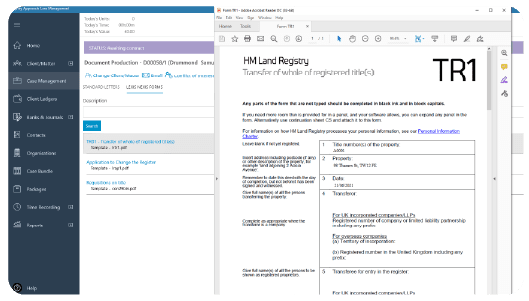 One single platform to centralise data and processes
The Osprey integration provides firms with a powerful, centralised platform that makes completing complex legal forms quicker and easier. From within Osprey firms have access to over 4,000 forms, that are regularly updated and incredibly easy to use, without the need for additional specialist software or training. Synchronised with the data you store in Osprey, you can be confident your forms are up to date and compliant.
Access to over 4,000 legal forms
Synchronised client and matter data that is auto-populated
Forms are reliable and regularly updated
Accessible from any device with our suite of mobile apps
Centralised access improves efficiencies across your workload
Used in conjunction with Osprey workflows and secure client portal you can streamline your processes even further
Frequently Asked Questions
Are the forms regularly updated?

We receive updates to forms on a weekly basis from Lexis Smart Forms and upload those changes to Osprey as we receive them to ensure you're always up to date.

Can you use Lexis Smart Forms in the Osprey legal workflows?

Yes, your Lexis Smart Forms can be added to any of the Osprey workflows. This means, as you run the form task within the workflow, the Lexis Smart Form will automatically generate based on the fields you've mapped, helping to reduce the manual admin involved in completing complex legal forms.

Do I need to buy additional software to create and edit PDFs?

You will not need to purchase additional software to create and edit PDFs. Lexis Smart Forms works with Adobe Reader and all fields are mapped within Osprey.

Do I need to have multiple tabs open in my browser to use the Lexis Smart Forms integration?

No, all of the Lexis Smart Forms are created directly from within Osprey. To view or edit the forms, they will open in Adobe Reader.

How much does Lexis Smart Forms cost?

To use Lexis Smart Forms with Osprey you will need to have a Lexis Smart Forms subscription. This would need to be discussed and purchased from them directly. You can fill out this form to request a quote.

How much the does the integration cost?

To use the integration you will need a Lexis Smart Forms subscription, which will need to be purchased directly from them. Once the subscription is purchased, there is no additional cost to setting up the integration with Osprey so you can benefit from a seamless integration that saves you time and money at no additional fee.

Do you offer training on the Lexis Smart Forms integration?

All software training is included in your Osprey Approach subscription costs, so we can assist you with the initial setup of the integration, as well as your day-to-day use. We also have online how-to guides and videos that you can access from the Osprey Academy, 24/7, to help you with set-up and support.
Find out more about the powerful Lexis Smart Forms integration
See Osprey in action
Discover the power of Osprey Approach in a free, no obligation demonstration, and learn why thousands of lawyers trust our software solution to manage their firm. Complete the form and one of our product experts will be in touch to find out more about your firm's needs and to book a meeting at a time that suits you.