Becoming data-driven: How modern law firms can continuously improve with real-time data
In the first episode of series two of Build Better Habits, we were joined by CJ Anderson, director at Iron Carrot, Ian Hopkins, senior consultant at CPM21, and Sam Jordan, COO at InfoTrack. Our expert panel shared their practical tips and advice on how to become a more data-driven law firm and how that can help you optimise for long-term success.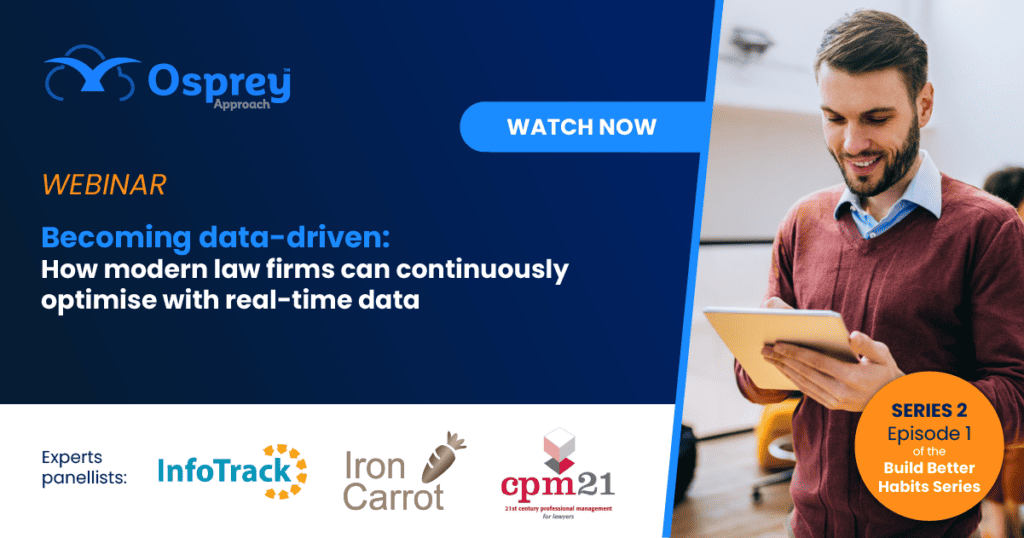 What does it mean to be data-driven?
According to the 2023 LPM Frontiers report, becoming more data-driven in decision making is one of the top three strategic priorities for SMEs over the next 12 months. To go back to basic the panellists discussed what it really means to be data-driven. All speakers agreed that being data driven enabled teams to make more informed decisions but crucially it was about changing the firm's culture and adopting a different mindset.
Ian begins by explaining that data reduces risk in strategic decision making because it removes the guesswork: "In a data-driven firm, decisions are based on data, not intuition and gut feelings. This can eliminate an element of risk in the decision making process."
Data reduces business risk in decision making and can also minimise employee stress-levels, which comes with making those top-level strategic moves. CJ explains that "being data-driven is about using data to support a goal you'd like to achieve. Using data takes away some of the mental calories from people that are making those decisions."
Both Ian and Sam highlight that whilst data removes an element of emotional decision making, that intuition is still key in getting the most from your data. Ian explained, "Utilising data doesn't mean people should abandon intuition. In fact, the ability to interpret data using common sense is arguably as important as the data itself." Sam expands, "humans make decisions emotionally, but being data-driven means those decisions can be backed up by data for better outcomes."
Becoming a data-driven law firm is a long-term project, not something that will happen overnight. This is why Ian thinks about utilising data in two steps. "Step one is about moving people away from making decisions based solely on gut instincts. I believe most firms are in that stage. Then, once established, you can push on and develop into a true data-driven business."
CJ agrees and highlights why she prefers the term data-enabled, "the cultural change is a long-term project, but there are things to do in the interim to move to being data-enabled. Being data-enabled is about using data to help and support plans."
Why should becoming a data-driven firm be a priority for all modern practices?
Our panellists highlight that becoming more data-driven doesn't just impact your financial performance but impacts you client service and empowers employees.
Sam begins by discussing the power data can have on your long-term success: "If you're becoming a more digital and data-driven business then you're going to affect your productivity and efficiency in your day-to-day working.
"But perhaps the ultimate value of being data driven is how it can create a competitive advantage for your firm. Data should be used to make decisions that will open up new opportunities. Whether that's deciding on new innovations or deciding what you should no longer focus on, the data should have genuine impact on your business."
Ian agrees and discusses how data can help firms avoid potential costly decisions. "Data gives you more confidence about the choices you make. For example, before hiring new team members, you can review utilisation rates, new enquiry numbers, and team profitability to help you make a much better decision."
Long-term success is routed in your ability to hone your competitive advantage. CJ discusses how data can help firms tackle their top strategic priority: enhancing the client experience. "Most law firms are looking at data from a client perspective to enable them to have better client conversations.
"If you have the right data to hand you can have a better conversation about how many hours are on the clock, how much work will cost, how you will help them, and the firm's action plan."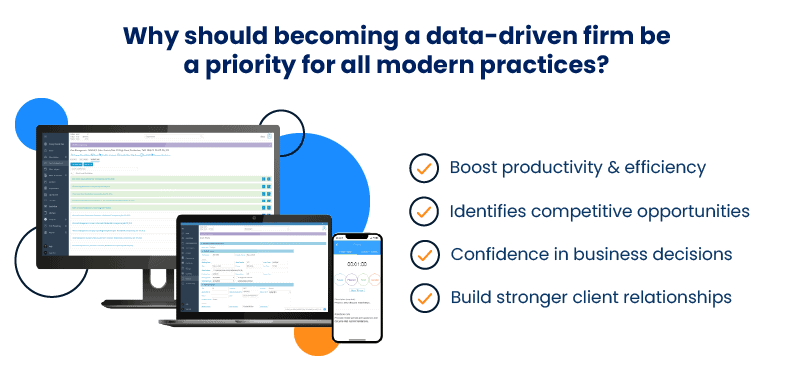 Seven habits law firms should adopt to become more data-driven
The panel agreed that modern law firms should focus on the following habits to become a more data-driven firm:
Decide what is important to you
Start by aligning your data to your firm's goals and objectives. CJ explains, "know which data is important to you and make sure everyone in the firm knows where to find it, how to input it, and how to get the data back out."
2. Agree on the metrics
The metrics you track should be clear and uncomplicated. CJ recommends that firms, "agree on what the metrics are, what they mean, and how they're going to be calculated. It sounds pedestrian, but it's important all departments are calculating and analysing the data in the same way." Reducing ambiguity in the data is crucial for accuracy and impactful decision making.
3. Focus on collectivism
CJ suggests, "work out loud. So, share the data, it's definitions and how to access it with everyone. Working out loud is about sharing; collectivism is a big part of being data-enabled." Data can only effect firm-wide goals and success if it's well communicated and prioritised by all.
4. Communicate top-down
Sam warns that you can't have people working in isolation if you want to become a more data-driven firm. Ian explains how, "becoming a data-driven business requires a cultural shift, which is very difficult. Your only hope is to have buy-in from the top because clear leadership is an important element."
5. Provide training
An successful data-driven culture requires effective utilisation of the data you collect. Sam recommends, "the data needs to accessible to everyone. People need to know how to input it and use it, which requires the right skill sets and therefor the right training."
6. Work in a measurable way
The goals you're looking to achieve as a firm should be measurable in order to utilise the data. Sam shares how his team at InfoTrack work in a measurable way: "It's important to connect the dots across the business and for us at InfoTrack, we have five priorities, every quarter, that we try to achieve. Those top five objectives flow throughout the company so every department and individual have measurable objectives that align with those top goals."
7. Ensure accessibility
Not only should employees have the right training to better utilise the data, but the data needs to be accessible to everyone. Ian says, "lawyers, in my experience, prefer visual presentations to rows of data in spreadsheets. The data, from an end user's point of view, should be accessible using visual dashboards and graphs. This will help you paint a picture of the story you're trying to tell."
What should law firms prioritise when looking to implement a data-driven strategy?
Three key areas were highlighted in this discussion to help law firms build the fundamentals of running a data-driven firm: data quality, firm culture, and digital tools.
Ian believes firms must prioritise the quality and accuracy of the data they hold. "Bad quality data is not unusual in my experience. And bad data adds cost to the business. It requires additional resource and time to analyse and utilise. Having ignored housekeeping principles, data grows into a mess and the idea of becoming data-driven feels like a big project.
"So, if management are serious about using data to drive continuous improvement, they have to make the resource available to review and organise the data in their practice management system."
CJ highlights the importance of building the right mindset and culture to effectively utilise the data at hand. CJ explains that "a key element of building the right culture is psychological safety. Everyone needs to be comfortable with pointing out the flaws and saying, 'we have a problem here, we've got to address it'.
"Traditionally, in firms, that's not an acceptable behaviour and a lot of people work hard to make sure others don't see the pain of data. Everyone needs to be on board and supportive with the idea of pointing out and fixing flaws."
Empowering employees also relies on leadership effectively communicating the goals and plan with the team and to ensure training is available to upskill where needed. Sam discusses the importance of the tech and digital tools you use to capture and manage the data. "It's an obvious answer from a tech company but tech has to come first."
The tech enables you to capture and store the metrics you need effectively and then analyse and visual the insights. Sam continues, "you need a single source of truth where you can find the data with confidence. That should be your practice and case management software. Putting the data in one place means people can actually use it to do their job quicker."
What's the importance of having connected legal tech and digital tools to make effective data-driven decision?
Technology provides a centralised platform to input and utilise the data you store from across the firm. Without it, you're left spending hours sifting through paperwork and spreadsheets. Sam doesn't believe it's possible to become data-driven without the right tech: "If you digitalise the whole process, bring the data together, and turn your processes into workflows then you can effectively use your data. That's how you democratise data and ensure it's accessible to everyone."
CJ praises legal tech for enabling a better work-life balance in a sector that's not best known for it. "Technology reduces the mental calories required to complete daily tasks. Legal tech does the heavy lifting for you, makes it easier to perform your job, and gives you time back to do what you want."
Ian aggress that tech takes an element of cost out of being data-driven because it doesn't require so much resource and time to find and sort the stats manually. But Ian celebrates how tech empowers employees, which ultimately benefits the firm's bottom-line. "Businesses with engaged staff perform better, so if you're investing in tech and utilising data to improve people's jobs it'll improve engagement, which is a very positive thing for your business."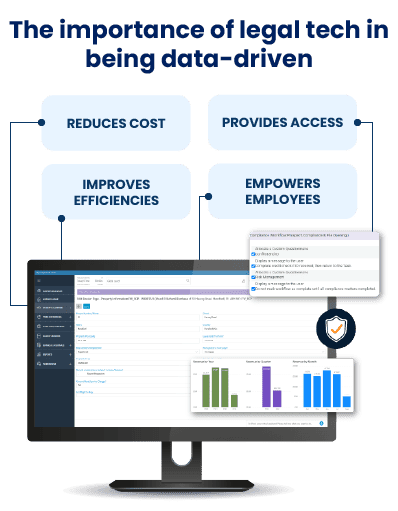 Building a data-driven law firm requires the right culture and legal tech
It's no wonder that becoming more data-driven is a strategic priority for many SME law firms because it sits at the heart of long-term success. Accessing and utilising data helps you develop your competitive advantage and deliver a service that clients recommend and return to. Data helps you get the most from your employees but also empowers them to meet their own goals. And it ultimately makes running a law firm easier with better confidence in decision making and clearer paths for progress and continuous improvement.
No matter the size of your firm, data holds the key for performing your best. Alongside ensuring you capture quality and accurate data, becoming a data-driven firm is all about your people. Building an effective culture and a confident team who can utilise data to their advantage is what will propel your business forward.
Becoming a data-driven firm helps to fuel a continuous improvement mindset, which is one of the four fundamental habits we've outlined that all modern law firms should adopt for long-term success. We've covered all four habits in our Build Better Habits webinar series, which you can watch on-demand now.