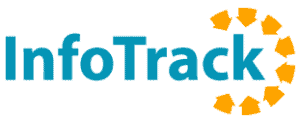 InfoTrack offers an award-winning suite of digital conveyancing solutions from client onboarding and property searches to verification checks and property reports. When integrated with Osprey Approach, law firms have access to a powerful platform to deliver an efficient and quality digital conveyancing service.
Seamlessly Integrate Osprey Approach with InfoTrack
Osprey Approach and InfoTrack digitalise the conveyancing process so you can run a more profitable firm that focuses on the client, not administration.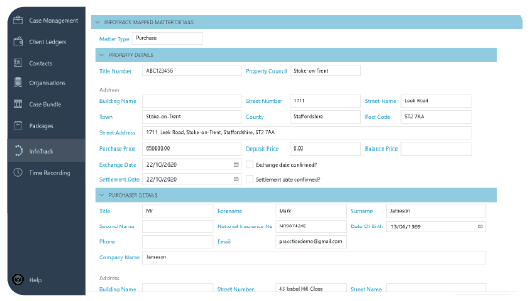 Conveyancing software to improve the efficiencies of your workflows
Remove the admin-heavy tasks involved in the conveyancing process to reduce lawyers' workloads and increase efficiency. All accessible in the Osprey case management solution, you can easily navigate to the InfoTrack portal so you can complete searches and reports quicker and easier.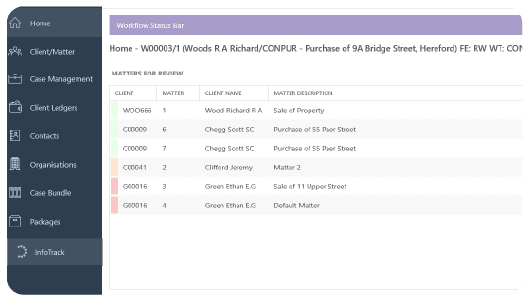 Deliver excellent client service
The Osprey and InfoTrack integration allows firms to offer a fully digital onboarding service. Firms can better satisfies clients' needs and improve the efficiency, accuracy and quality of the services they provide which will ultimately help to win new business.
Avoid relying on traditional, slow and costly conveyancing processes
Capture client data in questionnaires through the secure Osprey Client Portal
Order ID verification, AML checks and property searches online
Combine with the DocuSign integration to speed up contract signatures
Provide clients' with case updates via the Osprey Client Portal
InfoTrack Services
Access and order a wide variety of searches, checks and reports through InfoTrack via Osprey's case management solution. The InfoTrack forms are auto populated with data stored in Osprey and completed reports and files are saved back into the matter history to help you deliver an efficient and effective service. Centralise your conveyancing processes in one connected platform so you drive long term efficiencies for your firm.
InfoTrack products and service include:

Digital AP1s: five things law firms need to know
HM Land Registry have announced they would be mandating all register applications to be submitted digitally from November 2022. Read our blog to discover how to prepare and what you need to know to ensure you're digital AP1 ready.
Frequently Asked Questions
What is InfoTrack?

InfoTrack is a software platform, that integrates with case management solutions, offering a suite of client onboarding, searches, and post completion services. They help to digitalise the conveyancing process to assure compliance and productivity. For more information, visit their website.

How does the InfoTrack integration work?

InfoTrack is accessed through the Osprey conveyancing app so you can order and complete searches from within a single platform. When you access InfoTrack through Osprey, the necessary client and case data you hold within Osprey is securely sent to InfoTrack to complete the orders, this means you don't need to re-key information into the InfoTrack order forms. You can order a range of services with InfoTrack including property searches and verification of identification. Once the order is complete the relating documents are automatically returned back to Osprey in the matter history against the related client and case.

Can I order all my property searches with InfoTrack?

Yes, InfoTrack has a full suite of property searches available through the integration. You can also order a range of other checks and searches to complete your conveyancing cases, including digital AP1s, AML checks, property reports and more. More details can be seen above.

What other services can I order through InfoTrack?

A variety of services can be ordered through InfoTrack using the Osprey integration. You can complete client onboarding searches and checks including VOF, VOI and AML. A host of other options such as lawyer checker, property reports and post-completion SDLTs can also be ordered. For full details see above.

Do completed searches and reports automatically save back into the correct matter history in Osprey?

Yes, once complete, any documents relating to your order are automatically returned back to Osprey and saved in the matter history against your client and matter. You will also receive an email notification to confirm the completion of the order.

How much does InfoTrack cost?

InfoTrack operates a pay-as-you-go model and are dependant on the products and services you order. Prices are confirmed when joining InfoTrack. You can simply get in touch with InfoTrack or we can happily put you in touch with one of our contacts to assist you.

How much the does the integration cost?

You will need an account with InfoTrack to use the integration with Osprey. Once this is live, there are no additional costs to start using the integration so you can benefit from the powerful InfoTrack features and the seamless integration with Osprey without additional fees.

Do you offer training on the InfoTrack integration?

All training is included in your Osprey Approach subscription costs, so we can assist you with the initial setup of the integration, as well as your day-to-day use. We also have online how-to guides and videos that you can access from the Osprey Academy, 24/7, to help you with set-up and support.

How long does it take to get set up with InfoTrack?

Set-up time for InfoTrack and the Osprey integration can vary depending on your needs and training requirements. Typically, the fully integrated setup, which includes extensive training from both Osprey and InfoTrack, is be completed within 2-3 weeks, however it is possible for this to be reduced. Please get in touch for more information and we can provide a more accurate timescale based on your requirements.
Find out more about the powerful InfoTrack integration
See Osprey in action
Discover the power of Osprey Approach in a free, no obligation demonstration, and learn why thousands of lawyers trust our software solution to manage their firm. Complete the form and one of our product experts will be in touch to find out more about your firm's needs and to book a meeting at a time that suits you.