Connect Osprey with your favourite Microsoft 365 business tools. Work in Microsoft Word and Outlook whilst connected to Osprey so you can export files, share data, run workflows, and time record with ease. The powerful integration enables you to work smarter to drive long-term efficiencies for your firm and deliver unrivalled service for your clients.
Integrate Osprey Approach with Microsoft 365
Osprey Approach and Microsoft 365 empower firms to remove manual tasks and digitalise processes so you can run a more connected and profitable firm that focuses on the client, not administration.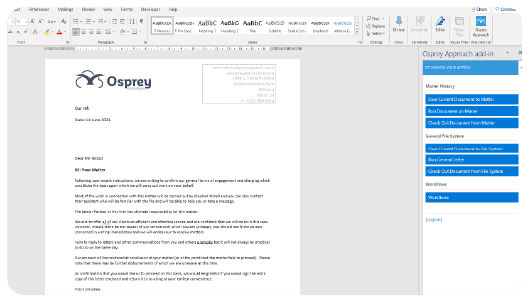 Connect your most loved business tools with your legal software
The Osprey and Microsoft 365 integration makes your most used and loved tools even better. Access Osprey right from within Word or Outlook so you can search for and access your client and matter data within seconds helping you save hours of manual work. Better manage your communications, documents and calendars when your essential business tools are connected.
Access Osprey from within Word or Outlook
Connect your Outlook calendar to manage deadlines and key dates
Pre-populate forms and fields with data from Osprey
Time record accurately using the Word and Outlook add-in
Securely access your files and save directly back into Osprey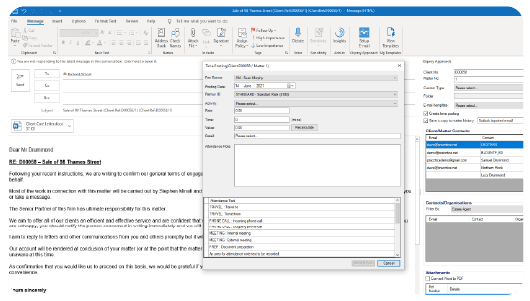 Increase billable time
Free up you time for more valuable work when you connect Osprey with Microsoft 365. The add-ins for Outlook and Word connects your most-used applications, so you have access to your Osprey database when drafting documents and emails. Helping you better keep track of your time, you can record your billable hours from within Word or Outlook, so each communication can be effectively tracked. Plus, export your key dates and deadlines to your Outlook calendar so you're always organised and on track.
Track time when working in Outlook or Word for accurate billable hours
Connect your calendars so you're on top of deadlines
Export emails and save documents straight into Osprey
Securely access client and matter details and files
Run automated workflows from Word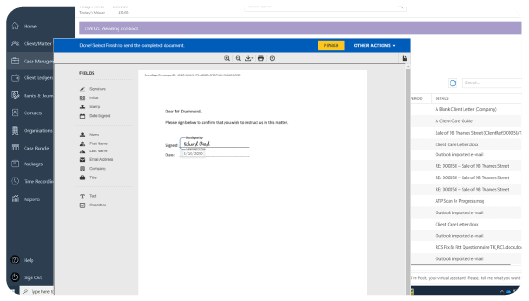 Put your phone-line in the cloud
Hybrid-working is the future of law firms so it's essential all of your team can answer their incoming calls, no matter where they're working. Never miss a call or an opportunity again with a cloud-based phone system with Microsoft as part of your Microsoft 365 licence. Microsoft Teams can do more for your business that just keep your internal team connected. As a Microsoft Partner we can advise you on the best options for future-proofing your firm and can help to upgrade you quickly to benefit from the full Microsoft Phone System. Contact us to find out more.
Frequently Asked Questions
Can I create documents in Word and automatically save them to Osprey?

Yes, we have a plugin available through the Microsoft store within Word that will allow you to save your document directly into Osprey. Our integration enables you to access key case and client data that you store within Osprey, whilst you're working in Microsoft Word, including time recording and workflow functionality.

Can I record time against emails?

Yes, you can time record against emails through Outlook when using a Windows device without a Microsoft 365 subscription. This means you can easily keep track of time spent replying and drafting emails, straight from your inbox. Alternatively, you can time record through Outlook on Mac devices if you have a Microsoft 365 subscription.
Find out more about the powerful Microsoft 365 integration
See Osprey in action
Discover the power of Osprey Approach in a free, no obligation demonstration, and learn why thousands of lawyers trust our software solution to manage their firm. Complete the form and a member of our sales team will be in touch to find out more about your firm's needs and to book a meeting at a time that suits you.