Cloud-based legal practice & case management software
Provide freedom to employees with cloud technology
Moving to cloud-based legal software provides your law firm with the freedom to work from any location on any device. Empower your employees with digital tools that enhance productivity but also ensures the protection of your data. Easily manage a hybrid working strategy by storing your files securely in the cloud so your team stays connected.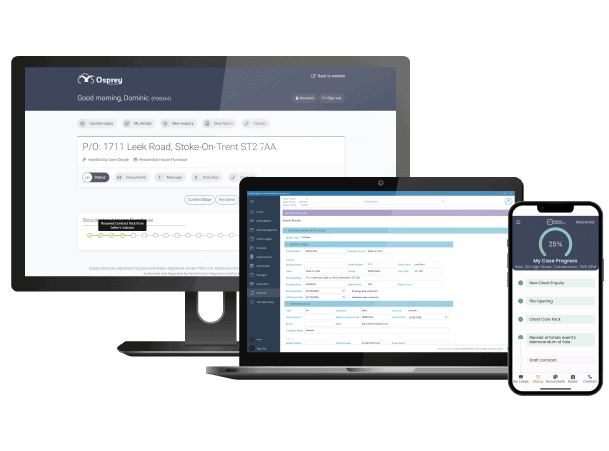 Cloud-based legal software features:
Software accessibility
Run your software on either your desktop or a mobile device, ensuring your data and case management features are always available.
Sync data in real-time
Ensure your data is always connected and accurate when you store your client, case, and financial information in the cloud. Synced across your employees, you'll always have access to real-time data.
Hosted for you
Your software provider will host your legal software for you so you'll no longer need to invest in or maintain a server at your premises.
Industry-leading data protection
Osprey's cloud-based legal software provides data encryption and firewalls to protect your data from cyber attacks as well as physical protection on the data centres to ensure it's secure.
Automatic data synchronisation
Osprey takes advantage of co-located data centres, so the primary Osprey database is synced to a secondary data centre, located in a separate geographical location, automatically ensuring accessibility even if the primary data centre is not accessible.
Software integrations
Through using the cloud, the process of installing and using external integrations such as Coadjute, InfoTrack, or DocuSign are made much easier.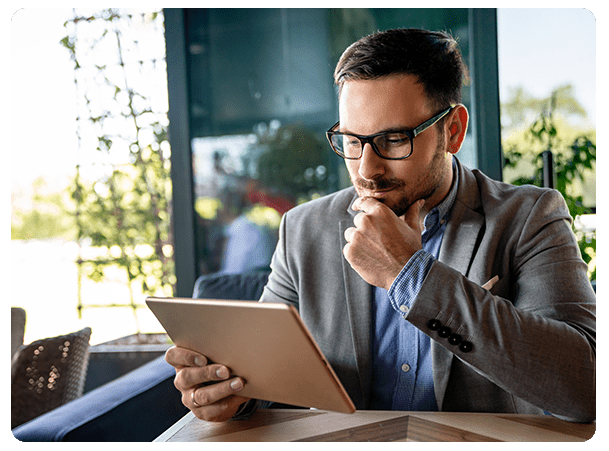 How secure is the cloud?
Data security is a key concern for law firm leaders. Whilst you can't guarantee 100% security in the cloud, over recent years providers have invested heavily in security. Interestingly, research shows that it's the biggest security risk lies with the end user. Gartner predicts that by the end of 2025, 99% of cloud security failures will be the customer's fault. This is why security measures must be the shared responsibility between the service provider and firm. Osprey's cloud infrastructure is highly secure to provide confidence that your data is protected.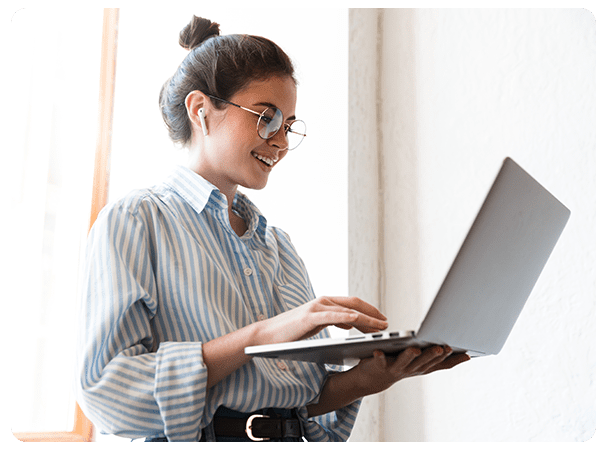 Ensure business continuity with cloud-based law firm software
Storing your data on local servers can be costly and cause restrictions. Enjoy the freedom and peace of mind of storing your data, files, and processes within Osprey's cloud platform. Even if the worst happened and you couldn't access your office, all employees can still work effectively from any location, on any device. Business continuity is essential for your firm's reputation, long-term success, and compliance requirements.
The Osprey Approach all-in-one solution
The complete Osprey Approach solution combines comprehensive case management, powerful practice management, legal accounting, and streamlined client management – enabling your firm to run a streamlined and profitable operation that exceeds client expectations.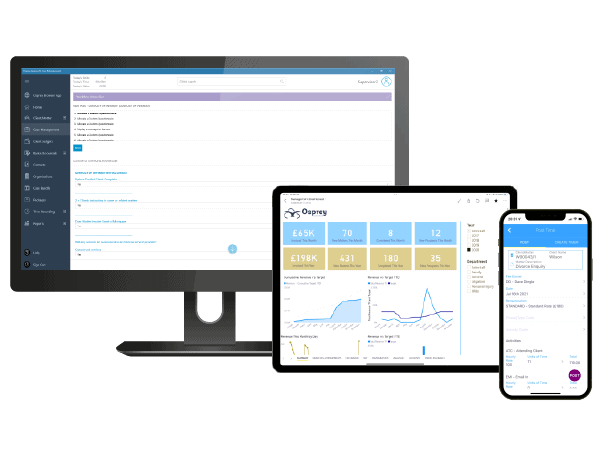 Frequently Asked Questions
How is cloud-based legal software better than an on-premise solution?

Cloud software enable you to access your data from any location, whether working from home or in court, so you're no longer restricted by the office or using VPNs.

Using cloud-based software, you can store your firm's data digitally, thereby having the ability to access it anywhere, on any device with an internet connection. On top of this, the software provider will maintain the data centres and software themselves so you won't require internal resource to manage servers.

Is it cheaper to use cloud-based legal software?

Cloud software solutions don't require a large up-front payment to purchase and install. And consequently doesn't require additional maintenance costs for your on-premise servers. Therefore cloud software can be cheaper to invest in and implement initially. Cloud software is purchased by paying a licence fee per user, per month. This can make the investment easier to manage long-term and streamlines cashflow for your firm.

Is a dedicated server required?

No. Cloud-based legal technology doesn't require you to set up your own dedicated server. The software provider will host the system on either their own private data centre, or using commercial hosting packages such as Microsoft Azure or AWS.

Is cloud-based software future-proofed?

Yes it is. Compared to running your own server, there is no life expectancy when opting to make use of cloud technology and any infrastructure that could affect your firm's operations will be handled by the software supplier. The legal software will also regularly receive updates to fix bugs or add brand new features to enhance the functionality of the software.
See Osprey in action
Discover the power of Osprey Approach in a free, no obligation demonstration, and learn why thousands of lawyers trust our software solution to manage their firm. Complete the form and a member of our sales team will be in touch to find out more about your firm's needs and to book a meeting at a time that suits you.