Get your work done faster with the world's number one way to sign electronically. DocuSign is trusted by millions of users to help them do business more effectively getting contracts, agreements, letters, and invoices signed in minutes rather than days. When integrated with Osprey Approach, law firms can offer clients a fast and effective digital service that saves money and time.
Seamlessly integrate Osprey Approach with DocuSign
Osprey Approach and DocuSign digitalises the contract and agreement signature processes so you can run a more profitable firm that focuses on the client, not administration.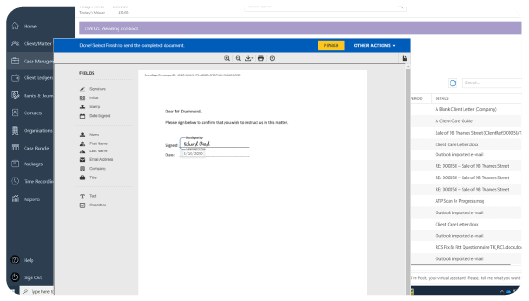 Sign & complete legal contracts quicker & easier
Receive completed and signed documents faster to help progress cases quicker using the DocuSign integration. With the document production tools you already use in Osprey you can create a contract or agreement for electronic signature easily. The seamless integration means you can be more efficient with the tools you already use in Osprey by creating and sharing documents through the secure Client Portal that can be signed and returned in minutes.
Data stored within Osprey is pre-populated into the documents you need
Easily tag documents to include the DocuSign functionality
Combine with Osprey's workflows to automate key onboarding tasks
Easily share files in the Osprey Client Portal for digital signature
All signed documents are automatically saved into the matter history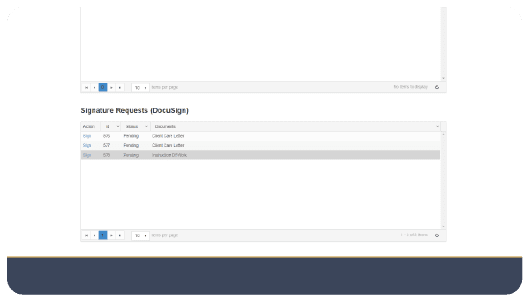 Deliver a modern client service
Provide a convenient, fully digital case management service to your clients. Onboard, progress and collaborate on cases using the DocuSign integration to digitalise your signatures and avoid the manual and costly process of physical files. Firms can better satisfy clients' needs and improve the efficiency and accuracy of the services they provide which will ultimately help to win new business.
Avoid relying on traditional, slow and costly postal services
Exceed client expectations with an efficient, digital service
Send files through the secure Client Portal for electronic signature
Receive completed agreements and contracts in minutes not days
Provide clients' with case updates via the Osprey Client Portal
Frequently Asked Questions
Can you use DocuSign in the Osprey web portal?

The most secure way to send, receive and sign documents is within the Osprey web portal. Any document you create and send for signature from your client will be made available in the client web portal. Documents can be viewed, signed and returned and you will be notified when a client has completed the document.

Do I need to re-save signed documents back into Osprey?

No, when your client or related party, sign a document a copy is automatically stored back into Osprey in the matter history. You will also receive a notification to alert you that a client has completed a document.

How much does DocuSign cost?

To use DocuSign with Osprey you will need a subscription that can be purchased from DocuSign directly. DocuSign has different pricing plans available depending on the requirements of your practice.

How much the does the integration cost?

To use the DocuSign integration, you will need a DocuSign subscription. Once you have an account with DocuSign, there are no additional costs to setting up and using the integration with Osprey. This means your firm can benefit from the powerful features in DocuSign as well as a seamless integration that saves you time and money at no additional fee.

Do you offer training on the DocuSign integration?

All training is included in your Osprey Approach subscription costs, so we can assist you with the initial setup of the integration, as well as your day-to-day use. We also have online how-to guides and videos that you can access from the Osprey Academy, 24/7, to help you with set-up and support.

Is DocuSign legally binding in the UK?

Yes, DocuSign is legally binding. England, Wales, and Northern Ireland have legally recognised electronic signatures since 2002. DocuSign has been developed to meet legal requirements by allowing law firms to:

-Verify signer identities with multiple identification options.

-Choose the type of signature standard for their use case

-Confirm signer intent to sign electronically

-Link signatures to signers and documents

-Protect documents with a tamper-evident seal that uses a combination of independently certified, secure system processes and PKI technology.

Find out more on the DocuSign website.
Find out more about the powerful DocuSign integration
See Osprey in action
Discover the power of Osprey Approach in a free, no obligation demonstration, and learn why thousands of lawyers trust our software solution to manage their firm. Complete the form and a member of our sales team will be in touch to find out more about your firm's needs and to book a meeting at a time that suits you.