Implement successful business habits in your law firm
Building better business habits is the easiest way for law firms to achieve their goals. Whether you're looking to improve client service, grow your firm, or reduce costs, utilising the Osprey Approach solution to implement successful foundations is the quickest way to reach your goals.
Build Better Habits Webinar Series
To remain competitive modern law firms need to implement successful business habits and streamline their legal operations. We believe there are four fundamental mindsets and associated habits that firms should adopt, which we explore in our four-part webinar series. We're joined by experts in the legal sector to discuss the top operational challenges faced by SME law firms and how building better habits can help improve long-term success.
Register below to gain access to the insights you need to successfully run a modern law firm.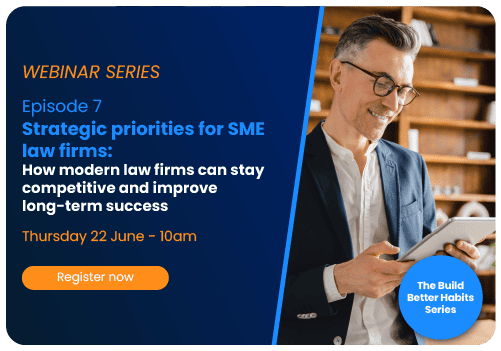 UPCOMING – EPISODE 7
Strategic priorities for SME law firms: How modern law firms can stay competitive and improve long-term success
Thursday 22 June – 10am
In our seventh episode of our Build Better Habits webinar series, we're going to deep dive into the stats and insights of the LPM Frontiers Report. The comprehensive analysis will help us to understand the strategic business plans of SMEs and the impact that'll have on their habits and processes.
On-demand episodes: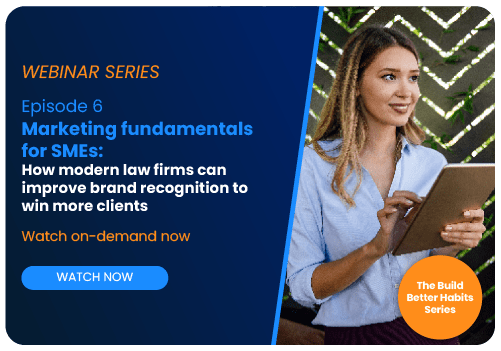 EPISODE 6
Marketing fundamentals for SMEs: How modern law firms can improve brand recognition to win more clients
On-demand webinar
In our sixth episode we'll be exploring the importance of thinking digital-first when it comes to marketing your law firm and strengthening your brand. Join us and our expert guests as we discuss the fundamentals of digital marketing for law firms, how it benefits your reputation, and the marketing habits firms can adopt regardless of budget.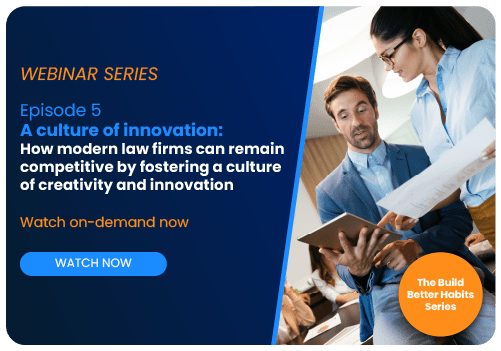 EPISODE 5
A culture of innovation: How modern law firms can remain competitive by fostering a culture of creativity
On-demand webinar
In our fifth episode we'll be exploring how creativity impacts a continuous improvement mindset and innovation. Join us and our expert guests as we discuss what creativity really means and what that looks like in a law firm, how creativity can benefit legal professionals, and the habits firms should adopt to foster a culture of innovation.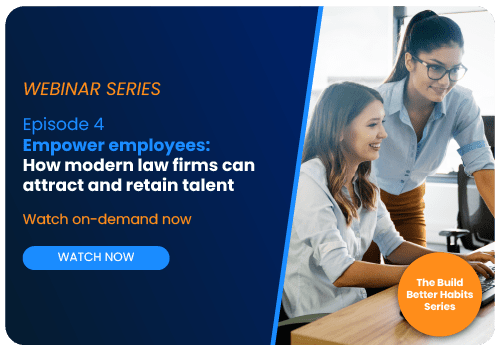 EPISODE 4
Empower employees: How modern law firms can attract and retain talent
On-demand webinar
Whilst salary remains a key factor when hiring new staff, it's a firm's culture that can ultimately make or break the practice. Join us as we discuss how empowering employees helps to win and retain talent.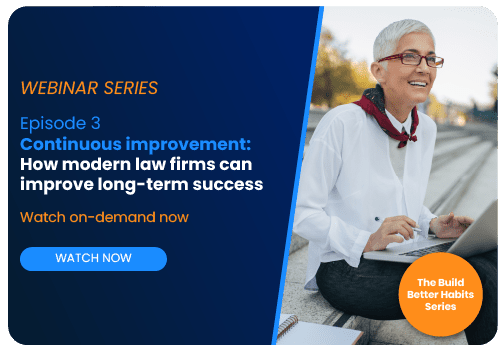 EPISODE 3
Continuous improvement: How modern law firms can improve long-term success
On-demand webinar
Optimising your firm's operations isn't a one-time project, but a process of continuous innovation. Join us as we discuss the importance of reviewing existing habits to stay competitive.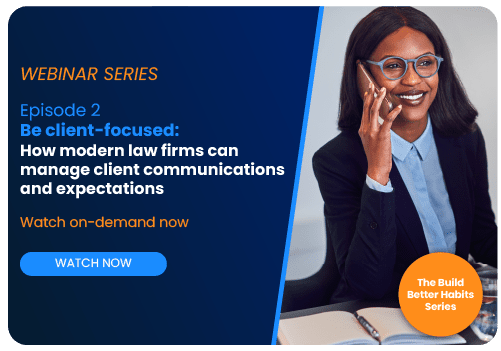 EPISODE 2
Be client-focused: How modern law firms can manage client communications and expectations
On-demand webinar
59% of SME law firms ranked managing client expectations as their number one operational challenge. In this episode we'll discuss how law firms can improve collaboration and service for clients with the right digital tools and habits in place.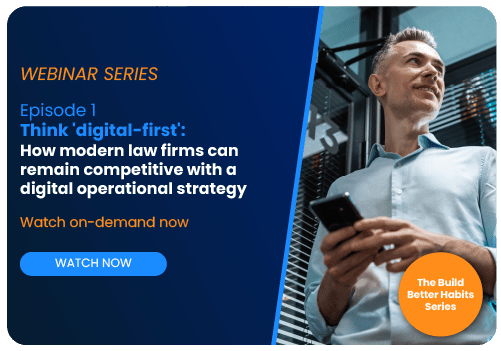 EPISODE 1
Think 'digital-first': How modern law firms can remain competitive with a digital operational strategy
On-demand webinar
What does is mean to have a truly digital operational strategy? We'll discuss the importance of utilising digital tools for long-term success and where to start in digitalising your legal operations.
with guest speakers: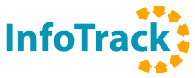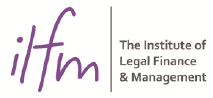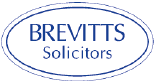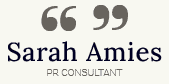 The Osprey Approach all-in-one solution
The complete Osprey Approach solution combines comprehensive case management, powerful practice management, legal accounting, and streamlined client management – enabling your firm to run a streamlined and profitable operation that exceeds client expectations.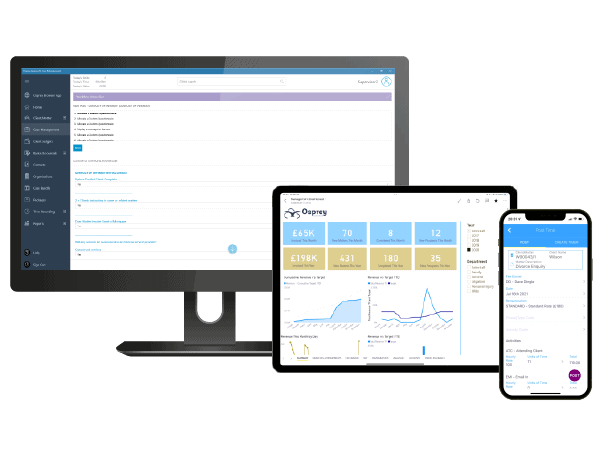 Building better habits resources
Download our free guides to discover how to review your current habits, how to implement future-proofed habits, and the mindsets needed for long-term success.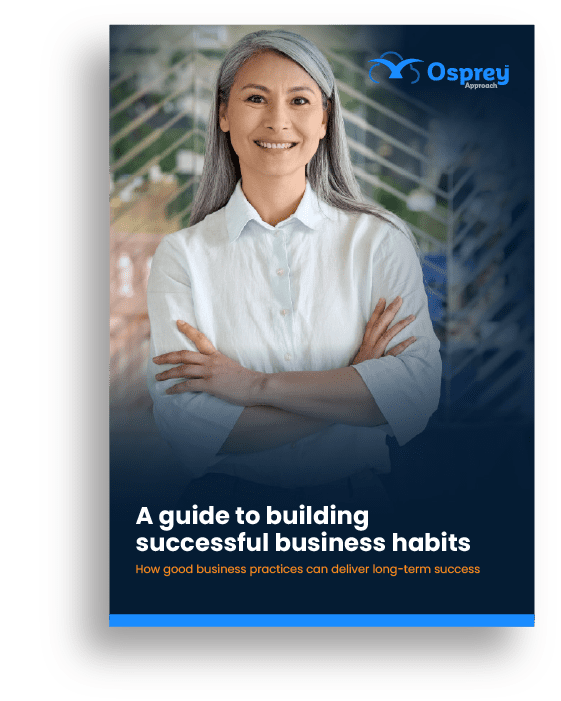 A guide to building successful business habits
Discover how to review your existing habits, implement small incremental improvements, and utilise technology to build future-proofed digital foundations.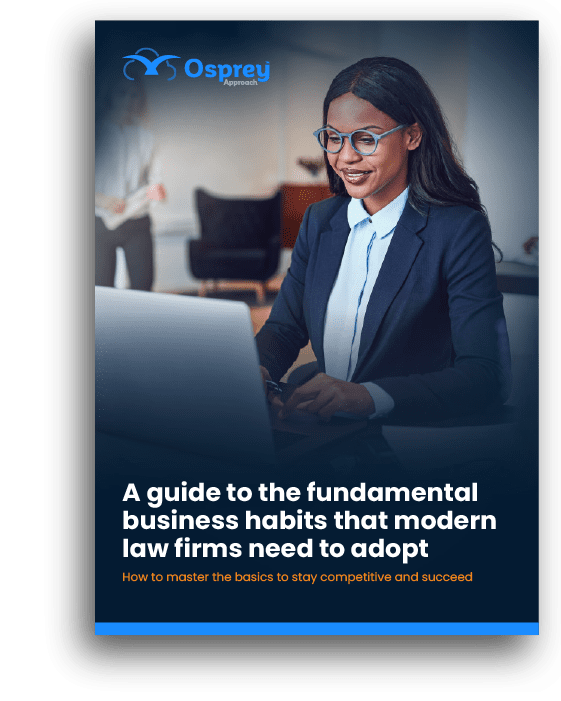 The fundamental habits modern law firms need to adopt
This guide looks at the fundamental business habits and mindsets all modern law firms need to adopt in order to stay competitive long-term.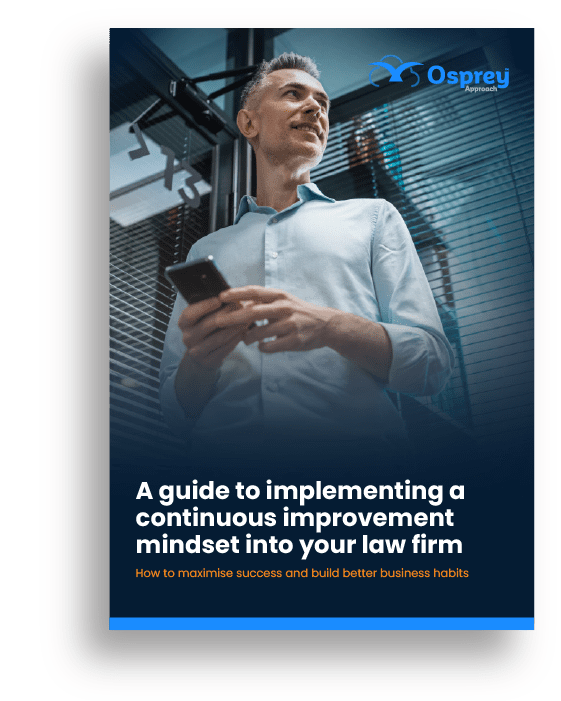 How to implement a continuous improvement mindset
Download the five-point CI plan that'll guide you to successfully implement a continuous improvement mindset to optimise your operations.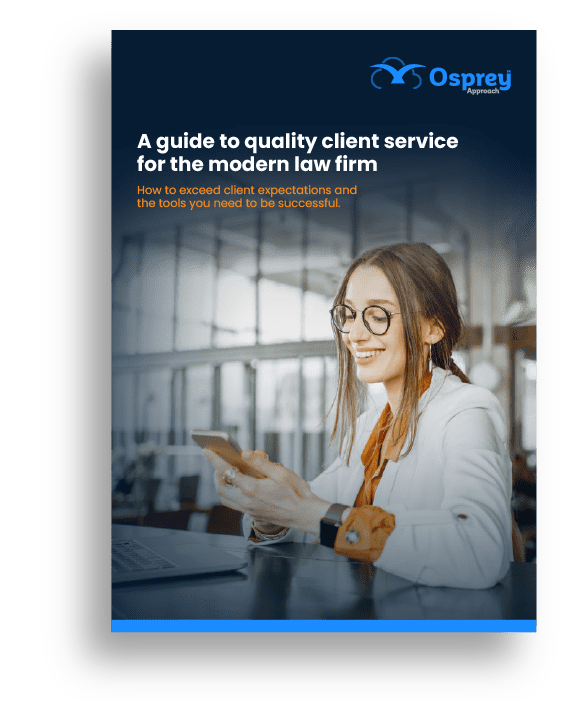 A guide to quality client service for the modern law firm
Find out how to exceed your clients' ever-increasing expectations and the tools you need to do it.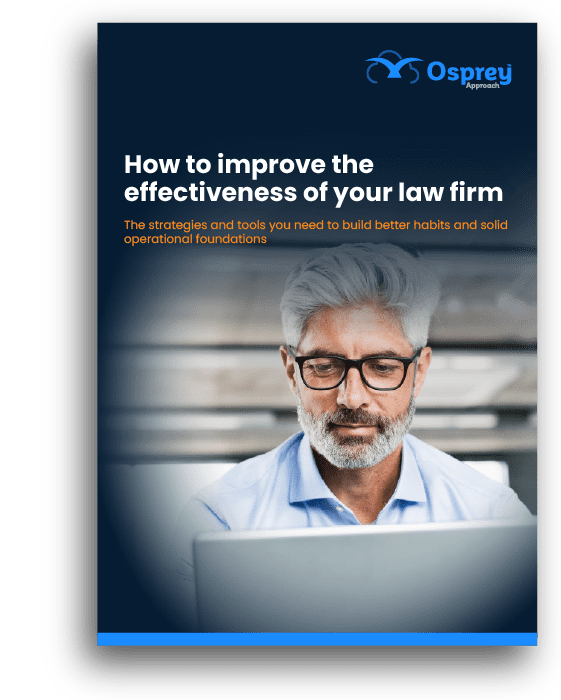 How to improve the effectiveness of your law firm
Do you have the right digital foundations in your firm to run a successful business? We've detailed the five pillars of how to create the right digital, cultural, and operational environment to help improve the effectiveness of your firm.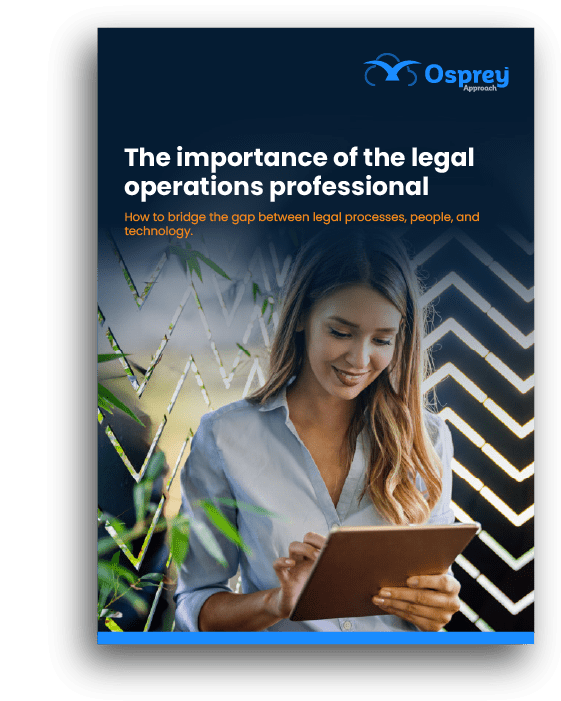 The importance of the legal operations professional
Discover how to bridge the gap between your firm's legal processes, people, and technology.
A platform to run your entire firm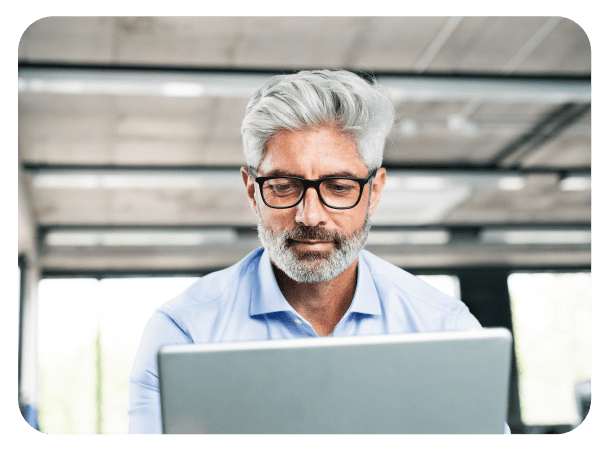 Centralise case management tasks to maximise your time
Manage every aspect of a case from client onboarding and collaboration, to document production and time recording, in one centralised platform that's accessible from any device, no matter your location. Streamline and automate your daily workload with Osprey so you can stay organised, reduce errors, and deliver quality client service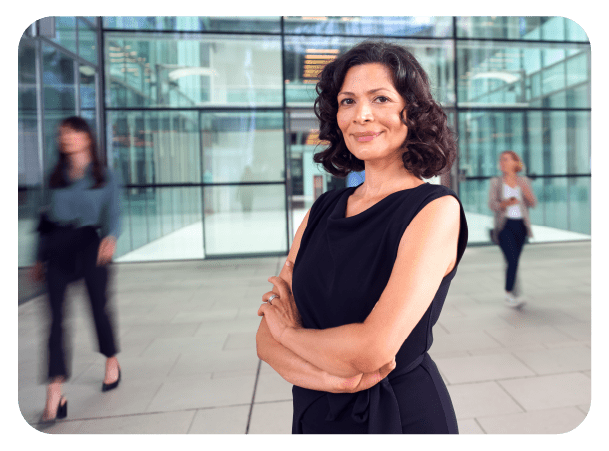 Future-proof your law firm
With a powerful software solution at the core of your firm you'll be more efficient, adaptable, and effective. Reaching your goals becomes easy when you have 360-degree visibility of your firm's performance that enables you to make smarter, data-driven decisions. Osprey provides fully integrated legal accounting, compliance tools, case management and reporting so you can implement successful business habits that future-proof your firm.
See Osprey in action
Discover the power of Osprey Approach in a free, no obligation demonstration, and learn why thousands of lawyers trust our software solution to manage their firm. Complete the form and a member of our sales team will be in touch to find out more about your firm's needs and to book a meeting at a time that suits you.