Webinar: Episode 7 – Strategic priorities of SME law firms
Join us and our expert guests as we deep dive into the LPM 2023 Frontiers Report stats to discuss the strategic priorities of SME Law Firms.
In this webinar we cover:
Advice for improving the client experience
How being data-driven and digital-first impacts long-term success
Top habits to adopt to improve profitability
How to maximise ROI on software investments
Fixed fees vs the billable hour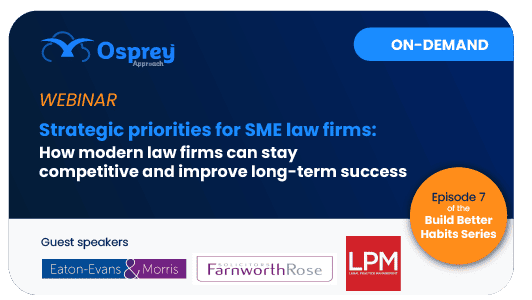 Simply fill in the form below to watch episode seven.
Improve the effectiveness of your law firm with better habits
Watch all episodes in the Build Better Habits webinar series now.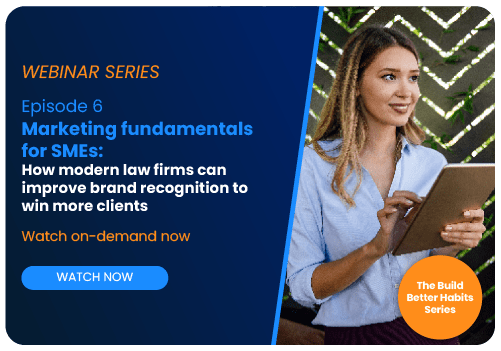 EPISODE 6
Marketing fundamentals for SMEs: How modern law firms can improve brand recognition to win more clients
On-demand webinar
In our sixth episode we'll be exploring the importance of thinking digital-first when it comes to marketing your law firm and strengthening your brand. Join us and our expert guests as we discuss the fundamentals of digital marketing for law firms, how it benefits your reputation, and the marketing habits firms can adopt regardless of budget.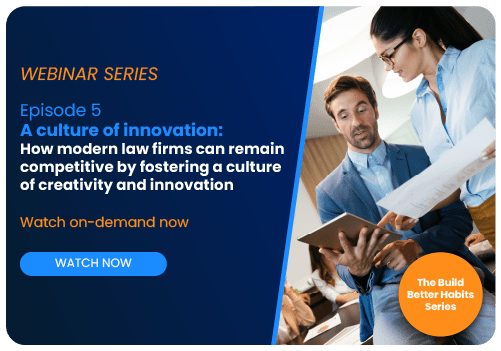 EPISODE 5
A culture of innovation: How modern law firms can remain competitive by fostering a culture of creativity
On-demand webinar
In our fifth episode we'll be exploring how creativity impacts a continuous improvement mindset and innovation. Join us and our expert guests as we discuss what creativity really means and what that looks like in a law firm, how creativity can benefit legal professionals, and the habits firms should adopt to foster a culture of innovation.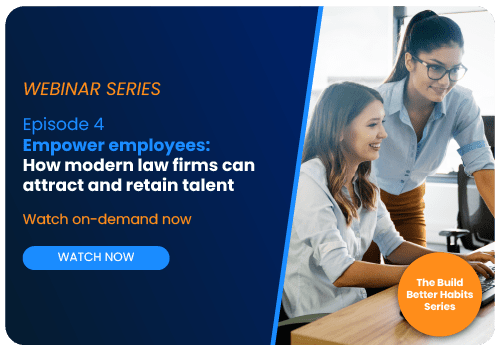 EPISODE 4
Empower employees: How modern law firms can attract and retain talent
On-demand webinar
Whilst salary remains a key factor when hiring new staff, it's a firm's culture that can ultimately make or break the practice. Join us as we discuss how empowering employees helps to win and retain talent.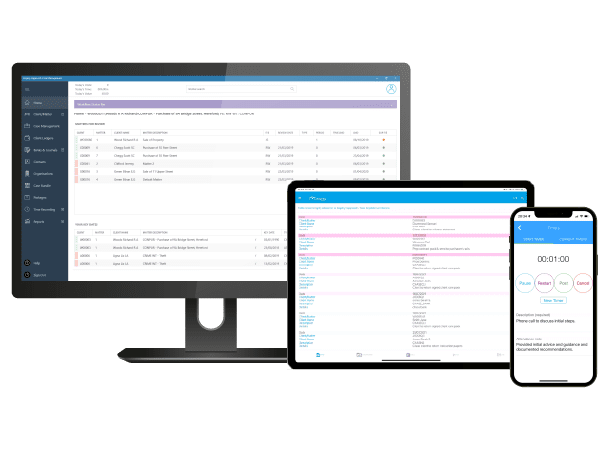 Running your law firm just got easier
Successful law firms need to drive long-term efficiencies, enhance client service, and improve profitability. Osprey Approach's all-in-one legal practice and case management solution centralises your data and streamlines processes so you can perform at your best.
See Osprey in action
Discover the power of Osprey Approach in a free, no obligation demonstration, and learn why thousands of lawyers trust our software solution to manage their firm. Complete the form and a member of our sales team will be in touch to find out more about your firm's needs and to book a meeting at a time that suits you.