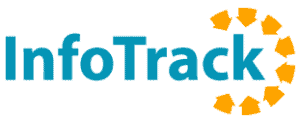 Easily switch to digital AP1s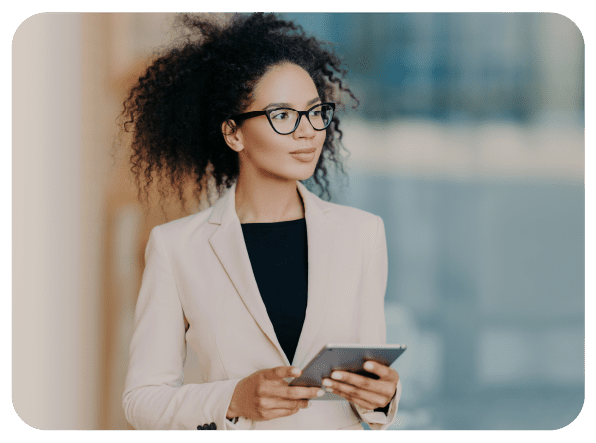 Complete and submit AP1 Land Registry forms accurately
HM Land Registry has announced they would mandate all register applications to be submitted digitally from November 2022. This means all firms can no longer submit their uploaded PDFs but our integration with InfoTrack makes the transition simple. Post-completion with InfoTrack ensures a faster, more accurate process that enables you to submit your AP1 firms electronically to HM Land Registry. Register for our upcoming webinar to discover more or read our blog to discover the five things law firms need to know about digital AP1s.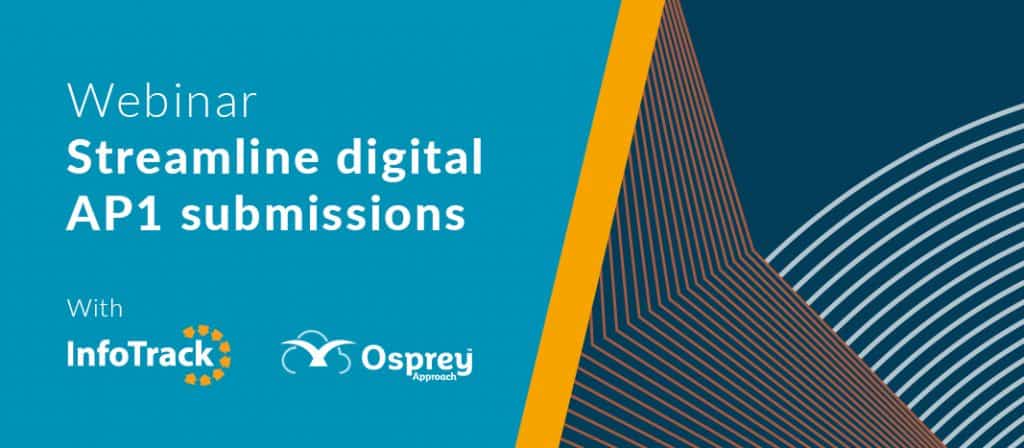 WEBINAR: Streamline digital AP1 submissions
Register for our 30-minute webinar with InfoTrack to discover how the award-winning solutions will take the challenge out of moving to digital submissions. View the software in action to find out how you can speed up post-completion processes, reduce errors and gain better visibility of your applications.
Benefit from the InfoTrack Integration
The Osprey Approach and InfoTrack integration digitalises the conveyancing process so you can run a more profitable firm that focuses on delivering a modern client experience.
Pre-populated data
Data stored in Osprey is automatically pre-populated into the InfoTrack platform to avoid re-keying data that can cause costly errors.
Centralised & connected platform
Access all the InfoTrack services from within the Osprey platform so you can avoid switching between different systems and remembering separate login details.
Single source of truth
Completed reports and searches are automatically saved back into the matter history within Osprey so you have full visibility in on platform.
Automated conveyancing workflows
Combine the InfoTrack integration with the Osprey conveyancing workflows that help to standardise and streamline your conveyancing processes to save time and reduce errors.
Digital client onboarding
Order online verification of identity and funds checks to speed up the onboarding process. Combine with the Osprey client web portal, online questionnaires, and DocuSign integration to streamline the onboarding process.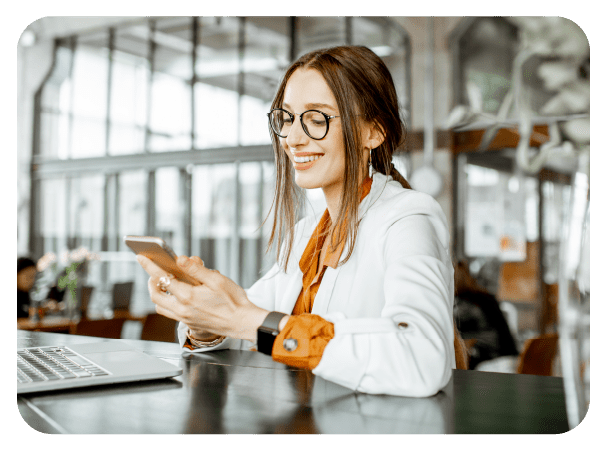 Conveyancing Case Management Software
Automate the many admin-heavy conveyancing processes, reduce risk of compliance errors, and deliver first-class client service with the Osprey conveyancing practice and case management solution. Digitalise and streamline your enquiry capture and client onboarding, while streamlining your residential and commercial case management processes to enable you to get more work done, faster.
InfoTrack Services
Access and order a wide variety of searches, checks and reports through InfoTrack via Osprey's case management solution. The InfoTrack forms are auto populated with data stored in Osprey and completed reports and files are saved back into the matter history to help you deliver an efficient and effective service. Centralise your conveyancing processes in one connected platform so you drive long term efficiencies for your firm.
InfoTrack products and service include:

Frequently Asked Questions
Can I complete AP1 Online?
How do I submit an AP1 electronically

You can create and submit a digital AP1 application using the HMLR Digital Registration Service. However, the quickest and easiest way to submit your AP1s is via your case management software (CMS) using the InfoTrack integration. This avoids rekeying data into the digital form because it utilises the data you already store in your CMS, so you can reduce errors and save time. Book a demo with our experts to find out more.

What is an AP1 form used for?

An AP1 form is one of the most common forms used in the property transaction, through HMLR. It's used to change the register to include the name of the new homeowner. They are typically completed by a solicitor on behalf on their client. Once an AP1 is submitted, a TID (Title Information Document) is produced to confirm that the change has been made to the register.

Does Osprey have an AP1 software integration?

Yes, you can submit digital AP1s via the Osprey case management system using the InfoTrack integration. The integration uses the data you already store in Osprey to pre-populate the form details, helping to reduce errors and speed up case progression. Easily create, track, and manage your digital AP1s, including any requisitions, in the InfoTrack portal. All documents and results will then be automatically saved back into the matter within Osprey.
Find out more about the powerful InfoTrack integration
See Osprey in action
Discover the power of Osprey Approach in a free, no obligation demonstration, and learn why thousands of lawyers trust our software solution to manage their firm. Complete the form and a member of our sales team will be in touch to find out more about your firm's needs and to book a meeting at a time that suits you.