Marketing fundamentals for SMEs: How modern law firms can improve brand recognition to win more clients
For episode six of the Build Better Habits webinar series, we were joined by David Ricketts, head of marketing at Quiss, PR consultant for law firms, Sarah Amies, and SEO specialist, Sophie Majonade from WorkPR. Our expert panel shared their practical tips and advice on the digital marketing fundamentals all SME law firms should implement to improve brand recognition and win more clients.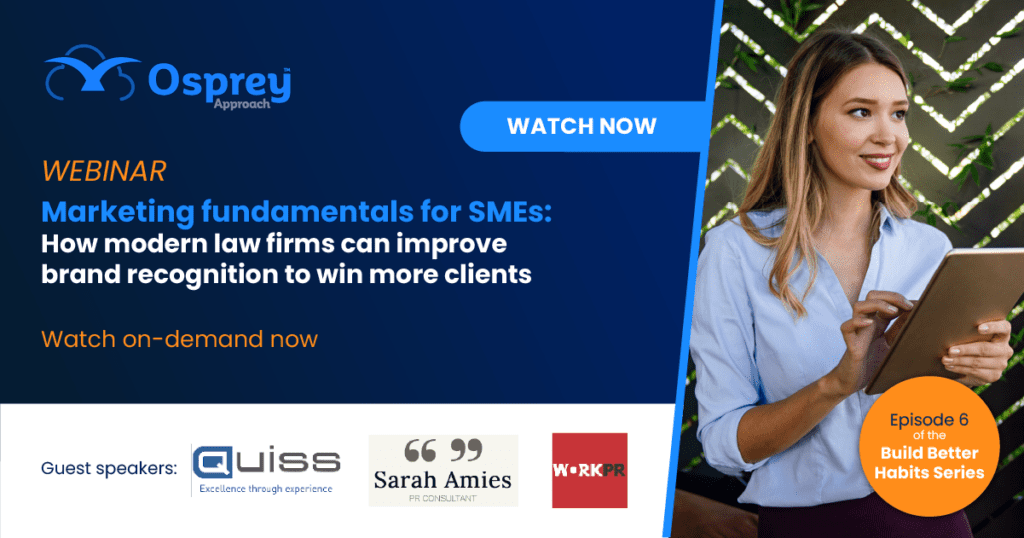 Why should SME law firms actively market their brand?
We began the discussion by going back to basics. Often, marketing can be seen as a 'nice to have' so we asked our panellists why it's important for law firms to actively market their brand. All speakers agreed that it enables firms to stay competitive is very saturated market.
Sophie states that, "there are over 10,000 law firms in England alone, so you need to stand out from the competition, especially in this current climate where people are taking longer to consider their options and make a purchase." With a generational shift in buying habits that means consumers are shopping round more than ever, it's important that your firm is part of the conversation and that's only achieved by marketing your brand.
David agrees and continues, "there are three reasons why you need to actively market your brand. The number one reason is to drive profitable revenue by attracting new clients. Secondly, you need to increase your visibility in the marketplace, because even if you're not actively marketing your firm, your competitors are. And lastly, it's to increase the amount of spend from your existing clients."
Even though recommendations and word of mouth are typical strategies for winning new clients for law firms, relying on them takes away the control you have over your brand, as Sarah explains: "[Effective] marketing gives law firms the ability to have control over their messaging. And it's not always about positive news either. There may be occasions where you've got to do damage limitation. Your marketing strategy can help you manage negative reviews or crises too."
What does the term brand mean and how is it related to business habits and marketing?
Our experts agree that a brand is more than a logo or aesthetics. It's the identity and personality of the business, which determines how people – your clients, employees, prospects – feel about your firm and how you're perceived in the market.
Sarah explains, "It's important to recognise that your brand and reputation are intrinsically linked.
"I recommend establishing your brand values. Ask yourself, what do you stand for? We all know what we think about major brands like Amazon.
"You need to directly appeal to your prospect's needs and emotions, so it's important to put the client at the heart of your decision making. Ask yourself, 'what do our clients want and expect from us?' "
David states that a firm's brand is the identity of a business. "A brand is a multitude of elements coming together to form an identity. It's not something you can create in a week. It's needs to be an ethos for your team because it affects every touchpoint, like the way you answer your phone, how you talk to clients, what your website looks like, etc."
David highlights how important the little things are and how they can combine to have a big impact on the perception of your business. "I heard that the Mercedes F1 principal, Toto Wolfe, say that when he went for his initial interview at Mercedes there was an out of date Daily Mail and an old coffee cup in reception, so he asked, 'is this what Mercedes stands for?'
"It's the little things that create hooks and impressions in people's minds."
Sophie agrees that a firm's brand is a combination of various elements but highlights the importance of your people. "We work with firms who are so concerned about their colour scheme or their logo, wondering whether it's memorable enough. But it's actually your lawyers who have the biggest impact. Your brand is only as effective as your people.
"You could have the best website, but if your clients have a negative experience with your solicitors, that's what they'll remember."
How can law firms – especially those without a dedicated marketing role and limited budget – implement digital marketing across their firm?
There are various marketing fundamentals that all law firms can leverage in order to stay competitive on a small budget. The focus is to ensure every touchpoint your customers has with your practice is intentional and represents your values.
Sophie recommends utilising your lawyers as much as possible. "Ensure your lawyers are active on LinkedIn. And I don't mean just liking your company posts, but ensure they're trained to know how to use LinkedIn to their advantage."
But Sophie also warns that it's important to have control of your message, explaining that "everyone can play a part in the marketing efforts but one person has to have control of the message. It's important that your message and content is consistent."
David highlights the importance of consistency too: "if you only spend 10% of someone's role on marketing, you're going to get fragmented results. When times are tough, you'll look for your opportunities, but you can't just turn them on and off like a tap."
You want to be communicating and creating content regularly but ultimately quality is key. Sophie explains that "a blog of 2,000 words is going to have more value to your brand than multiple 300 word articles." To help resource-stretched team manage their content, Sarah recommends creating a plan at the start of the year to map out events that you could create content on or comment on for news pieces.
David highlights five things that firms should focus on above anything else, if they want the most impact from marketing efforts: "define your target audience, segment existing customers to share different messages with them, optimise your website, leverage social media, and implement email marketing."
Nine digital marketing habits law firms should adopt
The panel agreed that modern law firms should focus on the following habits to improve brand recognition and win more clients.
Track and measure
If you have little resource, it's important you're putting your time and money into the right channels. David explains, "you can't manage what you can't measure. Utilise digital tools – some are free, some you'll already have – to track and monitor your digital marketing performance."
2. Work on relationship building
"You want to look at how you build relationships with your clients and create a strategy that includes a referral scheme. This should detail how it works when clients or employees refer clients to your firm", David recommends.
3. Showcase expert's knowledge
Your employees are your biggest brand advocates and a great way to share the human side of your brand. David recommends having "a strategy for how you can share your expert's knowledge and understanding of a particular practice area."
4. Be client-focused
Sarah warns that, "your marketing message needs to resonate with your target audience else you're wasting your time." Your marketing strategy needs to have a client-centric approach; they should be at the heart of your operation. "You want your clients to become evangelists for your business, so it's important they have a great experience."
5. Don't try everything
To get the most value from your marketing investment don't try to do everything at once. Sarah advises, "to be careful and strategic about your investment, especially if you're time poor. Simply pick out one idea, channel, or practice area and start there." It's then easier to test, optimise, and track performance.
6. Focus on reviews
"Encourage your team to ask for Google reviews", Sophie recommends, adding that "Google reviews are paramount to local SEO, which is how most people will search for your services." Often, when looking for a service, people will type 'near me' at the end of their query. "So, I would definitely make reviews part of your lawyers' workflows.
"I'd also recommend responding to all your Google reviews, especially the negatives ones because Google will see you as resolving the problem."
7. Optimise service pages
The content on your website is your digital store front, so you need to treat them as your pitch. Sophie suggests that firms, "optimise your service pages if you don't have time to write blogs. If the text on your service pages is only 150 words long then it's not enough. It's not enough text to tell you customer what you offer, your approach, how knowledgeable you are, about your team or your case studies."
8. Work on backlinks
"A backlink is a link to your website from another website. The more backlinks you have, the more authority your website has, and the more Google favours your site." Sophie continues, "to start with, make sure you're on all the online directories, for example thesolicitors.com, The Legal 500, and Yelp. Then you can start thinking about digital PR."
9. Ask for advice
You don't have to go it alone, even if you have little budget. Sarah advises firms to, "reach out to consultants or agencies for advice, even if you can't afford to keep them on a retainer for project work, you can pay for one-off consultancy sessions that can help guide you in the right direction."
How can you convince leadership of the importance of marketing and PR?
To invest time and money into a marketing strategy requires buy-in from management. Sometimes, the drive for improved marketing comes from lawyers themselves who are looking to increase client intake. So, we asked our panellists their advice for convincing leadership.
Our experts suggested two things. Firstly, draw attention to your competitors. David says to "find out what the competition is doing and showcase that to your managers, because that'll create a fear of missing out. For example, compare how many five-star reviews your competitors have compared to your firm."
Sophie adds, "always focus on numbers and data. For example, you can find out the volume of searches a relevant key word has and then compare that to your website traffic data."
Alongside focusing on your competition to get buy-in, Sarah recommends presenting a fully formed idea or plan. "Bring to the table an idea, proposal, or plan that you believe will work and dedicate some of your own time to implementing it."
Digital marketing fundamentals that'll help SME law firms win more clients.
A law firm's brand has an even stronger influence on both clients' and employees' decision to work with a firm than ever before. In a competitive market, where the talent and prospects have growing and changing expectations, taking control of your brand and marketing message is crucial to hiring and retaining staff, and winning new business.
No matter your budget or resources, there are several fundamental actions all SME law firms can take to improve their digital marketing. By utilising your employee's knowledge, putting the client at the centre of your decisions, and reviewing all client touchpoints, you can start to make small tweaks that'll have a big impact on your brand.
Alongside having a digital-first mindset, we've outlined four fundamental habits that a modern law firm should adopt for long-term success. We've covered all four habits in our Build Better Habits webinar series, which you can watch on-demand now.