Law firm PII: tips for applying or renewing in 2023
Utilise these digital tools to help gather the information you need to speed up your law firm's PII proposals.
Read more
Your legal software implementation questions answered
This article answers the six most frequently asked questions that we get from legal professionals who are looking to implement new practice and case management software.
Read more
Marketing your law firm: 4 digital marketing fundamentals that'll boost your firm's outreach
We've outlined 4 digital marketing channels that provide a long-term growth strategy for SME law firms. Rather than expensive quick wins, these channels help you to build a reputable online presence that continues to improve overtime.
Read more
10 steps to becoming a paperless law firm
If you're looking to start implementing a paperless system but having trouble starting, we've broken down the process into 10 simple steps.
Read more
Four ways conveyancing firms can overcome their biggest challenges
With help from Coadjute, discover four strong business habits you can use to improve the property transition process.
Read more
How Microsoft 365 enhances your law firm's operations
Learn how you can make use of the programs within the Microsoft 365 package to improve your firm's operations.
Read more
8 benefits that a client portal will provide your law firm
Learn all about the numerous benefits a client portal can give you how it will improve your client's experience with your firm.
Read more
How your daily habits shape the culture of your law firm
Consider the effectiveness of your firm's workplace culture and how various fundamental processes are crucial to running a smooth operation.
Read more
Who is responsible for your firm's success?
Stay competitive in the legal sector and find out how you can focus on the people, processes, and technology to better serve your clients.
Read more
The best practice management & legal tech resources for law firms
Discover a selection of hand-picked legal tech resources to help run a modern law firm, including insights into the legal industry, law firm branding, and more.
Read more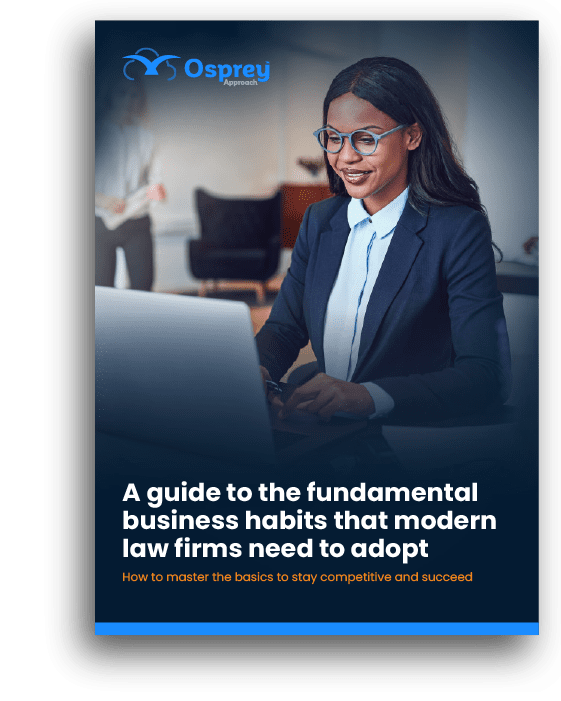 Free guide to staying competitive in 2023
Complete the form below to download our fundamental habits guide.
Book a software consultation
In the no obligation consultation meeting we'll cover:
Pricing
A software demonstration
How to switch to Osprey including data migration and support information
How to streamline your operations and reduce risk with Osprey
How Osprey can improve your firm's profitability and efficiency
How to enhance your client service using Osprey
Complete the form and we'll be in touch shortly.
See the Osprey & Coadjute integration in action
Book a software consultation with us
Find out our pricing, see a demonstration of Osprey Approach, and find out more about our implementation and support services in a free, no obligation, consultation meeting. Complete the form below and we'll be in touch shortly.