Find addresses to onboard your clients both quickly and accurately. Loqate uses their large database to find addresses and automatically fills out information with just a postcode. When integrated with Osprey, law firms can add their clients' detail faster, while also avoiding the risk of inputting incorrect information.
Integrate Osprey Approach with Loqate
A faster and easier way to capture and record client, supplier, or third-party addresses when you integrate Osprey with Loqate. Improve accuracy and speed up the client onboarding processes with Loqate's instant address lookup functionality.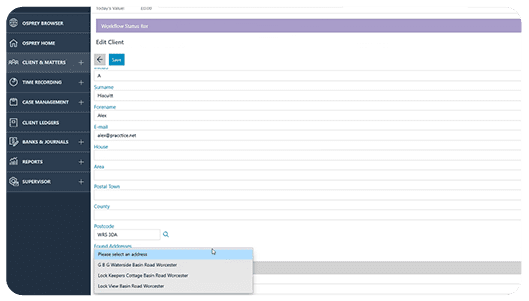 Speed up client onboarding
Typically a time-consuming and admin heavy process, Osprey helps to speed up the client onboarding processes while reducing errors to ensure law firms mitigate risk and stay compliant. Loqate's real-time address lookup software makes capturing addresses simple. Just enter the postcode and the suggested UK addresses will appear in the dropdown to select. Utilise the Loqate integration throughout workflows too as you're completing client or third-party details.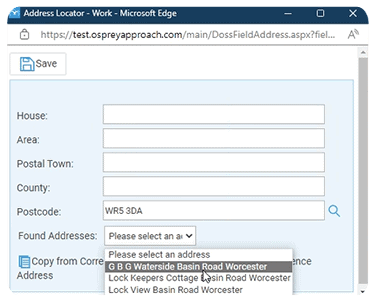 Improve data accuracy
Utilise Loqate's trusted database to populate UK addresses to ensure accuracy and reduce errors. Avoid copying data wrong from one platform to another, or formatting the address incorrectly when you utilise the Loqate integration in Osprey.
Frequently Asked Questions
Is Loqate easy to set up within Osprey?

Yes, it is. All you have to do is sign up to Loqate by creating a free account and link it to Osprey within your Supervisor settings. We have a set up guide explaining the process in detail to help get your started.

How much does the integration cost?

You will be able to sign up to Loqate for free but will need to add credits to perform each search. There no cost for the integration set up to Osprey.

Can I test how Loqate works without using any credits?

You can test its functionality using this postcode: WR5 3DA. When inputting client information, put this postcode in the appropriate data field and press the magnifying glass next to it. This will then reveal a dropdown menu that displays 3 addresses you can use that won't spend any of your Loqate credits.

Where does Loqate get their data?

Loqate provides quality data that is cross-referenced and cleansed to ensure up to date information.UK addresses are provided by the UK's Royal Mail.
Find out more about the Loqate integration
See Osprey in action
Discover the power of Osprey Approach in a free, no obligation demonstration, and learn why thousands of lawyers trust our software solution to manage their firm. Complete the form and a member of our sales team will be in touch to find out more about your firm's needs and to book a meeting at a time that suits you.