DocuSign integration: an eSignature tool for law firms
The legality and enforceability of eSignatures is now established in the UK and Osprey's latest integration with DocuSign makes it easy for practices to take advantage of digital signatures. Since 2011, case law has specifically confirmed that contracts cannot be denied enforceability merely because they are concluded electronically – including the decision of the Court of Appeal in Golden Ocean Group v Salgaocar Mining Industries.

Earlier this year, the government officially accepted that electronic signatures on contracts and many deeds are already legally valid in England and Wales without the need for formal primary legislation, in response to a Law Commission report published in 2019.
More recently, HM Land Registry will now accept 'witnessed electronic signatures' for transfers of ownership of property, leases, mortgages and other property dealings.
This means that all but a small number of agreements can now be legally signed using digital methods, creating substantial opportunities for time and money savings.
"What we have done today is remove the last strict requirement to print and sign a paper document in a home buying or other property transaction.
"This should help right now while lots of us are working at home, but it is also a keystone of a truly digital, secure and more efficient conveyancing process that we believe is well within reach."
Simon Hayes, Chief Executive of HM Land Registry and Chief Land Registrar
Why should my law firm invest in eSignatures?
When compared to a pen-on-paper approach, any document produced and distributed digitally can be created and accessed much faster, is far more secure and responses are easier to track.
DocuSign is a leading provider of eSignature solutions; with years of experience and over 500,000 customers in the market, they were our first choice to partner with for an integrated digital signing solution.
It provides a secure platform for requesting and receiving eSignatures from within Osprey Approach, leveraging their experience and infrastructure.
Faster turnaround on agreements
"…it has allowed us to increase our conversion rate for retaining new clients by being able to have them sign with our firm immediately at the time of the first intake."
Leah Walsh, Ventura, Ribeiro & Smith
Sending documents for signing is faster and productivity is increased by cutting out the manual printing and postage of documents. When your client or a third-party receives agreements for signing, they can be securely signed immediately from a variety of devices. This makes agreement completion significantly faster.
With DocuSign, up to 82% of agreements are completed in less than a day, with 49% of them being completed in less than 15 minutes.
Save money with every signature
Because of the increased productivity and reduced hard costs you will experience, DocuSign has found that customers save an average £30 per agreement.
Signed documents are often the reason why law firms need to maintain a paper file in addition to their electronic matter history. By removing the need for a hard copy, practices can now fully embrace a paper-lite way of working – and reap the rewards.
Osprey customers have experienced up to 70% savings on their stationary, printing and postage by adopting a paper-lite office.
Ensure security and compliance
Our integration with DocuSign is designed to maximize security for data at rest and in transit, adhering to the highest quality of security and authentication protocols now available.
DocuSign continues to upgrade its operations in response to international compliance requirements, recently expanding of its Europe-based data centres in conjunction with the EU's updated regulations on data storage.
Now fully integrated with Osprey
All of these benefits can be realised by Osprey customers through our familiar, easy-to-use interface in the Windows 10 App.
After selecting one (or many) documents from the Matter History, a signature can be requested seamlessly with one click.
Signature requests can be sent to the client or any other individuals related to the matter.
Easily keep track of your signature requests within the Matter History and receive notifications from DocuSign whenever the document is opened and signed.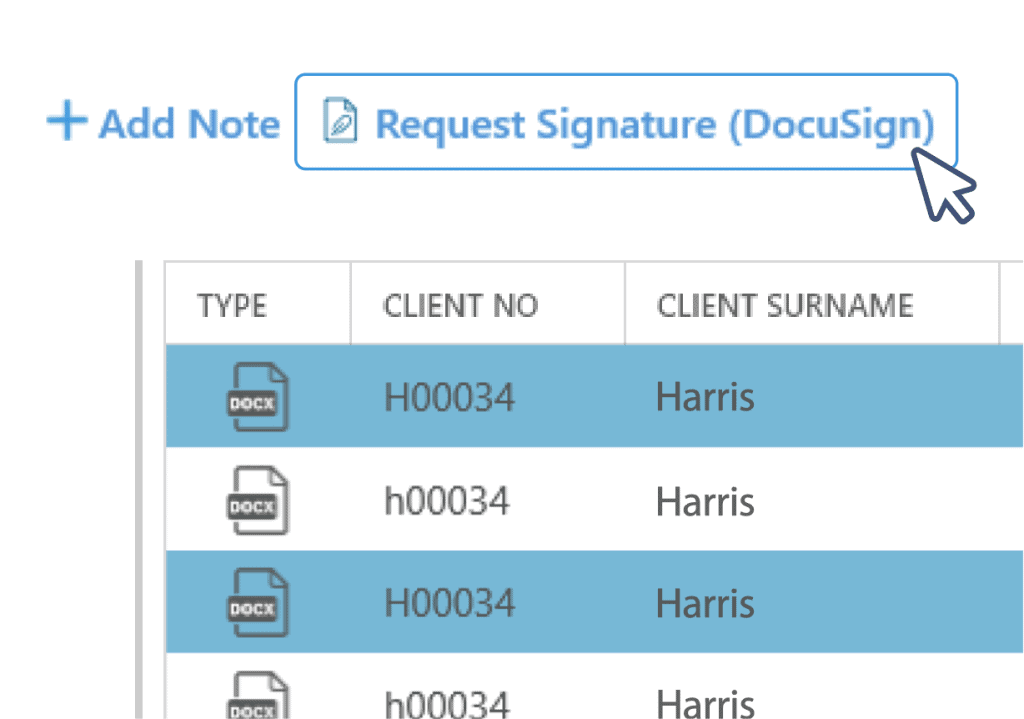 The document will be accessed and signed by the recipient through your Secure Web Portal, maintaining a consistent exp
Once complete, the signed PDF file is automatically saved to the Matter History, and if required, the original unsigned copy can be viewed as a revision.