Osprey Approach and Lexis Smart Forms announce unique partnership
We're delighted to announce that Osprey customers now have access to over 4,000 continuously monitored and updated Lexis Smart Forms, thanks to our unique partnership with LexisNexis®.

Lexis Smart Forms integrates seamlessly with Osprey Approach providing customers with a centralised platform to generate compliant forms to help streamline case management processes.
Forms are are automatically saved to the Osprey Approach matter history in easy to share PDF format. No additional software is needed, so lawyers can use Lexis Smart Forms from the suite of legal apps, wherever they are working.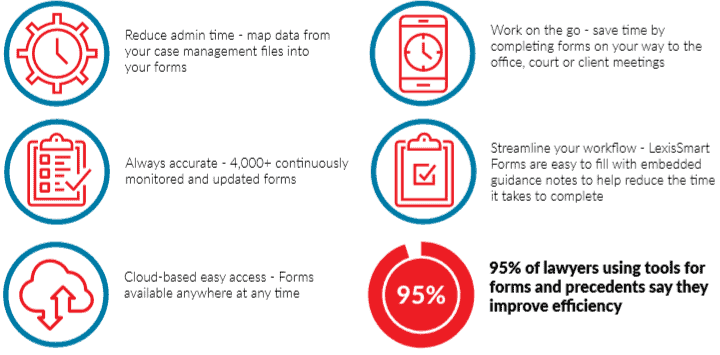 The integration with Lexis Smart Forms is the first partnership of its kind and provides the latest key forms that legal practitioners need. From Form E (Family) and IHT400, through to N260 and the LPA suite. They contain embedded guidance notes and court addresses, enabling firms to complete and share forms easily and efficiently.
Dani McCormick, Director of Solutions, LexisNexis®, said: –
"We're very excited about the increased efficiencies and productivity our partnership with Osprey Approach can deliver to the market.
"Practitioners often tell us they are time poor and need to be more efficient. They fill in and amend forms regularly and it can be time-consuming. Forms are a critical step in the process: get them wrong and your firm's workflow can be impacted and your firm's reputation damaged. Lexis Smart forms gives you confidence the right forms are being used and completed correctly.
"Our partnership with Osprey enables practitioners to quickly access the forms they need within their case management system and pull in data from their client and dossier areas to ensure consistency and deliver greater, much needed, workflow efficiencies."
Lexis smart forms integration saves time and improve efficiency
Through meeting with our customers and listening to their feedback, we understand that they spend a disproportionate amount of time filling out complicated forms as part of the legal paper trail. Finding the right forms, and making sure that they are up to date and relevant, can also be an issue and cuts into a significant amount of fee earning time.
We identified the need for a cloud-based forms solution so that our customers are able to access them easily whilst working remotely and within our suite of mobile apps. Following months of rigorous testing, we're really happy with the results and we're delighted that Osprey's customers are now able to realise the benefits of Lexis Smart Forms.
We are really impressed by how easy Lexis Smart Forms are to fill in, reducing easily avoidable errors. They painlessly maintain the integration of the latest forms and fields within Osprey. This makes them easy to open and complete, without the need for specialist software or training.