How probate lawyers can speed up IHT400 schedules and PA1A/P applications
Probate departments are under incredible pressure, with some Osprey customers experiencing up to 500% increases in Probate instructions in recent months.

It's never been more important to have the right tools at your disposal – with a time sensitive area of law, increased workload and a particularly challenging working environment.
With our latest update, it takes 30% less time for probate lawyers generate complete IHT400 schedules and PA1A/P applications
This is made possible with workflows, a powerful automation feature of the Osprey Approach practice and case management solution. They allow you to define a process, combine tasks and automate large parts of an instruction. Ultimately, they let the lawyer concentrate on the matter at hand and leave laborious tasks to a computer.
Probate process workflows save time and ensure compliance
Probate workflows are pre-built by our team and designed by lawyers for different areas of law, ready to install and customise to your needs. They integrate with all parts of Osprey, saving time for thousands of lawyers every day.
"Using the Focused Workflows, we save at least an hour on each matter. It has helped with productivity, and it's great that the workflows can be published to the Client Portal so easily."
Kelly at H&F
This timely update to our probate focused workflow not only speeds up the process, but makes completing probate documents remotely much easier with our cloud-based collaboration tools.
Complete and collaborate on IHT400 schedules quickly and remotely – spending 30% less time
The IHT400 schedule has been split out into digital forms within the software, pulling in central information about the client and running calculations for you.
Each section could be worked on by different members of staff, which is particularly useful with teams spread across home and office with potentially staggered working schedules.
You'll know when a section has been completed with clear green highlights.
When you're ready, The information for the IHT400 schedule and PA1A/P application is automatically merged, calculated and completed; compliant with HM Revenue & Customs.
Seamless exporting of Estate Accounts
Finally, the Estate Accounts can be exported directly to Excel format with the click of a button.
Bank details, shares, assets, liabilities, charitable legacies and more are combined into an editable Excel spreadsheet, allowing for streamlined and reliable tax calculations by Probate specialists.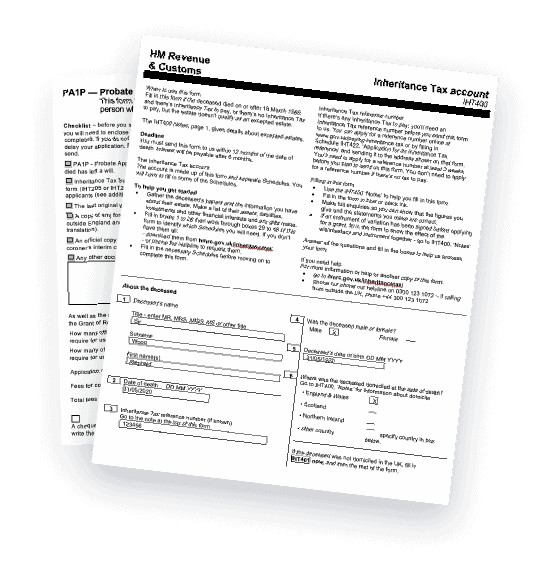 If you're looking to save up to 30% of your time completing IHT400 forms and increase the efficiency of your probate department then get in touch to view a demo of the all-in-one Osprey Approach solution and it's automated workflows. Book a demo today to get started.