The best practice management & legal tech resources for law firms
When you type in 'legal technology' into Google you get 18,300,000 results. That's too many resources for time-stretched legal professionals to comb through, which is why we've shortlisted the top 14 practice management and legal tech resources that'll help legal professionals implement and utilise legal software.
We've hand-picked the best legal tech resources – including blogs, reports, webinars, and podcasts – that we believe deserve your attention. These resources will help you to successfully run a modern law firm, covering everything from law firm branding, insights into the legal industry, and client onboarding.
The top 14 legal tech resources you must read
LPM Frontiers Report 2022 – The Legal Practice Management (LPM)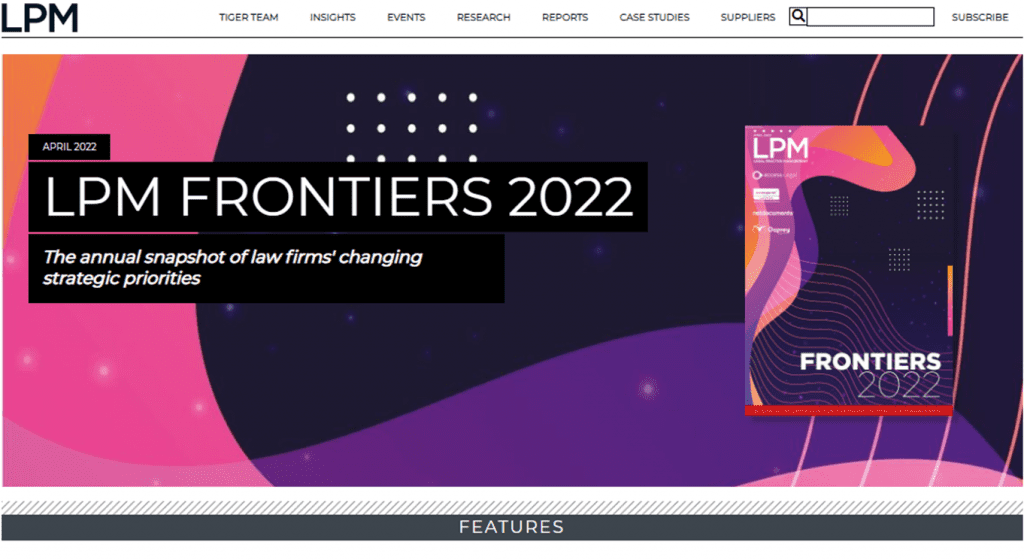 The LPM Frontiers Report is their annual look into the challenges, priorities, and strategies of UK law firms. This year's 2022 edition looks at SMEs legal tech investment priorities, the topic of hybrid working, the new business challenges of a post-pandemic world, and firms' strategic plans for the year ahead.
The LPM website also hosts insights, case studies, and reports from both the LPM team, law firms, and the UK's best legal tech providers to help law firms utilise technology to streamline operations, exceed client expectations, and retain top talent.
Bellwether Report 2022 – Lexis Nexis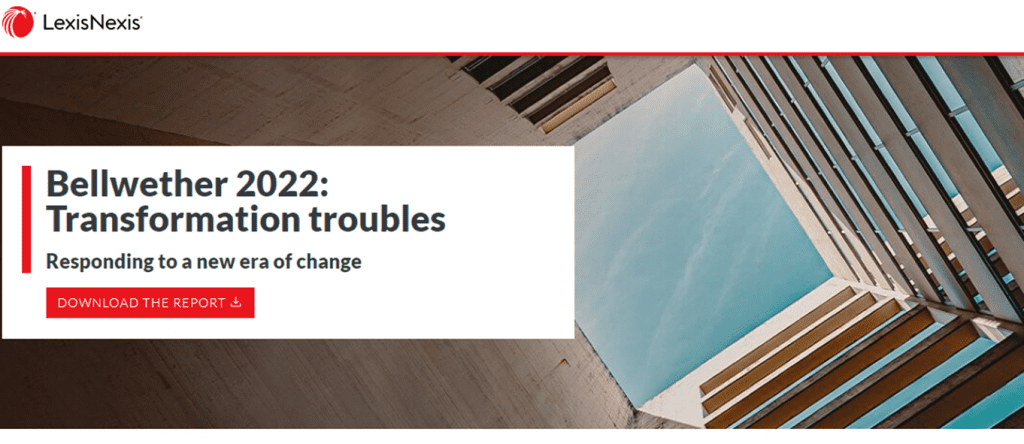 The Lexis Nexis annual Bellwether Report provides invaluable insight and guidance from independent law firms across the UK. The 2022 report reveals that the financial repercussions during the pandemic were not too severe, and the many firms have ambitious growth plans with mergers and acquisitions becoming increasingly attractive. But the report warns small law firms need to move quickly to ensure they can adapt to the changes of the last 24 months or risk falling behind. View the report to discover the full details.
Build Better Habits – Osprey Approach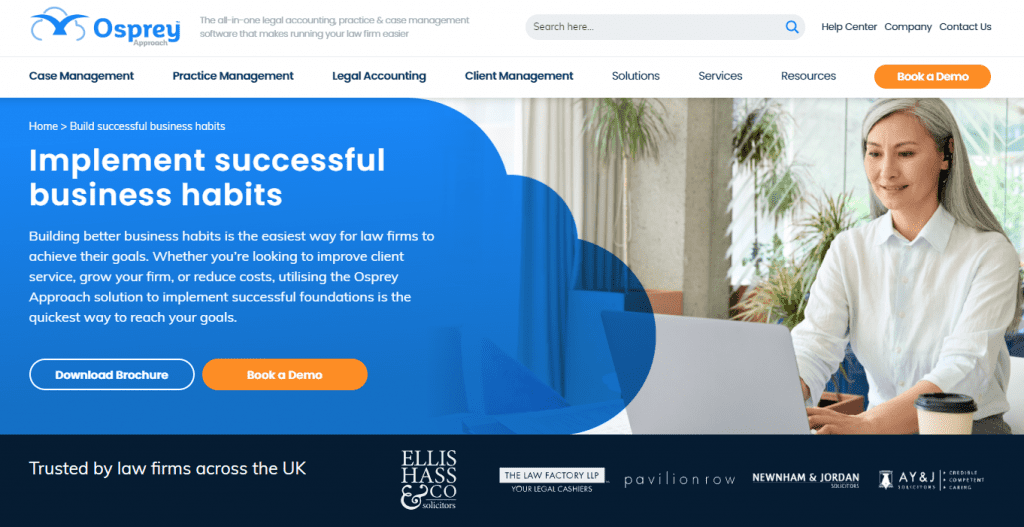 We couldn't create a round-up of the best legal tech resources without including our content, because we're incredibly proud of the resources we provide to help law firms run a successful modern law firm. As well as our blog full of article and our downloadable guides, we've create a dedicated Build Better Habits section of our website to help law firms build streamlined digital foundations. The Build Better Habits content helps firms stay competitive by implementing improved business habits and digital processes. We recommend starting with the build successful business habits, and the fundamental habits your law firm should adopt guide.
Shaped for Law Podcast – CTS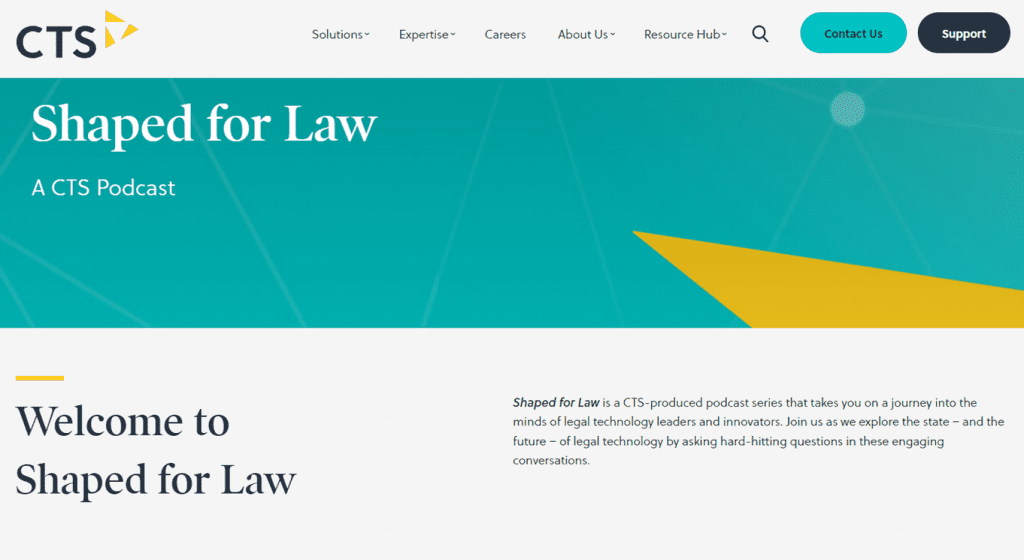 When it comes to formulating your law firm's IT strategy, CTS has you covered. They host a weekly podcast called Shaped for Law that explores the future of legal technology. Each episode features a guest from some of the most renowned figures in the legal tech industry. Their guests have ranged from the CEO of InfoTrack, Scott Bozinis, to the IT Director from DAC Beachcroft LLP,David Aird, and the Global Director of Information Technology of HFW, Mark Parr.
Issue 58 – Modern Law Magazine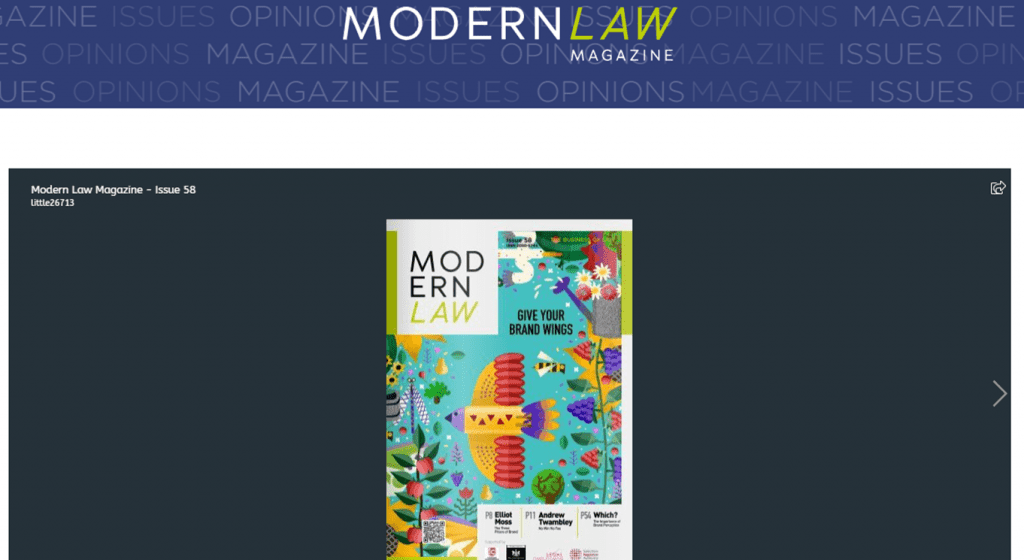 Modern Law Magazine is a bi-monthly magazine, available online, that covers a range of topics from empowering your employees, enhancing client service, and utilising legal tech. Their latest issue, 'Give your brand wings', covers the topic of branding and how important your law firm's brand is to the success of the business. Discover various interviews from their partners that discuss the importance of branding, reputation, and the role of marketing.
Weekly Newsletter – Legal Futures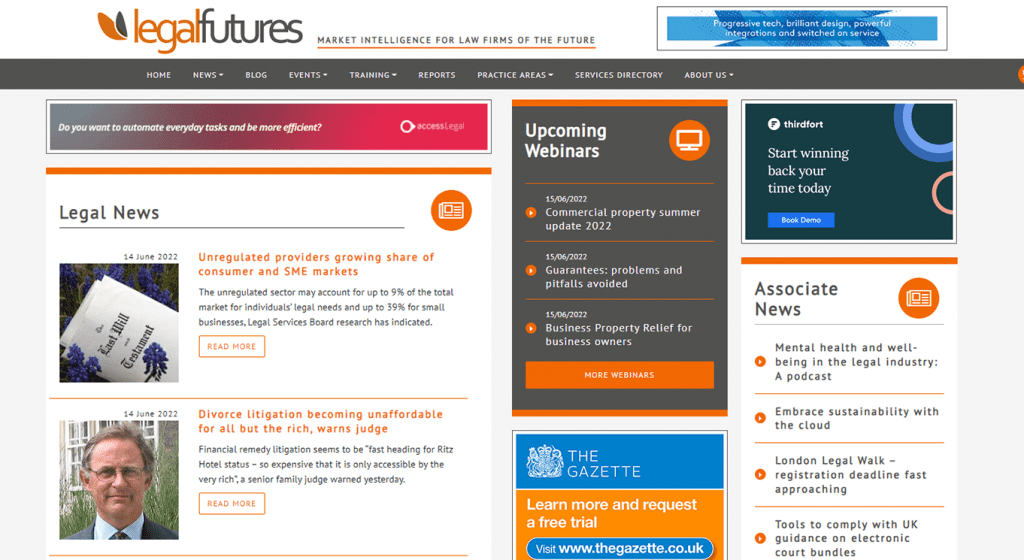 Legal Futures is a one-stop-shop for news, advice, and guidance on everything from the latest legislation changes, high-profile cases, legal tech, and practice management. To help you stay in-the-know Legal Futures publish a weekly newsletter – that lands in your inbox every Friday – that captures the best stories, webinars, blogs, and partner news posted that week. Some of the latest blogs we recommend include: Planning your office for the next generation, fundamental business habits that modern law firm need to succeed, and is your law firm protected from ransomware attacks? Sign up on their home page to stay up to date.
State of the UK Legal Market 2022 – Thomson Reuters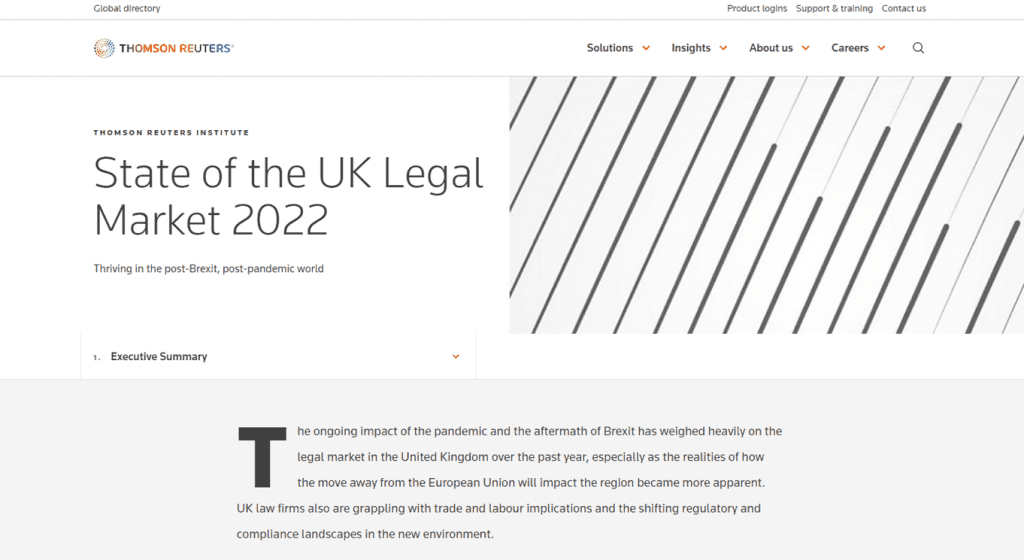 The annual Thomson Reuters State of the UK Legal Market Report looks at how UK law firms are handling continuing challenges in a post-Brexit, post-pandemic world and how their leveraging opportunities. The report deep dives into the UK legal ecosystem to understand the current trends for 2022 and how the developments of the past year will affect how firms progress forward.
The Onboarding Summit – InfoTrack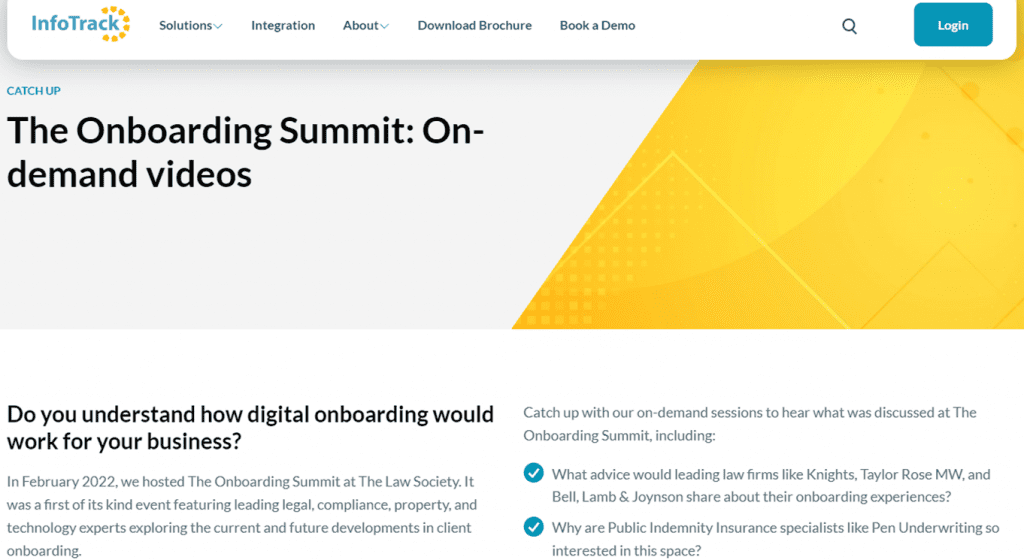 In February 2022, InfoTrack hosted their first Onboarding Summit which featured legal, compliance, property, and technology experts exploring the current and future developments in client onboarding.
The seven sessions are now available to watch on-demand and cover subjects such as how to integrate client onboarding with case management, how to use digital verifications, and first-hand experiences of how client onboarding helped various businesses.
Legal Tech Hub – The Legal Support Network (LSN)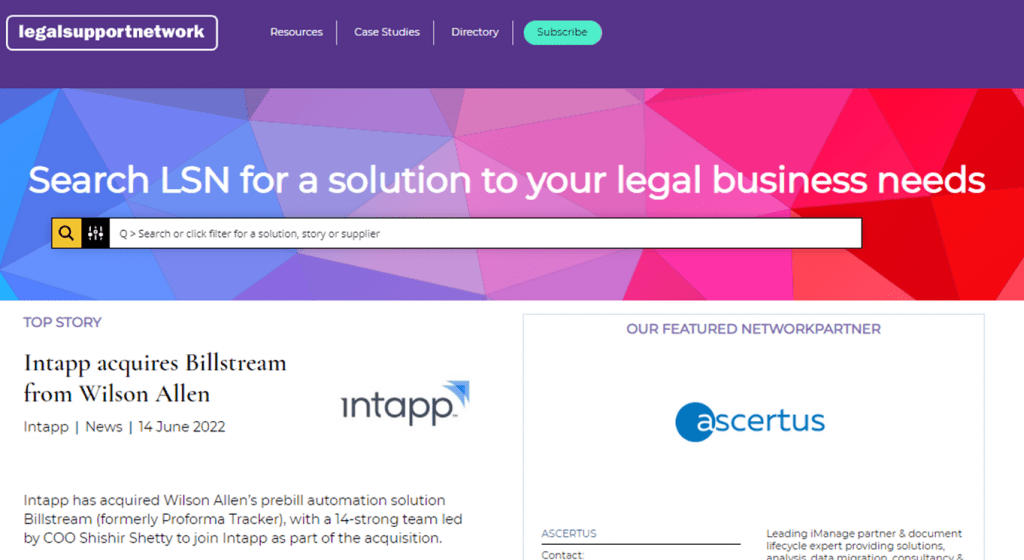 A sister site to LPM, Legal Support Network provides a hub for resources, case studies, and news from the industry's software and tech suppliers to help you with your business needs. They also have a weekly newsletter which provides a round-up of the latest and most popular posts on the website that week.
Achieving Change Webinar Series – TM Group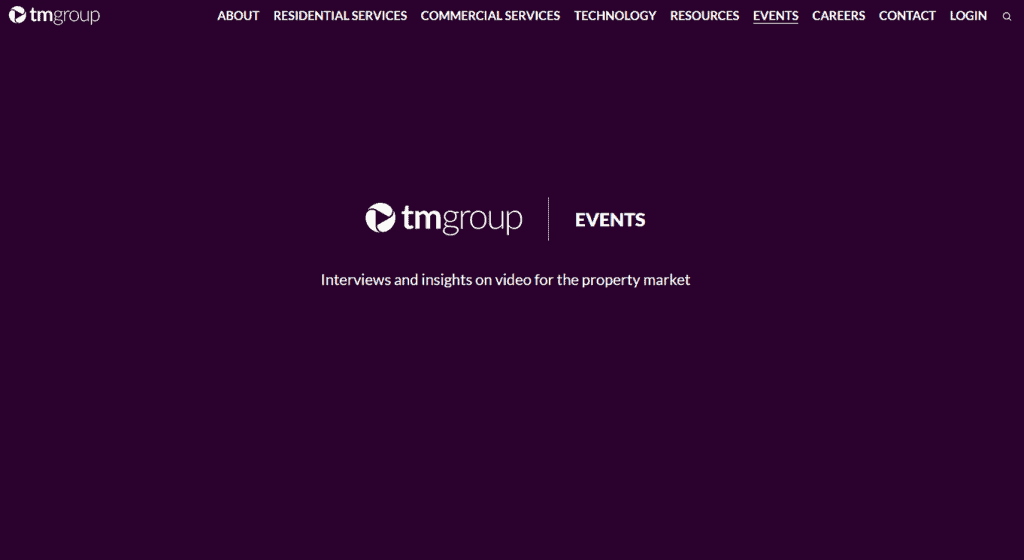 Created specifically for conveyancers, tmgroup's Achieving Change six-part webinar series invites property industry experts to share their wish lists for driving change. The quick fire 'top 5' format creates an easy, fast-paced atmosphere covering topics such as future-proofing the property industry, ways to improve staff retention, and initiatives to boost collaboration.
Briefing App – Briefing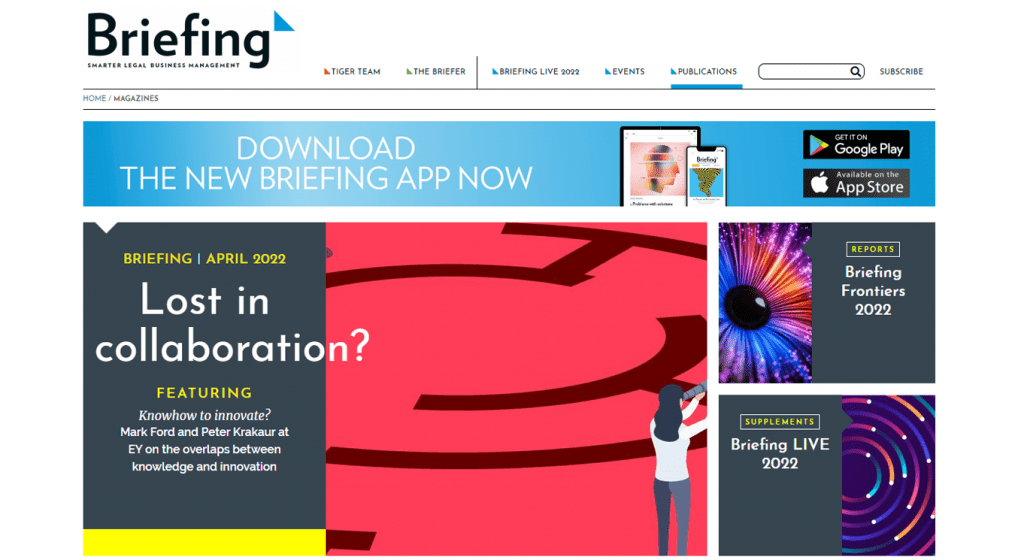 As well as LPM and LSN, Briefing is part of the Burlington Media Group and is a legal business management platform for top-tier UK law firms. Whilst the content isn't solely aimed at SMEs it provides a great insight into the key sector challenges and future innovations that could change the industry. Briefing Magazine also has an app, so it's quick and easy to access their latest issues and supplements around the key tech trends, digital strategies, and latest developments in the legal market.
Today's Conveyancer Podcast – Today's Conveyancer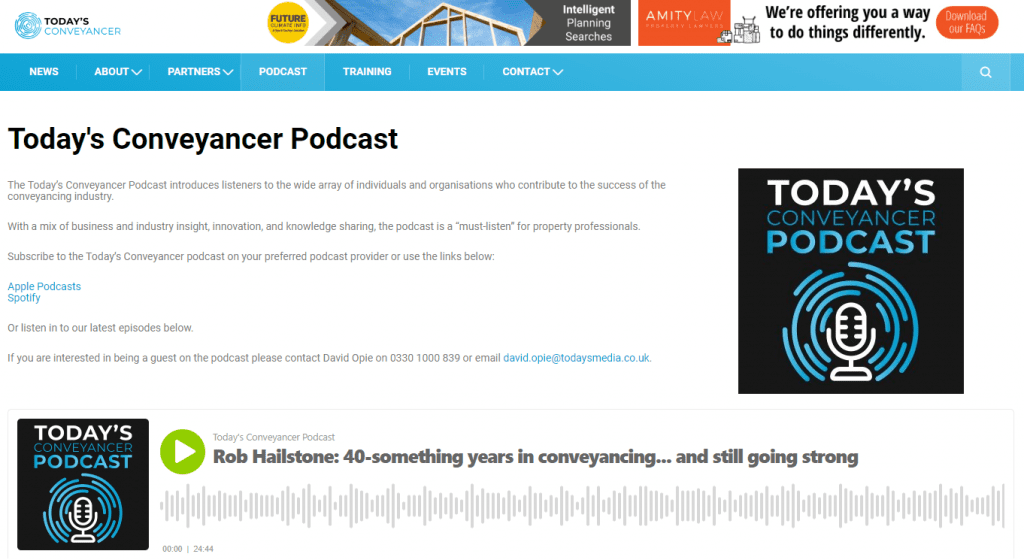 I'm sure for conveyancers, Today's Conveyancer website is already bookmarked on your browser, but have you subscribed to their podcast? The Today's Conveyancer Podcast release weekly episodes – on Apple Podcast, Spotify, or listen via their website – that will provide you with insights, knowledge, and access to the industry's people and organisation who contribute to the success of the conveyancing industry.
Risky Business Newsletter – Thirdfort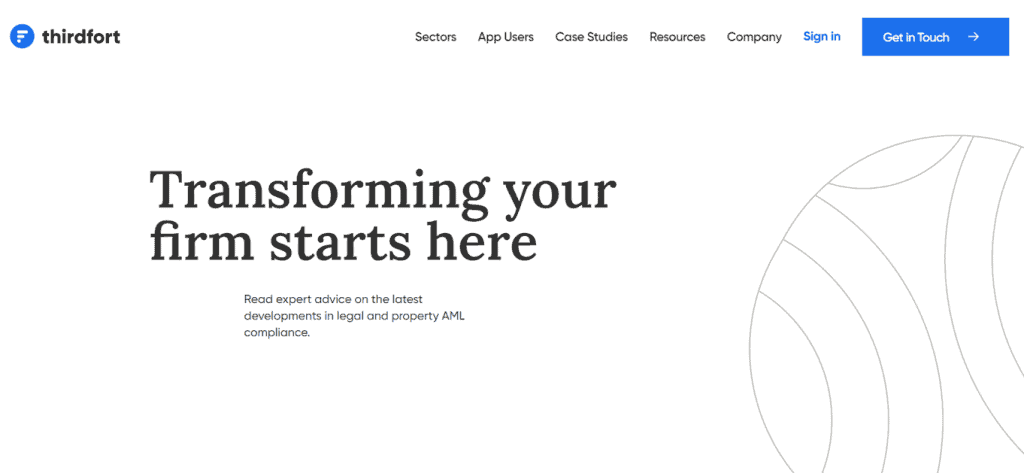 Thirdfort help law firms make compliance their competitive advantage. To help with their mission, they release a monthly newsletter – Risky Business – that covers the latest on AML compliance, legislation and regulatory updates, the SRA, and conveyancing news.
Alongside their newsletter they also regularly publish reports, we recommend viewing Digital ID Verification: definitive guide for lawyers and conveyancers and five reasons you should be using electronic identity verification.
The Legally Speaking Podcast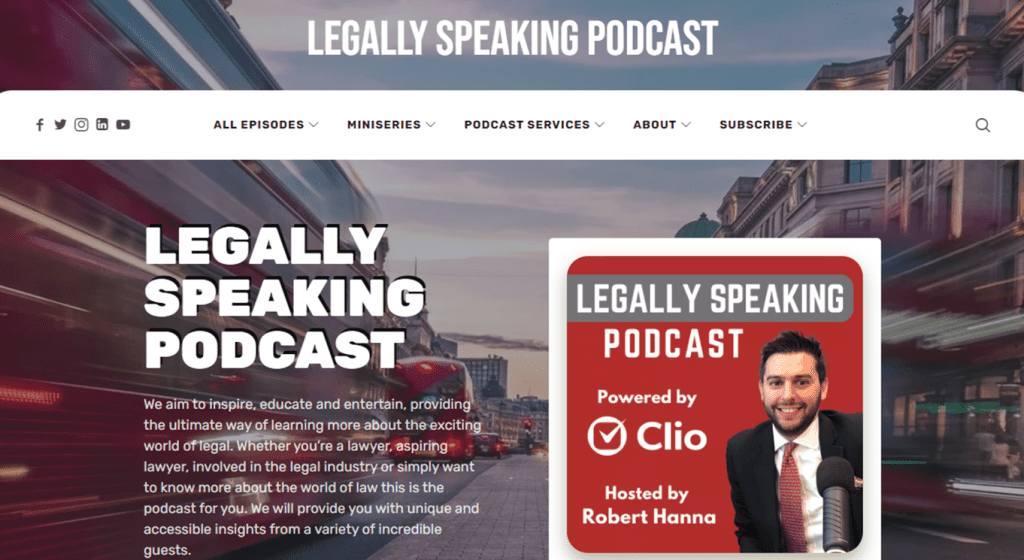 Hosted by legal recruitment expert, Robert Hanna, the Legally Speaking podcast covers a wide variety of legal topics including mental health and diversity & inclusion in the workplace, legal tech, and careers advice.
With more than 150 episodes there is guaranteed to be a topic that will interest you. Examples of episodes include: how legal tech can make your firm more sustainable, explaining what an in-house lawyer is, discussing the importance of metal wellbeing, and even an episode that explains the benefits of hosting your own legal podcast.