How to be CQS Compliant part 2: 10 ways Osprey & InfoTrack can help law firms stay CQS compliant
In collaboration with InfoTrack and Tracy Thompson – lead assessor for CQS – our three-part guide aims to help law firms meet CQS Core Practice Management Standards (CPMS) and stay compliant.
In part two, this guide covers the 10 ways Osprey, when integrated with InfoTrack, can help SME law firms stay CQS compliant and meet the latest Core Practice Management Standards.

How can Osprey and InfoTrack help firms meet the CQS requirements?
Alongside written policies and procedures, law firms must be able to evidence how they're meeting the CQS CPMS. Legal technology can provide a digital audit trail to evidence the quality measures you have in place that your fee earners and employees are following. Legal tech can reduce the manual admin to help you easily document and standardise your processes whilst providing real-time data to track compliance.
Here are just 10 ways Osprey, when integrated with InfoTrack, can help you with your CQS compliance.
One centralised platform improves data accuracy and business continuity
Osprey is an all-in-one cloud solution, which means your team can access the solution on any device from any location. All employees will have visibility of the same up-to-date data, document templates, and process workflows.
This not only improves accuracy across the firm but ensures business continuity if the worst-case scenario was to happen and you couldn't be in the office.
When integrated with InfoTrack, Osprey provides a centralised platform for all your conveyancing case management needs. Accessible through Osprey, you can purchase all InfoTrack services including AML checks, AP1s, the Property Report and digital IDs. Plus, the data you store in Osprey is automatically populated into the fields within InfoTrack, reducing the supplication of data to avoid errors and save time.
2. Digital audit trails help you to evidence compliance easier
Tracy recommends that your file should tell a story. The digital matter history within Osprey helps you to document and track your case and ensure you are evidencing the actions you're taking to mitigate risk. All data, documents, attachments, results, and reports are saved into the matter history in chronological order so external assessors or auditors can easily see the key information of your case.
All searches and results from InfoTrack are also automatically saved into the matter history within Osprey too. So, you'll always have instant access without needing to remember to print and file documents.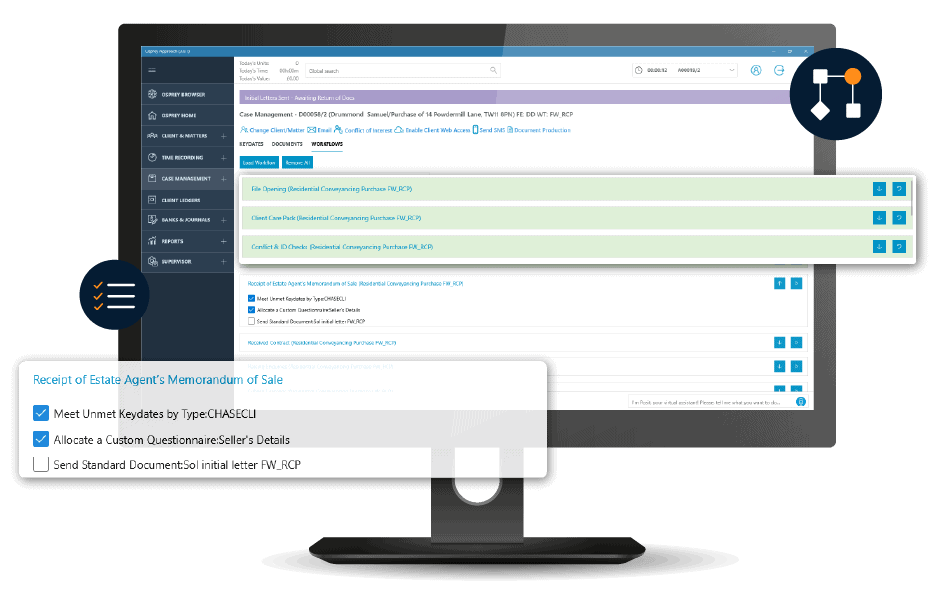 3. Workflows standardise processes and ensures consistency across fee earners
Build your own or use the library of templated workflows to create a standardised set of conveyancing workflows. This helps guide your fee earners through the process, ensuring the compliance and CQS requirements are considered and adhered to.
Management can easily input processes that match your policies and procedures. You'll have peace of mind that the quality measures, client service standards, and CQS standards are met every time.
Workflows help you automate key dates, enable you to set prompts and reminders, and work seamlessly with InfoTrack to reduce risk whilst improving efficiency and profitability.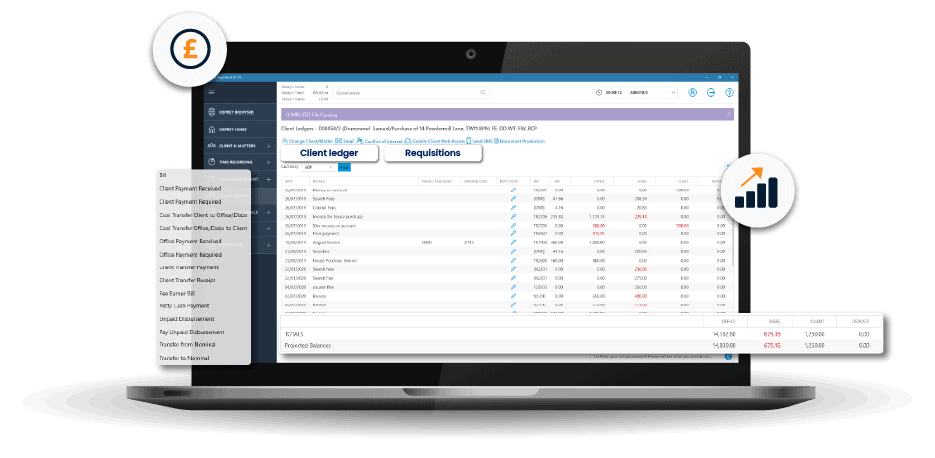 4. Integrated financial management provides better visibility for improved compliance
The Osprey solution doesn't require third-party financial packages. You can manage your office and client accounts within the Osprey legal accounting platform to improve visibility of funds, have a tighter control and authorisation, and ensure compliance with the SRA Solicitors Accounts Rules and CQS.
When integrated with InfoTrack, any services bought for searches or reports are automatically updated to the client ledger to keep your finances up-to-date and accurate.
5. Digital client onboarding tools improve client due diligence
Offer a more convenient service to clients whilst improving security for your firm by using Digital Identification, AML, and Source of Funds checks.
With InfoTrack you can perform digital ID verifications that uses biometric data, which is more secure than manual checks of passports and driver's licences. As well as complete confidence in the security of a document, by completing Source of Funds and Anti Money Laundering checks, they will save you time, help you stay compliant, and make it easier to evidence that you're meeting the CQS practice management standards, and complying with the regulatory and legislative requirements.
Used in conjunction with the Osprey secure client portal you can capture data online, easily share and collaborate on documents, and electronically sign contracts for a convenient and streamlined onboarding process. Plus, create and store your client care letter template within Osprey, so you're confident fee earners are using the most up to date version that meets the requirements. 
6. The InfoTrack Property Report helps you to accurately communicate Leasehold information
Accessed via Osprey, InfoTrack's Property Report uses automation to collect information, scrutinise the data for inconsistencies, and prepare a Report on Title in an easy-to-understand format for the homebuyer.
A typically time-consuming task can be completed in as little as 15 minutes. Reduce the risk of human error and easily evidence an audit trail of changes so you stay compliant.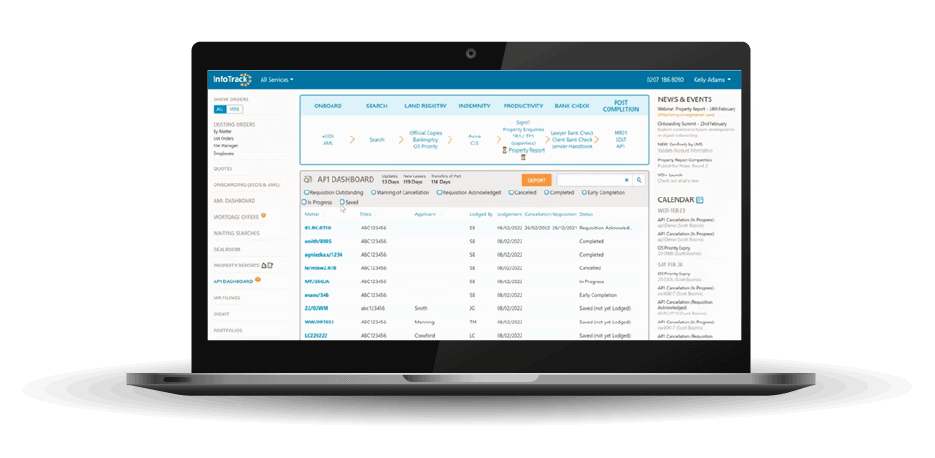 7. Easily keep track of AP1 submissions and HMLR requisitions
The InfoTrack AP1 dashboard, which can be accessed via Osprey, provides visibility over every application across your firm and helps to reduce avoidable requisitions too with in-built validations that reduce the risk of requisitions by up to 30%. Easily track and respond to HMLR requisitions using the WhatsApp-style messaging system for quick and easy case progression.
8. Improve SDLT calculation accuracy
Avoid errors in your SDLT calculations using the InfoTrack Stamp Duty form, which can be up to 90% pre-populated if you complete searches via InfoTrack too. The Stamp Duty calculator is automatically updated if legislations changes so you can improve accuracy and digitally store the return form, making it easy to evidence your process.
9. Minimise risk when collaborating with third parties
Reduce exposure to fraudulent activity by ensuring you are checking and evidencing the vendors lawyer's identity. Via InfoTrack you can use the Lawyer Checker or Confirmly services to help verify if a third party is genuine.
Once verified, you can then use the Osprey secure web portal to share files, capture data, and collaborate on documents to avoid lengthy and unprotected email chains.
10. Employee support and training
Both Osprey and InfoTrack provide extensive training for all users to ensure they're confident and getting the most from the system.
Osprey provides all-inclusive telephone-first support and trainer-led coaching to help you best implement the technology to help you stay compliant and meet CQS requirements.
Firms usually embed Osprey and InfoTrack training as part of their induction process too. We provide new starter training to help them get up and running and ensure they're using the system how your firm expects.
How can technology help your firm evidence the quality measures you have in place to mitigate risk?
The Osprey all-in-one solution, plus integration with InfoTrack, can support your firm and conveyancing processes from onboarding to post-completion.
The case management, compliance, and digital conveyancing tools help to standardise your operations and create consistency to meet CQS requirements and stay compliant. It's easier to evidence that you're adhering to your policies and ensures you're assessment ready when you have a digital-first operation.
In the CQS guidance notes the Law society stated: 'Whilst there is no requirement currently that plans, policies and procedures, registers, and records will be in electronic format, practices are encouraged to do so. This is because records and registers are easier to curate, supervise, and share when held digitally."
For further advice and best practices for staying CQS compliant you can also view part one and three of our CQS guide:
A guide to the new updates to the CQS Practice Management Standards
The common compliance pitfalls most SME law firms face and how to overcome them
Or you can watch the full on-demand webinar here with InfoTrack and Tracy Thompson.