Personal injury case management software
Osprey's cloud-based personal injury case management software can simplify and streamline your daily tasks, enhance client communication and increase profitability. Avoid the complicated and time-consuming tasks that come with PI law by using Osprey's suite of digital tools to cut costs, track deadlines easier and provide better service to your clients.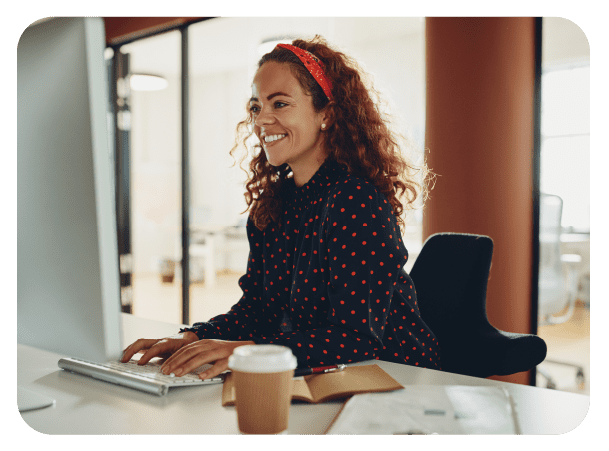 Cloud-based legal software built for personal injury law
Simplify managing your cases with Osprey. Whether you are on the go or at your desktop, Osprey's suite of digital tools help to streamline ever-increasing workloads and enables processes to run up to 3x faster. Future-proof your firm with a fully integrated cloud case management solution that enables you and your team to get more work done, faster.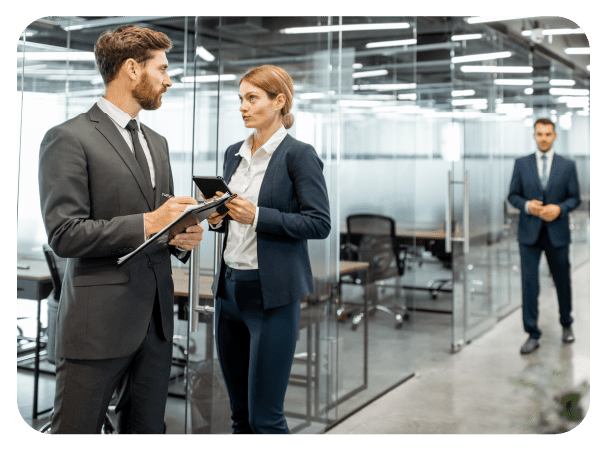 Digitally transform your law firm
Case management is made easy with a centralised database of digital documentation. Securely stored and available on any device, you can access client data and documents no matter where you are. Importantly, you can provide a seamless and digital experience for your clients utilising the Osprey client web portal and DocuSign integration to send, sign and collaborate on documents.
Unlimited storage within Osprey means you can securely manage and store all your client and matter data in one centralised location. Reduce your reliance on physical files so you can work more effectively and take the crucial steps to becoming a paper-light firm.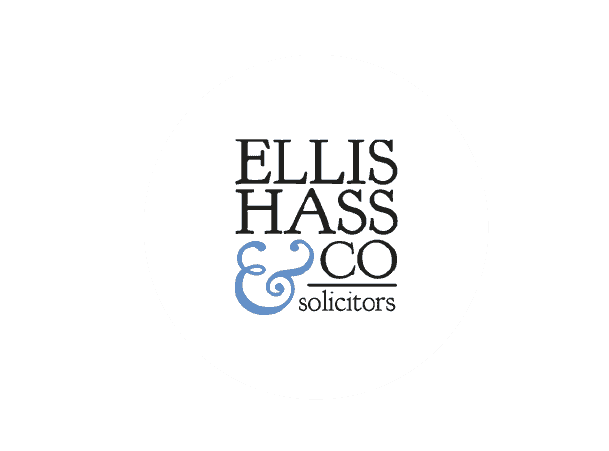 Ellis Hass embraced Osprey's cloud software and improved team collaboration
"We're well on our way to becoming fully electronic and Osprey has been absolutely pivotal in that, because it has the facilities we need to be able to store documents electronically in the case management system. We've found it very flexible and exactly how we thought it was going to work. Because we do a lot of remote working, Osprey has been really well suited to us.
"Instead of us having to dig out an old file and go through it, we can instantly see the information we need. It helps you deal with things in the there and now; just click a button and you're there."
Greg Bowyer, Associate Solicitor, Ellis Hass & Co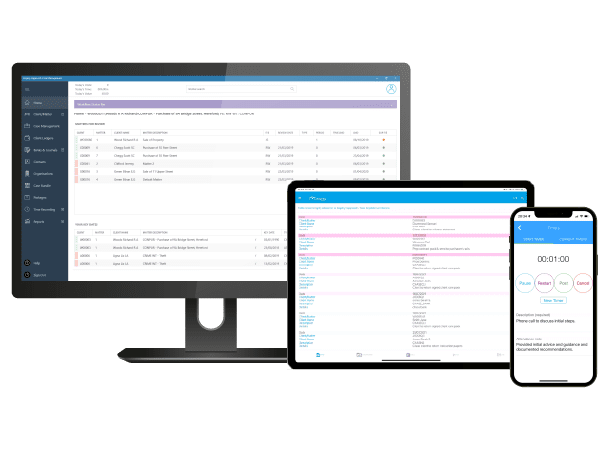 Personal injury software key features:
Configurable workflows
Automate and streamline key tasks within a case using the Personal Injuries workflows. Developed to help improve the efficiency and profitability of previously time-consuming processes.
Case bundles
Save hours of manual admin organising your case bundles for court hearings using the effective case bundles feature. Easily collate relevant documents stored in the matter and create a paginated and correctly formatted PDF without the need for printing and scanning.
Billing reports
Create detailed and accurate billing reports confidently and accurately. Observe, create and approve bills either on your desktop or on your mobile device. Ensure you're paid faster and take back control of your firm's finances.
Key dates
Stay on top of deadlines with ease using key dates in workflows to prompt, remind and mark the next actionable task or deadline. Osprey's Outlook add-in also enables you to export key dates and calendar entries directly into Outlook.
Integrated time recording
Whether you're consulting with clients, producing documents or writing emails, your tasks can be recorded in real-time using the time recording stopwatch app. Meet your targets without the hassle and improve your billing accuracy with Osprey.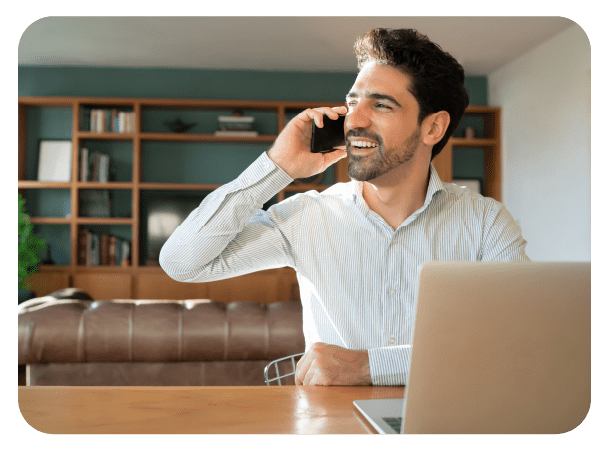 Enhance client communication
Improve client satisfaction with better communication tools. With Osprey's secure client web portal, your clients can view instant updates on their matter, electronically sign documents and upload additional files. Plus, you can easily send pre-templated email and text messages as part of a workflow reducing the time it takes to send timely updates, follow-ups, and reminders. Osprey also offers firms their own branded mobile app, so your clients can receive updates no matter where they are.
Providing a client-focused service, with fast and effective communications, helps firms build strong, successful client relationships.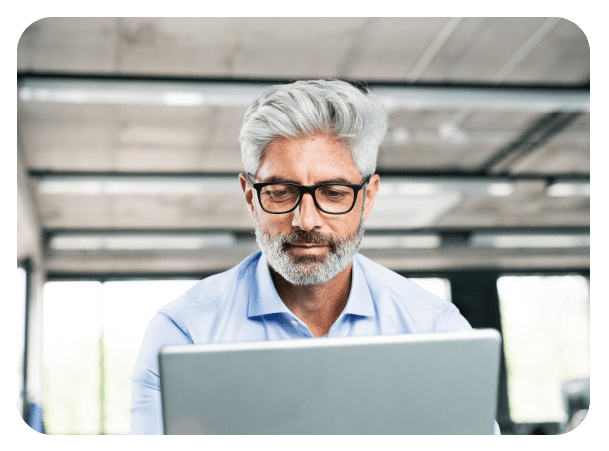 RTA claims portal integration
To help you stay focused and work more efficiently Osprey has developed a dedicated personal injury case management solution that provides you with the tools you need to work smarter. This includes configurable PI workflows and integration with the RTA claims portal. The integration enables you to utilise the data stored in Osprey to pre-populate the forms for the claims portal, saving you hours of manual admin.
Frequently Asked Questions
What is personal injury law software?

Personal injury law software provides you with a digital toolkit enabling you to complete your matters quickly and efficiently by automating your day-to-day tasks using predetermined workflows. Draft claim forms and send your standard letters all at the click of a button with automatic key date tracking you can concentrate on achieving success for your client. With fully integrated legal accounts, billing, time recording and reporting you have a complete platform to run your personal injury cases.

How is Osprey suited to personal injury lawyers?

Ospreys comprehensive solution supports all areas of law including personal injury lawyers. With digital case bundles, online case tracking, time recording, simplified billing, and automated workflows, you can concentrate on winning your case rather than time consuming and repetitive admin tasks. All law firm will benefit from the integrated accounting, automated document and form production, compliance features and specialised workflows that help you run a streamlined and profitable practice.

Is Osprey integrated with the RTA portal?

Osprey integrates with the RTA portal which offers a two-way communication with the portal ensuring that both Osprey and the portal are always up to date.

Can I conduct conflict checks for personal injury cases?

Yes, with our conflict workflows and built-in conflict of interest search functionality, you are able to ensure that your lawyers have completed any necessary conflict checks required. These are recorded on the matter so you can be confident in your data and have clear visibility.

What is an automated legal workflow?

A legal workflow enables a law firm to set up a series of sequential "actions" within a given "task". For example, a file opening task could include a variety of actions including a questionnaire to input client details followed by a client care letter and a date reminder for the signed client care letter to be returned by the client.

By mapping out action and tasks into a complete legal workflow you can automate those tasks and standardise your processes across your firm to improve efficiencies, client service and productivity. Workflows also reduce errors, remove manual administration and aid compliance.
The Osprey Approach all-in-one solution
The complete Osprey Approach solution combines comprehensive case management, powerful practice management, legal accounting, and streamlined client management – enabling your firm to run a streamlined and profitable operation that exceeds client expectations.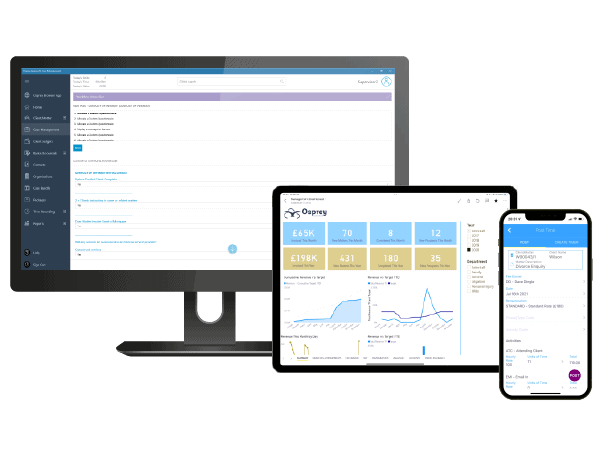 See Osprey in action
Discover the power of Osprey Approach in a free, no obligation demonstration, and learn why thousands of lawyers trust our software solution to manage their firm. Complete the form and one of our product experts will be in touch to find out more about your firm's needs and to book a meeting at a time that suits you.